Issue
You want to issue a certificate that is not showing in the list of templates but when you look at the certificate templates there are only four generic ones. There are no certificates for interim certificates or progress payments.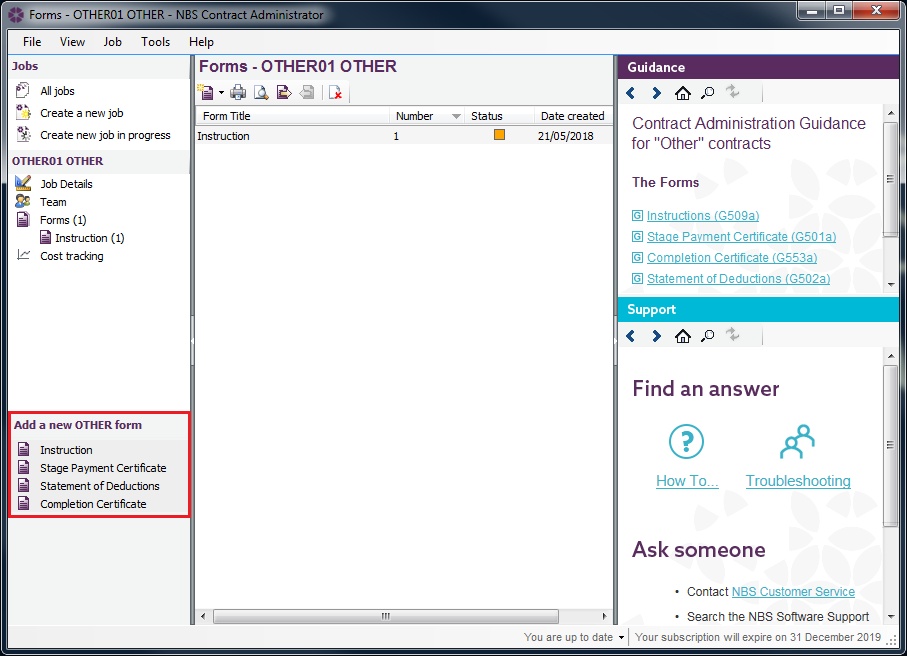 Cause
Check which form of contract you have set the job up with. You may have chosen the 'OTHER' form of contract - this contains a generic set of templates for possible use with contracts not supported by NBS Contract Administrator.
Click on Job Details > the 'Form of Contract' is displayed in the top left-hand side.

Resolution
Change your form of contract from 'OTHER' to the correct type. Please note: This field becomes fixed when you draft and issue your first certificate.
If you have issued one certificate, recall it and delete the draft. This will unlock the contract type field so you can select the correct contract.
If you have issued more than one certificate you will need to re-start the job setting it up with the correct contract. Follow the New Job in Progress guide to save you from having to re-process the certificates you have issued so far.
More information
NBS Contract Administrator comes with pre-written certificate templates for all contracts it supports. It is important to choose the correct contract type when you set up your job because each contract has a slightly different set of certificates.
Related articles
Which contracts are supported in NBS Contract Administrator
How to re-start the job using New Job In Progress