Dr Stephen Hamil, Director of Design and Innovation at NBS, gives his thoughts on BIM Show Live 2014...
There was a strong NBS presence at the fourth annual BIM Show Live 2014. This year the location was Manchester as the UK's largest BIM event moved up from London.
The traditional opening addresses were from BIM Show Live founder Rob Charlton and UK Government's BIM Task Group's David Philp; both commented on how far the industry had moved in three years and spoke with optimism about the future of digital information, processes and technology.
The keynote speaker this year was Marc Priestley, who worked as a senior member of the pit stop crew for McLaren for 10 years. The presentation gave a great insight into technology and process change in Formula One and some very interesting parallels with the construction industry were made.
The need to adapt for change
The biggest change in Formula One in the last twenty years was the banning of tobacco sponsorship. Practically overnight, the most significant funding stream was removed from the sport. Some teams did not survive. Other teams worked extremely hard to replace this 'easy' funding stream and adapted to the change. The slide below shows Lewis Hamilton celebrating showing off every single sponsor's logo with his top zipped fully up (and sporting a watch that he quickly put on after the race). The Marlboro logo was replaced by Vodafone.
How to analyse your processes and improve them
Ten years ago a pit stop took just over 4 seconds, now it takes just over 2 seconds. A video was shown where McLaren's 2 second pit-stop allowed Jenson Button to beat Sebastian Vettel who only managed a 3 second pit-stop. This was only achieved through improved technology and a microscopic analysis of the process.
How cutting edge technology becomes the norm
Formula One is the pinnacle of motor racing. However, the latest technology in the sport eventually works its way down to family cars. Recent examples have been anti-lock brakes and hybrid electric/petrol engines. A parallel will be seen in the construction industry here as top quality visualisations, 3D printing, scanning, reusable object libraries and other cutting edge developments will soon be affordable and in the hands of all in the construction industry.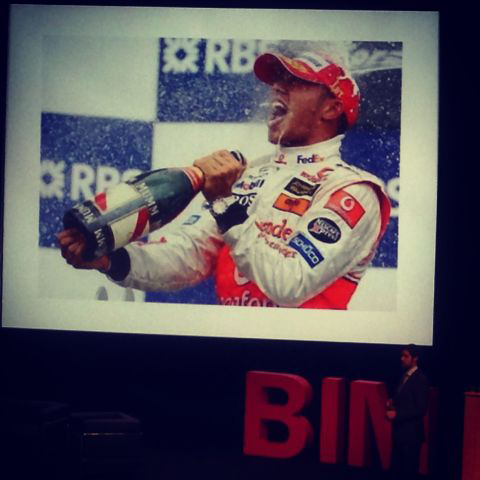 What are the parallels between Formula One and BIM?
The first NBS involvement of the day was at the lunchtime session where the 2014 National BIM Report findings were revealed.
Ian Chapman, Director of the NBS National BIM Library, presented the findings. Some photographs from the session are below: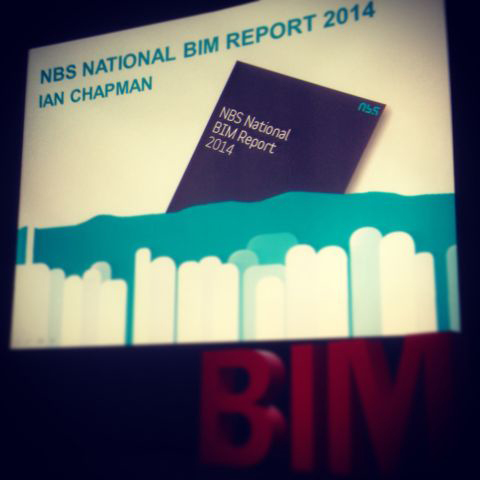 Our fourth annual BIM report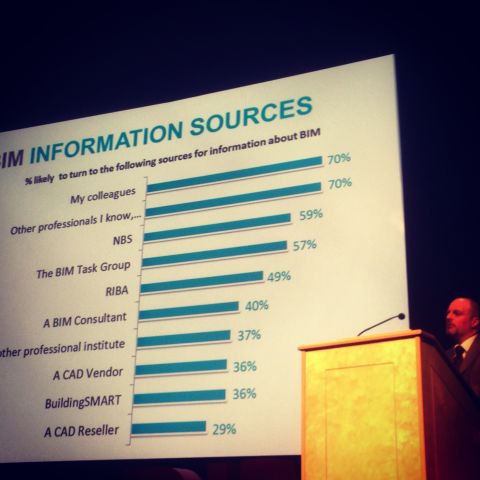 To which BIM information sources do professionals turn?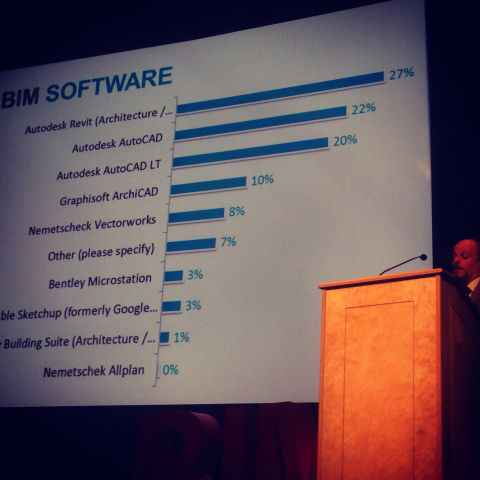 For the first time, a BIM tool is the most popular for generating drawings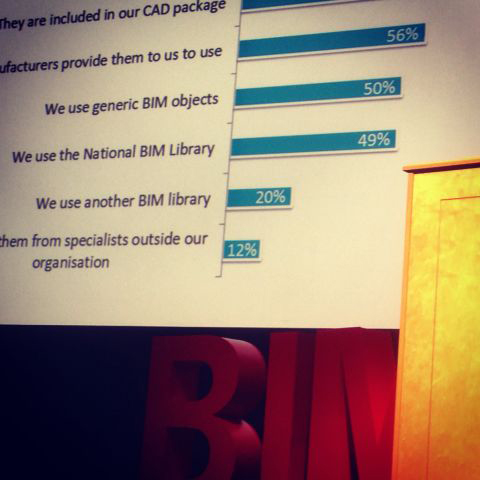 An impressive 49% of those using BIM download objects are from the NBS National BIM Library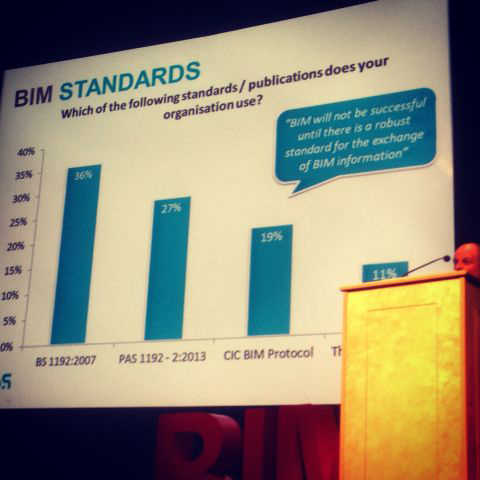 To which standards are organisations using BIM looking?
Ian also was one of the speakers at the session,
What manufacturers need to know about BIM
.
Pragmatic advice was given on creating objects that satisfy the needs of BIM users and adhere to the latest standards. Advice was also delivered on what level of detail should be put in objects, how much information should be included, and what information should be linked to – all good advice for a room full of construction product manufacturers.
Find out more about the NBS National BIM Library
I was also fortunate enough to have a class accepted and gave a live software demonstration of the NBS BIM ecosystem. It is always fun to do a live software demonstration, as opposed to going through pre-prepared Powerpoint slides. The atmosphere of a 'Tech Stage' is always good too, as you attract more people from the break out area as the presentation develops. As time was reasonably short I tried to keep the demonstration to three main themes:
How to coordinate modelled information with specification information using plug-in technology for system, component, material and 2D objects.
How specification information can be referenced and viewed from the linked objects in the model.
How NBS are giving functionality that they use internally on NBS National BIM Library away for free to users that create their own objects and want to stamp standard NBS and office master properties into their own objects.
Finally, a few photographs below showing an innovative and fun use for some of the NBS National BIM Library objects. Using augmented reality technology, virtual objects were shown on a screen through simply holding a 'bar-code' style piece of card up to a video lens. The technology showed the 3D visualisation and some of the key embedded properties and values.