The colour coding of low voltage fixed wiring cable cores changed on 31 March 2004 . These changes affect not only electrical contractors, but also specifiers, builders, do-it-yourself enthusiasts and anyone who carries out work on electrical cables. NBS Technical Author Ian Chapman explains.
Colour coding
The last significant change to the colour coding of cables took place in1969 with the introduction of the Electrical Appliance (Colour Code) Regulations 1969. Core colours of flexible cables of electrical appliances changed to:
Live - Brown
Neutral - Blue
Earth/protective conductor - Green and yellow.
This is in line with CENELEC Harmonized Document 308 S1 published in 1976. However fixed rigid cables, such as those within buildings, continued to use the following colour code:
Live - Red.
Neutral - Black
Earth/protective conductor - Green and yellow.
In 1977, CENELEC published Harmonized Document 324 S1, covering the identification of insulated and bare conductors by colours. However the UK was not obliged to harmonize with this because, at this time, the IEE Wiring Regulations were not a British Standard. It was not until1998, when CENELEC revised HD 308 S1 to include rigid cables within its scope, that the UK committee responsible for BS 7671 Requirements for electrical installations decided to review the UK position. By now the UK was the only country within Europe not to use harmonized cable core colours. The committee decided that, for single-phase installations such as those in the home, core colours of fixed rigid cables should be changed to match those of flexible cables such as lighting pendants:
Live - Brown
Neutral - Blue
Earth/protective conductor - Green and yellow.
This will remove the colour differences between fixed and flexible cable cores. The UK public are already familiar with the colour coding of flexible cables and it is anticipated that this change will not result in too many problems.
Three-phase cables
For three-phase cables, rather than accept the European consensus – which is to colour code the phases brown or black – the UK committee considered alternatives. The importance of clearly identifying the individual phases using different core colours was acknowledged. Accordingly it was decided to propose alternatives for consideration by other European countries, rather than adopt the harmonized system. The committee proposed that three separate phase colours be used for flexible and fixed rigid cable cores. The colour of the earth/protective conductor was to remain green and yellow.
The committee succeeded in persuading the other European countries to adopt separate phase colours (brown/grey/black) and in May 2001 CENELEC HD 308 S2 was published. This has just been implemented in the UK, by BS 7671Amendment 2: 2004. Issued on 31 March 2004, this amendment also includes some editorial changes and references to the Electricity Safety, Quality and Continuity Regulations 2002.
Implementation
BS 7671 Amendment 2 requires that installations commencing on site between 31 March 2004 and 1 April 2006 be installed using either the harmonized colours or the old, but not both. After this period only harmonized colours can be used. During the transition period, alterations to existing installations can be made using the old or new colours – if there is a preference this should be specified. Existing installations which remain unaltered are unaffected by this amendment and do not have to be rewired.
To assist implementation, BS 7671Amendment 2 Appendix 7 offers guidance on how to label the new harmonized cables on site. When modifying existing installations, the interface between old and new cables must be clear and unambiguous. For single-phase installations generally the interface will be obvious. For three-phase installations the connections must be labelled, and this can be done using coloured tapes, sleeves or discs, or letters and numbers. Where alterations are made to an installation and the resulting installation has admixture of old and new colours, a warning notice must be fitted to the appropriate distribution board.
Whilst concern exists over the possible confusion between the new colours and the black neutral conductor and blue phase conductor in existing three-phase distribution circuits, this risk is considered to be a manageable one – many European countries have implemented similar changes to cable colours without excessive risks. Cable manufacturers were preparing for the introduction of the new core colours in April 2004, when production of cables with the old colours ceased. Stocks of the old colours will be used during the transition period.
The National Safety Umbrella Group (NSUG) L/12 on cable core colours is disseminating information to bring these changes to the attention of industry professionals and trades, as well as lobbying Government for funding for campaigns to raise public awareness. Further information is available online. .
The harmonization of cable colours within Europe will help remove trade barriers and encourage contractors to work within the European community. With good trade and public awareness of the colour changes, it is hoped that the number of electric shock fatalities in the UK will remain low.
Colour changes for cable cores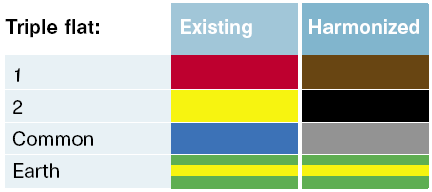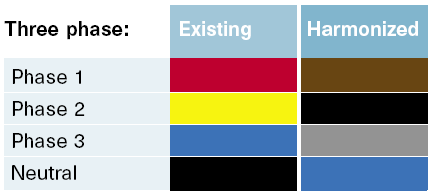 Related articles from theNBS.com