The NBS National BIM Library have now published a number of generic mechanical and electrical BIM objects. These will help building services engineers visualise their designs and implications at concept design stage, giving the architect and other design team members an appreciation of what is required at a very early stage in the project. The generic objects can then be easily replaced by proprietary (manufacturer's) objects as the project develops.
Within each object, several parameters have been made variable, such as connection diameters and positions, and main object dimensions (length, width and height). Objects are intended to represent a wide range of the most frequently used plant and equipment.
One of the most important properties of the generic objects is clearance and detection zones. These provide the user with space requirements and clash detection knowledge early on in the design. For example, BS 5839-1 sets maximum spacing requirements for heat detectors. This is reflected in the object by way of coverage area. The detection zones of an object then enable the engineer to easily position and calculate the number of detectors required. The aim is to reduce the potential risk of having to make expensive design changes later on in the project lifecycle.
As the project progresses and the design evolves, generic objects for plant and equipment may be replaced with proprietary objects (from NBS Plus or the manufacturer). This provides the opportunity to immediately assess the effects on project objectives, such as performance and cost, and eventually produce information such as the building's carbon footprint.
Feedback from many areas of the construction industry has been used to generate NBS National BIM Library's

generic mechanical and electrical objects. Objects are by necessity:
Geometrically accurate and instantly recognisable;
Of variable dimensions and connection type, to ensure maximum flexibility;
Produced complete with identifiable and visual detection zones where appropriate;
Complete with clearance/maintenance zones; and
'Non-hosted'; that is, they don't have to be fixed to a wall or a ceiling when brought into the project.
The NBS National BIM Library has included plant and equipment such as:
Fire and detection equipment: Control and indicating equipment, detection (i.e. point heat and point smoke detectors

, beam detectors), mimic panels, manual call points and sounders

.
Intruder detection and alarm systems: Control and indicating equipment, detectors (including PIR, PIR and microwave, beam and acoustic), and sounders.
LV distribution equipment: Cubicle switchgear, distribution boards and consumer units.
Road and amenity lighting: Lighting columns, brackets and bollards.
Water services: Calorifiers, water heaters (both storage and instantaneous), pumps, booster sets, pressurization units, expansion vessels, storage tanks and solar collectors.
Heating plant and equipment: Boilers

, heat exchangers, pumps, emitters

and heat pumps.
Ventilation and cooling: air handling units, condensing units, chillers and spilt coil units.
NBS National BIM Library generic mechanical and electrical objects are produced in Autodesk Revit, as extensive research and analysis indicates that this is the tool of choice for service engineers implementing BIM. However, all objects are also in IFC (Industry Foundation Classes) format, an industry-wide open and neutral data format that enables rich data exchange without the dependency on any one software package. All of the mechanical and electrical objects are available from the NBS National BIM Library in both Revit and IFC format, accompanied by an 'Object Guide' in PDF format. This lists all parameters involved in the use of the object, including: NBS (which directly relate to NBS Create specification writing software), COBie (Construction Operations Building Information Exchange) and IFC. It also provides a description for each parameter from the NBS in-house technical author engineers, and BuildingSMART.
The team at NBS are continuing to interpret and simplify the BIM process - and present it in a user-friendly way. As Ian Chapman, Director of the National BIM Library says, "No-one understands construction information requirements better than NBS".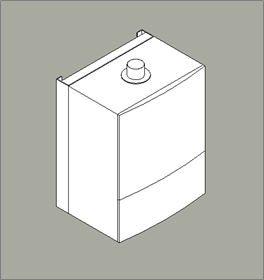 Wall mounted, gas-fired condensing boiler

. Image produced using Revit.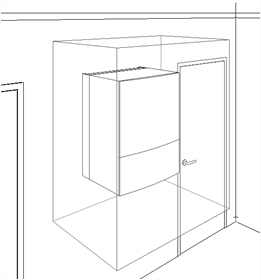 Wall mounted, gas-fired condensing boiler

in position in Revit, with the clearance zone indicated.