What can I expect from the report?
As well as findings from the survey, the free-to-download report includes expert insight and analysis, including: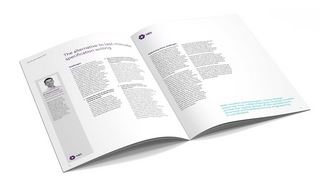 Download the NBS National BIM Report 2017

We're also producing a special version of the NBS National BIM Report 2017 for manufacturers. If you'd like us to let you know when this version of the report is published then tell us your e-mail address and we'll be in touch.
Let me know when the Manufacturers' version of the
NBS National BIM Report is published
What are the key findings in the 2017 report?

Among the headline statistics in this year's study are the fact that:
A majority of respondents (51%) think that the Government is on the right track with BIM and awareness is near-universal and adoption is up (62% of practices use BIM on some projects - up 8% year on year). Indeed, the year just gone has seen the most rapid BIM growth since 2014. 78% see BIM as the future of project information. There is, however, work to do - 65% said BIM can bring real benefit beyond the design stages but 72% believed clients don't understand these benefits.

Government hopes that BIM will help in delivering projects for lower cost, more rapidly, with fewer greenhouse emissions and a better trade balance for construction projects. Our survey showed that 60% of respondents think that BIM will help bring time efficiencies, reducing time from inception to completion, 70% believe cost reduction in the design/build/maintain lifecycle will be realised. Those who responded were, however, less convinced on BIM's ability to reduce greenhouse gas emissions (44% agreed) or improve the trade gap (32% agreed).

A majority thought the Government was failing to enforce the mandate. A third of respondents stated they were not clear on what they had to do to comply with the BIM mandate. Many cited a lack of client education limiting the effect of the BIM mandate to fully reap the fullest rewards. Across the board nearly 18% of respondents said they used BIM on every project - 29% said they used BIM on more than 75% of projects. Our survey shows that once BIM is adopted it usually becomes the design methodology of choice.

For the first time a majority describe themselves as confident in BIM (55% - compared to 35% back in 2012) but 90% said BIM adoption requires changes in workflow, practices and procedures. Learning from colleagues (75%) and fellow professionals (62%) were cited as key ways people keep skills sharp. Professional bodies and expert organisations, such as NBS, the BIM Task Group, BSI and RIBA, were also deemed significant.

Thinking about BIM maturity most respondents said that Level 2 was the highest level reached on a project (70%). 7% said they were at BIM Level 3, 22% at Level 1. Our survey shows more than three quarters of organisations who have adopted BIM are at or beyond the level required by the BIM mandate.

Respondents were clear in their demand for manufacturers to provide BIM objects and well-structured generic objects. 45% said they use a BIM object library - 66% create objects as needed and a similar number create objects in-house and re-use them across multiple projects. Placing standards and specifications squarely in the BIM environment via BIM software tools was also seen as key.


41% of respondents use Autodesk Revit, just 14% AutoCAD. Indeed, Autodesk dominates the UK market with 66% using an Autodesk product, that said Graphisoft, Nemetschek and Bentley have a significant user base. 35% manage specification references digitally using a free plug-in from NBS.
What have previous surveys shown?
This year's survey is our seventh, you can access some of our previous surveys on theNBS.com.