Ahead of this year's BIM software updates, NBS explores the current software in use and the likelihood of upgrading to the latest version.
NBS research has demonstrated the growing importance of Building Information Modelling (BIM) to the construction industry, with adoption of BIM increasing year on year. When creating Building Information Models, the industry has a range of tools at its disposal. To achieve true BIM, much more than geometric data is required so CAD packages alone cannot provide the full answer. However, 3D geometric modelling software is integral to using BIM objects, and as such their use needs to be understood.
There are a broad range of CAD software platforms available to users, with multiple versions of each. Additional features and benefits are added with each new version, but as with any software, new versions bring new techniques to learn and, potentially, troublesome bugs and compatibility issues.
To help support those creating Building Information Models, NBS wanted to gain a better understanding of how 3D geometric modelling platforms are both used and upgraded. We invited 1,000 NBS National BIM Library users to take part in a 5 minute survey. The survey received a lot of interest from users and software providers. In total, responses were received from 225 users – a 23% response rate – providing the industry with a good understanding of 3D geometric modelling platform usage.
The survey was undertaken between October 2013 and November 2013. We found that the majority of users are using 'Autodesk Revit' as their primary 3D geometric modelling platform (69%). However, half of users (50%) indicated they were likely to use more than one software platform, with 'Trimble SketchUp' (formerly 'Google SketchUp') the popular second choice (19%). As well as incremental versions, 'Trimble SketchUp' offers users both a paid for version (Pro) and a free version (Make); perhaps surprisingly, around three out of five 'Trimble SketchUp' users opt to use the paid for 'Pro' version.
Users of both 'Autodesk Revit' and 'Nemetschek VectorWorks' are quick to upgrade, with 84% and 69% respectively using a version which is less than two years old. In contrast to this, 'Trimble SketchUp' users are slower to upgrade with only around a quarter of users (28%) using the latest version. But why is this? Perhaps it reflects 'Trimble SketchUp's' status as a secondary platform for many users, primarily used earlier in the design process, to communicate ideas, rather than to provide a detailed geometric description of a building.
In terms of when and why they upgrade, most users do this within a month of the upgrade's release, being prompted to do so by the 'latest benefits and features' (58%), having 'an annual subscription or maintenance plan' (50%) and to 'get the latest 'bug' fixes' (34%). However, there are also barriers to users upgrading their platform as shown in figure 1 below: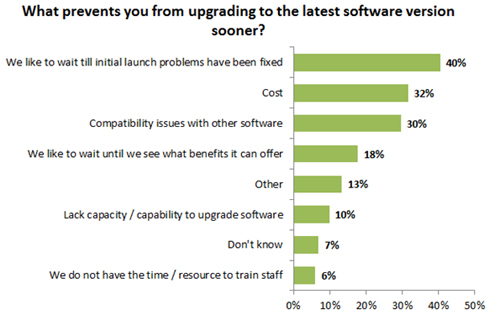 Figure 1: Barriers to upgrade
It is evident that some of the barriers to upgrade can also be reasons to upgrade. Primarily, users are concerned about what issues they may encounter, whether this is initial launch problems or compatibility issues with other software. For some, cost and waiting for others to upgrade or carry out an upgrade also delays them. Despite these barriers there is a clear indication that people are keen to upgrade their software platform as soon as possible, suggesting the progressive nature of these tools and the growing importance of BIM to the industry.