The NBS National BIM Library

just keeps getting better and now offers a new way to keep track of your favourite objects and those objects you've downloaded - making it easier than ever to ensure you're working with the very latest files.
What is the NBS National BIM Library?
The NBS National BIM Library offers a comprehensive collection of generic and manufacturers' BIM objects – from building fabric systems to mechanical and electrical objects.
The site, the UK's fastest growing library of BIM objects, is free-to-use and links directly to NBS specification software and the NBS BIM Toolkit.
Offering a comprehensive selection of objects from leading manufacturers in a wide range of product areas – whether you're looking for insulation, roofing, structural fixings, ceiling products or hand dryers – it's quick and easy to find what you need. Best of all, all objects meet the internationally-recognised NBS BIM Object Standard

.
The site also offers a broad spectrum of generic content which includes both architectural and mechanical and engineering objects.
How can I keep track of objects I like or have downloaded?
MY LIBRARY
We've recently developed a 'My Library' area on the NBS National BIM Library site to make it easier to keep track of your favourite objects, those you've downloaded and those that have been updated.
Once signed in, you can access this area of the site from the My Library link in the top right hand corner (or via the My Library link in the 'hamburger' menu on small-screened devices).
From this area of the site you can access three streams of content from the Starred, Updated and Downloaded tabs.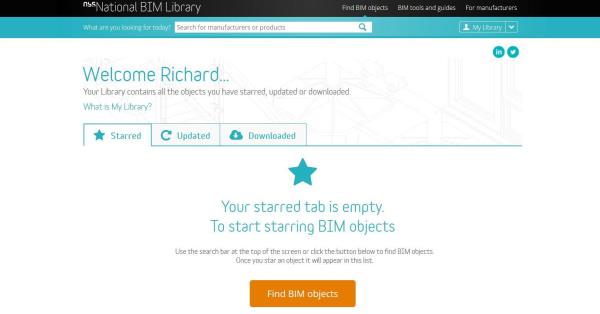 STARRED
As you search for BIM objects on the site, signed in users will notice a new option to 'Star' an object (near to the object Download button).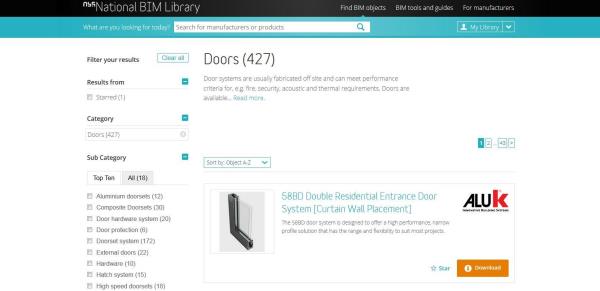 Selecting Star adds the object to your list of Starred items accessible from My Library.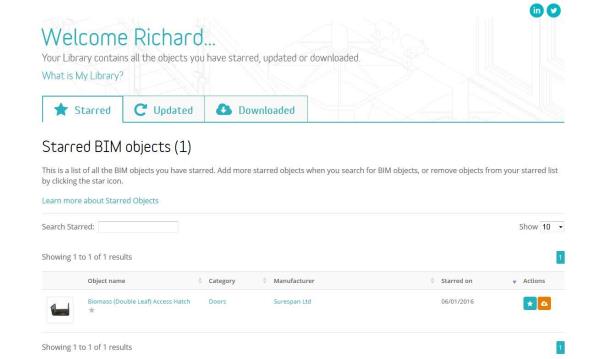 You can filter your starred objects within 'My Library' by keyword, sort and download them.
You'll also notice, when searching for new objects, that results from your starred, updated and downloaded objects are clearly filtered in the left hand column at the top of the results page.
DOWNLOADED
The Downloaded tab shows a list of all objects you've downloaded from the site.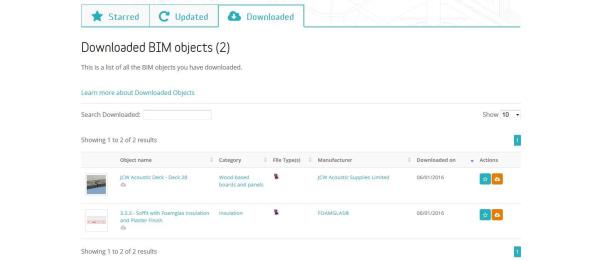 If you've been using the site for a while you should find that this list is pre-populated with all objects you've downloaded since you first used the site. If you're just starting out, this list will build up over time.
You can search within your downloaded objects and order them by date of download or file format.
UPDATED
The Updated tab gives access to a list of all objects that have been updated on the site since you last downloaded them.

Can I access 'My Library' via the NBS Plug-in for Autodesk® Revit®?
Yes you can. There should be no need to update the plug-in to access the new features which should now be available to you.

We're keen to receive feedback on the NBS National BIM Library and the new 'My Library' features. We welcome your thoughts via the National BIM Library group on LinkedIn.