4D Hyperlocal:
A Cultural Toolkit for the Open-Source City
Guest edited by Lucy Bullivant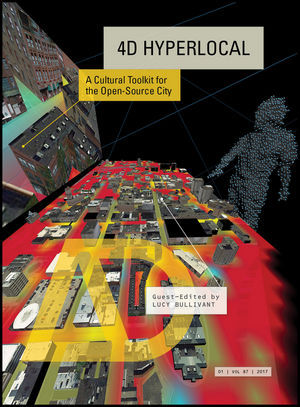 Digital's transformative power is rippling across the construction industry and revolutionising urban design, planning and community engagement as it goes.
At 'hyperlocal' level designers are now able to take advantage of seemingly infinite possibilities to exploit geolocation technologies and GPS-enabled mobile devices that can collect and utlitise a wealth of data. The result of all this real-time analysis? New immediacy and responsiveness as data collected from individuals and across the built and natural environments starts to shape the world in which we all work, rest and play.
This special edition of AD collates essays on how traditional linear design is being usurped by adaptable mapping and real-time data, spurring more dynamic spatial analysis and a more complete feedback loop. This shifts the emphasis in urban design from the creation of objects and spaces to collaboration with users, and from centralised to distributed participatory systems.
Collectively the articles muse on how we can best combine hyperlocal methods and technologies and collectively support the evolution of participatory architectural design and how this might change things for all of us.The result? A thought-provoking manifesto on the potential of digital technologies through essays on the practices of the minimum viable Utopia, digital neighbourhoods and the image of a data city. While it would have been tempting to marvel at the bright, shiny future, this is however a manifesto grounded in practicality with plenty of real-world examples amid all the future-gazing. Essential reading for those up for the challenge of exploiting data to reshape our environment.
About this book
4D Hyperlocal: A Cultural Toolkit for the Open-Source City was published by Wiley in 2017 and is available to buy from the publisher, in paperback (ISBN 978-1-119-09712-9) priced £24.99.

About the authors
Lucy Bullivant PhD HOn FRIBA is a cultural historian, award-winning author, built environment expert for Design Council Cabe, London and founder and creative director of Urbanista.org - a webzine on liveable urbanism.
Article contributors include Saskia Beer, Moritz Behrens, John Bingham-Hall, Mark Burry, Will Gowland and Samantha Lee, Adam Greenfield, Usman Haque, Bess Krietemeyer, Laura Kurgan, Lev Manovich and Agustin Indaco, Claudia Pasquero and Marco Poletto, Raffaele Pe, José Luis de Vicente, Martijn de Waal, Michiel de Lange and Matthijs Bouw, Katharine Willis, and Alejandro Zaera-Polo.
Featured architects and designers include AZPML, ecoLogicStudio, Foster + Partners, Interactive Design and Visualization Lab/Syracuse University Center of Excellence for Environmental Energy Systems, Software Studies Initiative/City University of New York (CUNY), Spatial Information Design Lab/Columbia University, Umbrellium, and Universal Assembly Unit.