2050. It seems like a long way off when you say it. But just what will the construction industry be like 37 years from now?
Before we talk about the future, let's just take a moment to consider the past. I would like to ask you, just what were you doing 15 years ago? Can you remember the car you were driving? Did you have a mobile phone? Did you buy things online? Did you even have an email address? From my own point of view, I was only just old enough to learn to drive, I didn't even own a computer and as for mobile phones, I had to make sure I had change in my pocket in case I ever needed to use a 'pay phone'.

You see, when you think about it, it is astonishing how far technology has come just in the last decade and a half. My pre-school daughter only knows a world of touch screens, swipes and digital media that can be downloaded on demand. Although I wasn't around in the 1960s, I still find it hard to contemplate the fact that the smart phone in my pocket has more computing power than Apollo 11, which put man on the moon.
While it is exciting to look at future technologies, it is also important to understand how developments such as Building Information Modelling (BIM) will be influenced by other mega-trends, such as demographics and urbanization. By looking at these and also learning from other industries outside of construction, we can begin to gain an understanding of how we will be using data in the future and how best we can leverage the benefits. No one truly knows what the future holds. We can take a good informed guess based upon trends, but the best way to predict an integrated BIM future is simple. We need to create it.
Rebecca De Cicco, Steering group member of the CIC BIM 2050 Group, and Technical Associate and BIM Specialist at architects KSS, points out, "We should not fear engaging with technology, rather than stifle the process it should be enhancing it". Of course technology is only one part of our BIM future. Technology is merely an enabler, and is nothing without the right education and mind-set.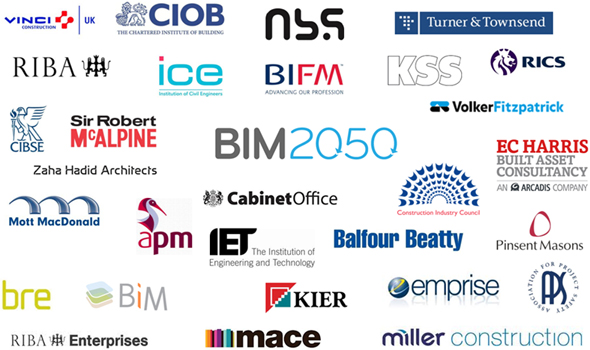 Figure 1 Who we are
Consider this for a moment. By the age of 38, the average person will have had between 10 and 14 jobs and the ten jobs most in demand today did not exist in 2000. So with this in mind just what will the construction roles in 2050 be like? It is clear that we have a skills gap, but just how do you prepare students for jobs that do not exist yet, using technologies that haven't yet been invented, all in order to solve problems that we do not yet know are problems?
Group launch
January 2013 saw the official launch of the CIC BIM 2050 Group. The group consists of 17 construction professionals from a broad range of professional institutions and backgrounds but all with a passion for change, and is chaired by David Philp, head of BIM implementation for the BIS/Cabinet Office BIM Taskgroup, with Neil Thompson of Balfour Beatty acting as deputy.
Aside from technology and processes, we will also be looking at education and skills as part of three work stream areas, led by Rachael Park, Cost Consultant for Mace. We want to focus on both formal and vocational education whilst highlighting the skills needed for a lifelong career in the built environment.
Talking at the launch, Steering Group member Rebecca Hodgson-Jones of Sir Robert McAlpine shared the group's aspiration that we want the construction industry to be the industry of choice and one we can be proud of, but to achieve this we have to start today. We need to better understand our industry, its needs and future roles. We need to not only reflect on our own industry but learn from other industries around us. It all starts with education, enabled by changes to technology and process but underpinned by commonality in beliefs and a culture for integration. No one of these workstreams can be looked at in isolation but rather they must have regard to each other with each part having an effect on the other. You can have the best technology and slick processes but unless we move away from an adversarial blame culture and get the whole design team on board, then it just will not work. Key to BIM is a culture of integration which is being led by Wes Beaumont, BIM Coordinator at Kier Construction.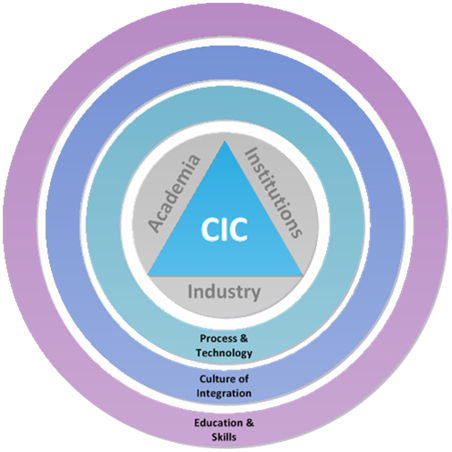 Figure 2 Work streams
These are all bold claims, which I am the first to admit. One commentator, taking to Twitter after the launch, said that surely this is nothing new, after all, let's not forget Egan and Latham. The group's Programme Manager, Ian Aldous, Associate at EC Harris, highlights that while there is a huge focus on 2016, we really need to be taking a much longer term view. So just how will we be doing it and why can we influence it? We are a passionate group representing a cross section of our industry, all with a different perception of the world around us. We all have industry experience but we are not yet defined by it. We are passionate about change and creating a shared culture, adopting a new mind-set and a different way of thinking. Over the next 12 months we will make sure we engage in innovative ways that engage and inspire, and endeavour to filter and share knowledge through a series of symposiums.
Further information