Six months after the Government's deadline, how well is BIM Level 2 working in practice? And, with the Department for Business, Energy & Industrial Strategy's planned £15m investment in Level 3, what might the next three years hold for BIM?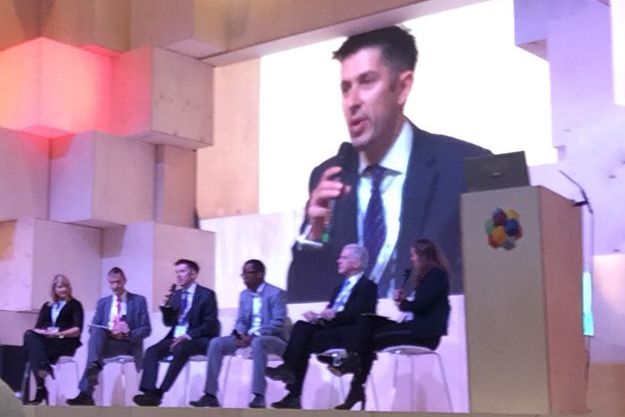 NBS Director of Design, Innovation, Research and Development, Dr Stephen Hamil, was recently invited to muse on exactly these questions as part of this year's Digital Construction Week programme.

Here he shares his thoughts with readers of theNBS.com...

Was it worth it?
It's perhaps worth taking a moment to define what we mean by BIM Level 2. It's the standard process as defined in the PAS 1192 standards – it's not BIM equals just a 3D model.
Was it worth it? Well, if you look at what has been achieved and how we are now viewed in an international arena against how much it has cost us – then the answer has to be a resounding 'yes'.
The cost of the investments has been very small compared with the contribution the construction industry makes to the UK economy. The funding has been spent on running the BIM Task Group for five years, the development of the standards and technology investment through Innovate UK.
The return has been a set of standards and tools that define a standard process focused around digital information exchanges where a project team can be assembled and it can be clear on who is doing what and when. This makes projects more efficient and lowers their risk and gives better value and a better outcome to the client.
When asking 'was it worth it', it is worth reflecting on what the alternative is. A project team comes together, made up of many organizations, and they either (a) start without agreeing responsibilities and the process or (b) spend unnecessary time discussing what process to follow and potentially having to learn a new process for each new project.
If you look at the strategic analysis led by Paul Morrell, the then-Chief Construction Advisor, in 2009/2010, on reflection the main themes are all still valid.
In terms of internal factors and external factors:
Strengths
Opportunities

Government as a client accounts for 40% of UK construction spend so has a major influence
Institutes and industry were ready to support
Government could speak with a single voice

Digital - cloud
Digital - modelling
Digital - extranets
(Previous transformational reports - this was missing)


Weaknesses

Threats

Industry worked in silos
There wasn't a single plan of work
Lack of skills in digital when compared to other industries

Recession
Environment
Other nations pushing ahead
Reference: Government Construction Strategy 2011
Five years on, in terms of international positioning, the whole world is looking to what the UK has done.
As part of my job, I have been to the US and Europe a number of times over recent years and, worldwide, the construction industry is looking to what we have done. Many countries are only just now starting out on the journey that we started six or seven years ago.
Is it working in practice?
It's not perfect, but that doesn't mean it wasn't worth it.
I recently ran a quick poll on Twitter:
Around 40 people put their views forward as to whether BIM Level 2 was "worth it"; with the options to agree, disagree or state that only time would tell. By the time the poll closed 53% said only time would tell - 47% agreeing that BIM was worth it. It was pleasing to see that nobody said 'no'.
Why?
If we are honest, it's not fully working yet. Aspects of BIM Level 2 are now commonplace on public and private sector projects across the UK but there is also more that can be done.
What is working
Where there is more to do


1. A standardised process
2. Clarity on responsibilities
3. Co-ordinating information (Drawings from 3D model, specs plus model, clash detection)
4. A framework to support clients
5. Common data environments


1. Further guidance
2. A central body controlling certification
3. Better technology around COBie (and IFC)
4. A properly-funded project providing clarity on 'data dictionaries'
5. A focus on digital from manufacturers
Looking at where there is more work to be done, there are a number of initiatives to keep pushing this on. At the ICE BIM Conference 2016 Mark Bew launched Digital Built Britain.
If we are to make BIM Level 2 fully work it's now time for the whole industry to get behind it, collaborate and make it work. Government, industry and academia must work to push this forward. This announcement included support for BIM Level 2 adoption. UK and International guidance will be published on the official BSI website later this year. In addition, the United Kingdom Accreditation Service have been appointed to establish a certification scheme for Level 2 BIM.

In addition to the BIM Task Group, the newly formed UK BIM Alliance will now play a big role in supporting BIM adoption in the UK.
What might the next three years hold for BIM?
The published Digital Built Britain strategy (.pdf, 1.9Mb) lays out the Government's roadmap and funding for this was announced in the 2016 budget. The vision is that means we will see the physical world we live in become more digitally connected, delivering and receiving information about actual performance to then be analyzed. This will result in a better built environment for us all.
By starting to consistently digitally model newly-built assets and our existing built assets we are putting the foundations in for this 'Level 3' world which will see BIM and 'smart cities' coming together.
A big part of the 'smart cities' idea is the Internet of Things. Learning from our built environment will help us to maintain it better and also design new assets better. Albert Einstein's definition of insanity was doing the same thing again and again and expecting better results. We need to implement the 'feedback loop' so that actual performance of an asset feeds back into the process of the designing and constructing the next asset. Private clients will own their data and learn from it. Government will publish selected benchmark data so that all in the construction industry can learn from it.
When it comes to international open standards and data structures, process and terminology, as a nation we need to continue to lead. By continuing to export our knowledge, products and services we can take a big a share of the predicted 2025 $15trillion global construction economy.
Digital is the key enabler to allow us to build a more sustainable built environment and deliver on our climate change targets. Unless it is possible make informed decisions based around performance, it is not possible to deliver fully on sustainability.
BIM Level 3
The industry needs to now focus most of its attention on fully adopting BIM Level 2. However, work also needs to take in parallel to start on the BIM Level 3 journey. In thinking about what this means, some key themes from the Digital Built Britain Strategy are listed below.
Level 3A

Model view definitions – Standard template views of models providing just the information required for a particular purpose - for example, an early stage cost model or an operation and maintenance handover model.
Tighter IFC processes for data exchanges. COBie in Excel is a minimum standard – a relational database is needed
Bridging the gap between briefing and design and spec – digital briefing using the Digital Plan of Work.

Level 3B

Data dictionaries – extending the generic COBie properties to embrace those found in the harmonized EuroNorms and other standards.
IFC for infrastructure (rail, road, water, waste, power, aviation, ports…)

Level 3C

Integration with Internet of Things
Portfolio management and increased security

Level 3D
So, on reflection, the UK industry has made great strides forward with BIM Level 2 – this way of working must now be embedded into the majority of projects across the country. In parallel to this, we must continue to look to the future and build on the position that the UK finds itself in as a world leader in digital construction.