The best sustainability initiatives across the tertiary education sector have been celebrated at the 11th annual Green Gown Awards.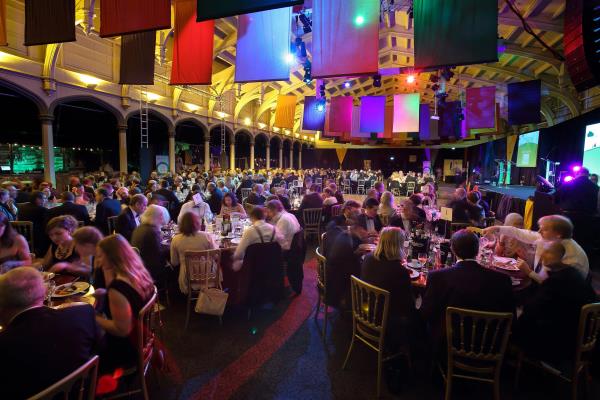 Dr Andrew Garrad hosted the 2015 Green Gown Awards at
Bristol's Old Street Station
This year's ceremony was held in the European Green Capital for 2015 – Bristol - in the inspiring surroundings of one of the oldest train stations in the world – Brunel's Old Street Station.
Organised and delivered by the Environmental Association for Universities and Colleges (EAUC)

, the evening was hosted by Dr Andrew Garrad, Chairman of Bristol 2015 European Green Capital. He said: "These Awards recognise the important role that academic institutions play in ensuring that young people have a proper understanding of both the challenges and the opportunities presented by sustainability."
Pick of the projects
Here we take a look at some of the winning projects that caught our eye…
An inspirational community garden project from Edinburgh College

scooped the Student Engagement Award. As well as establishing two gardens at opposite ends of the city, four orchards are now also being developed as part of the project, which has involved over 250 people from across the community.
Annette Bruton, Principal and Chief Executive at the college said: "When the Community Gardens project began we didn't necessarily understand how strong an effect it would have on engaging students, in giving them new skills, confidence and an education in sustainability. We are very proud to win this Green Gown Award as it demonstrates how sustainable practices can provide powerful learning experiences."
Dr Jane Davidson from the University of Wales Trinity St David (UWTSD)

landed the Leadership Award. She established the INSPIRE project back in 2012 with the aim of establishing 'educational pathways' to promote promoting learning, environmental and social responsibility while meeting the needs of the present and not compromising the ability of future generations to meet their own needs. Now, three years on, INSPIRE has won the Guardian Award for Sustainability in HE in 2013, the Soil Association Gold Catering Mark for its support for local producers in 2014 – and in 2015, UWTSD rose from 113th in the UK and a 3rd class degree, to a 1st class degree and 8th in UK and 1st in Wales in the People and Planet University League.
"Reducing Carbon CO2 – it's in our D&A" - a project from Dundee and Angus College

– landed the Carbon Reduction Award. The project sought to stimulate the imagination of staff and students when it comes to sustainability saving the planet, saving cash and shrinking the institution's carbon footprint in the process.
A solar-energy project – OASYS South Asia – from
De Montfort University

scooped both the
Community Innovation
and
International Awards
and explored a range of off-grid options using solar PV-based mini/ micro grid systems at four locations in India, providing access to basic lighting and mobile phone charging facilities as well as supporting use of electricity for productive, educational, and social purposes.
The Enterprise and Employability Award was awarded to The University of Nottingham

for their initiative "Enactus Nottingham" where students were given a platform to create social enterprises focused around solving large economic, environmental and social problems.
The Sustainability Champion Student Award went to Charlotte Rebekah Instone

from the London College of Fashion at University of the Arts London. Judges commented; "Charlotte shows incredible drive and passion for sustainability setting up the sustainability society, an ethical fashion brand and running an amazing number of events all while undertaking her degree! We need to replicate Charlotte!
Find out more
A full list of category winners and those who were highly commended is available as part of the event press release (.pdf, 0.1Mb)

.
Sharing best practice is a key part of the event and an extensive library of case studies and videos from this years' participants can be found on the Sustainability Exchange website and as part of the Winners (.pdf, 14Mb)

and International Winners Brochures (.pdf, 4.3Mb)

.
A video of the entire Green Gown Awards 2015 ceremony

is also available to watch online.