Now in their eleventh year the Green Gown Awards

recognise the exceptional sustainability initiatives being undertaken by universities, colleges and the wider learning and skills sectors across the UK.
This year's finalists have just been announced with 85 sustainability projects representing 51 educational institutions making the cut according to event organisers the Environmental Association for Universities and Colleges

(EAUC).
Some of the initiatives that caught our eye include:
The Brighton Waste House
A house constructed, as the name implies, from 85% waste materials including video cassettes, carpet tiles and even toothbrushes. More than a space to live, work and play in, the house is a collective of experiments in which students learn by application the ways whereby recycled materials can be used in construction. It includes foundations made from blast furnace slag, insulation formed from denim waste and floppy discs (remember those?) and a wall made from an impacted ten tons of chalk waste. The project was designed by University of Brighton senior lecturer and architect Duncan Baker-Brown of BBM Architects and students at the university.
Find out more about the Brighton 'Waste House' on the University of Brighton website

.
Watch a timelapse video showing construction of the Waste House

.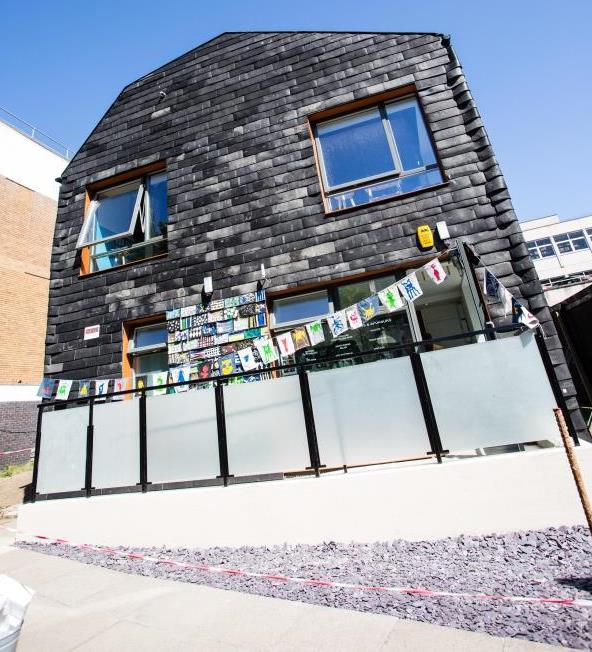 Treasure from trash: The educational Brighton Waste House
re:centre at the University of Bradford
The Bright Building delivered the world's highest ever pre-construction BREEAM rating of 94.95% at award (95.2% post-construction). It was constructed using monolithic hempcrete, a mixture of hemp shives and natural lime and was designed by Leeds-based architects Farrell and Clark. The building features brise-soleil solar shading, rainwater harvesting systems and solar thermal and solar PV panels.
Find out more about re:centre on the University of Bradford website

.
The Cutting Edge eco-friendly salon
Fife College's Halbeath Campus in Dunfermline is home to a haircuttery with green credentials at its very heart. From local extraction vents to remove traces of unwanted chemicals to low energy hairdryers and lighting, this project proves nature doesn't have to pay the price if we want to look good.
Find out more about the Cutting Edge salon on the Fife College website

.
The Great Carbon Footprint Game
Anja Fischenich, a student of Environmental Engineering at London South Bank University, developed a game based on the book 'How bad are bananas? The carbon footprint of everything' by Dr Mike Berners-Lee scooping a £1000 prize as part of the university's 'Make It Happen' competition.
Watch Anja's pitch for The Great Carbon Footprint Game

.
The full list of this year's finalists

is now available online and nominees now have a few months to expand on their submissions ahead of 'judgement day' at the end of September.
Sharing best practice is a key part of the awards process and finalists will produce extensive case studies which will be shared online via the Sustainability Exchange

website.
As Yvonne Hawkins, Director (Universities and Colleges), Higher Education Funding Council for England (HEFCE), points out this represents an impactful legacy: "The Green Gown Awards are a tremendous celebration of significant achievements that improve the quality of life for staff, students and the wider community. These projects really do make things better, improving the student experience and saving money whilst benefiting the environment. The Green Gown Awards is an inspiring enterprise and there is much to learn from what others have achieved."
This year's winners will be announced at an awards ceremony in Bristol (the European Green Capital for 2015) later his year. Ticket sales are now open

for the event at Brunel's Old Station on 26 November.