When we started our placements at NBS, we had both signed up for a different sort of placement experience compared to our peers, who were mostly practice based. However our experience at NBS has been very beneficial to us both; we have learnt a lot about specification, as well as other areas such as BIM. We now have a much better understanding of the construction industry as a whole, but we needed to gain more practical experience, both for our personal development as architectural technologists and to begin the CIAT accreditation process.
The solution was a fortnightly visit to Gradon Architecture, to give us some experience of working on live projects.
Gradon Architecture

is a local practice to us - their NE40 studios are based in Ryton, Newcastle upon Tyne. The team there have a broad range of experience and expertise; they have recently been shortlisted for an international design competition to create an iconic landmark for Astana's Expo 2017, beating designs from around the world to secure a place in the top three. Their E-Cobra

design embraces sustainability and will use a combination of renewable energy sources, such as ground source heat pumps and a skin of solar panels.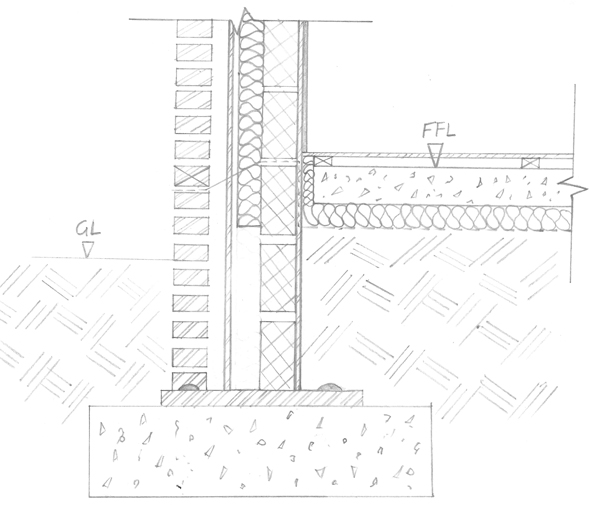 The practice arranged for us to work on a case study project, the Tyneside Badminton Centre

. This is one of their own projects and is now in the final stages of construction, due to open in September 2013. The idea was that through role-play with the Gradon team, we would deal with the client, contractors and various other disciplines, developing the project from the client brief into a complete design solution.
We were given the client brief and details of the existing building that we had to work with. This was a community youth centre consisting of a sports hall with three badminton courts, treatment rooms for players and changing facilities. It was up to us to come up with a design solution that would meet the client's needs. The client wanted a total of ten badminton courts, which had to meet Badminton England premier level play standards. Currently there are no centres dedicated to badminton play in the North East, making this a hub for badminton play and competitions. The construction was to take place in two phases; the first phase would be the construction of a separate building with a connecting corridor to the existing building, and the second would involve connecting the existing to the new build.

We started to develop proposal design ideas for the client, without looking at the final solutions that Gradon Architecture had used in their version of the project. We decided the best solution was to create a new building to the rear of the existing building for Phase 1. This could be accessed through a new connecting corridor, and would house six of the additional courts needed. A stairway in the corridor would give access to a viewing platform over the new sports hall.
Phase 2 would involve connecting the new build sports hall to the existing to create a large 'L' shaped sports hall, where there would be room to place the final badminton court needed to meet the 10 court quota. It also involved the extension of the viewing platform so all courts could be seen by spectators.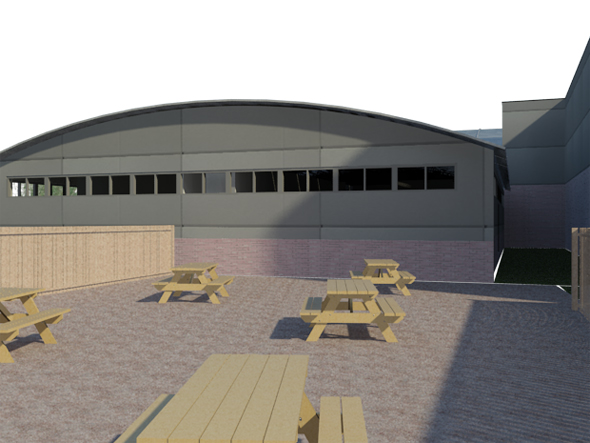 Throughout the development of the project we went through the stages that would be experienced in a live project, one being the planning application, as this was something we hadn't looked at in detail on our Architectural Technology course. This involved submitting a set of planning drawings, writing the design and access statement, completing a planning application, receiving the planning conditions from the Local Planning Authority (LPA) and submitting a discharge of planning conditions report. To see the full documentation process at this stage was extremely beneficial to us as, having gone through this process, we now have the confidence to do it in practice.

Throughout the project we had to request information from members of the team so that we could progress with the development. This involved information from structural engineers, the client, contractor and so on. This helped to show us the involvement of different parties at various stages of the project. We had no previous experience of collaborating with or using information from other disciplines, so we now have a much greater understanding of the parties involved and at what stage they would need to be engaged.
Our final floor plans were very similar to Gradon's solution, with some minor differences, such as the layout of the courts in the new sports hall. This gave us confidence that our final design was a suitable solution.

We would like to thank Gradon Architecture for this opportunity; we have both benefitted greatly and learned a great deal in the time we were able to spend at NE40 Studios. We would also like to thank NBS for allowing us to participate in this experience, all contributing towards our professional development.