The UK Construction Industry is helping to tackle deforestation by increasingly sourcing sustainable timber and timber products according to a study from WWF-UK.
The 'timber scorecard' survey, published in July 2015, saw construction companies Carillion, Travis Perkins, Mace Group and Saint Gobain Distribution UK all achieve a coveted '3 tree' rating.
The study examined 128 organisations in total and, of these, 22 scored a '3 tree' rating, with 28 scoring '2 trees' or '2+ trees'. 48 companies failed to score at all, suggesting limited or no action being taken to ensure the timber products they sell don't contribute to illegal logging or deforestation.
In contrast, '3 tree' companies were all seen to have made public commitments to using FSC and recycled timber products in accordance with European Union Timber Regulation (EUTR). They were also judged to have set up appropriate policies and control systems to ensure timber usage was reported openly and accurately and to have sourced more than 70% of timber-based materials from responsible (FSC-certified or recycled) sources.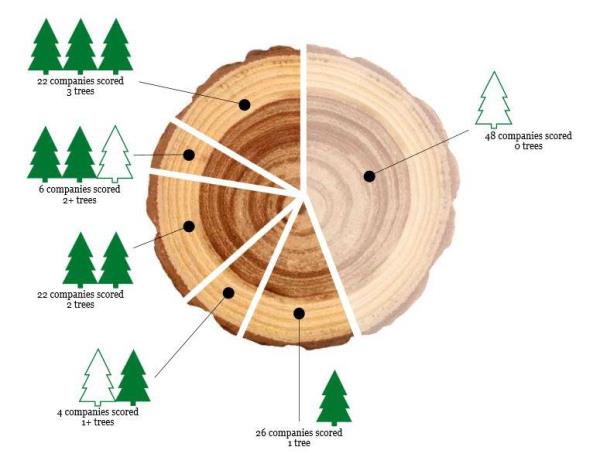 With the demand for wood set to triple by 2015, as one of the largest importers of timber in Europe, UK companies play and important role in influencing the global market. The fact that the construction sector scored most highly against the set criteria with all construction companies reviewed appearing in the top 40% is therefore highly significant.
WWF-UK plan to release an updated timber scorecard in Autumn 2015 and again in 2017 and 2019 and is actively engaging with those companies analysed to suggest ways they can improve their scores.
General recommendations for companies include:
Publishing a clear purchasing policy online that prevents illegal timber from entering the supply chain and encourages sustainable timber and timber-product purchasing.
Systematically verifying that products meet minimum legal requirements but increasingly come from sustainably managed forest sources.
Committing to targets for sourcing increasing proportions of certified or recycled timber sources.
Reporting on policy targets in a clear, simple and transparent manner.
Raising awareness of timber sustainability issues with consumers.
The organisation is also campaigning for government incentives to enable the transition to a market in sustainable timber and timber products by 2020 and for the EU commission to expand the scope of the EU Timber Regulation to cover all wood-based products.
Find out more about WWF-UK's work on forests

Related articles
WWF-UK Timber Scorecard: Measuring the progress of timber and timber-product buyers on sustainability in 2013-14 (July 2015)