John Lorimer, Capital Programme Director, Corporate Services, at Manchester City Council explores the advantages of Business Information Modelling...
Why should architects be interested in BIM?
What a difference a year makes. In early 2010 I was asked to give a three hour presentation on the evolution of BIM and why it was important for clients. The programme was to be part of the RIBA CPD scheme across the north of England. In the event the programme had to be rescheduled from the spring of 2010 because of a distinct lack of interest. The programme finally kicked off in October 2010 with the last session in March 2011.
Each session has indicated an increasing awareness among the architectural profession that BIM is coming, is for real, and will have a profound and lasting effect on design and construction, the built environment, and also the future maintenance and management of our facilities.
Why have things moved on so quickly in the past year? Clearly a significant number of design practices (large and small) have been investing in, and using, BIM technology and methodology for a number of years, mainly, it seems, motivated by a wish to improve their own effectiveness and efficiency. Some contractors have also been quietly working away, integrating BIM into their design and design management. Of more significance is the use of BIM by European, Far Eastern and American organizations. It is clear that some companies have embraced the technology and demonstrated significant real benefits through all stages of the building process.
This fact has been recognized by our Government to the extent that a diverse group of individuals across the industry including clients, designers, contractors and software providers were brought together in mid 2010 by BIS (Department of Business, Innovation and Skills) to assess the potential roll out of BIM, and to understand the UK's position relative to the world market. The work has been completed and is likely to be published in the early summer, and will be essential reading for everyone in the construction industry. It will also give guidance on the key issues we all face in adopting BIM.
Why should clients be interested in BIM?
The benefits will ultimately be in using the model to manage completed facilities. We live in an age where change is a constant. Our needs will change, ICT provision will change and currently our thinking on space utilization – driven by a need to transform our service delivery – is demanding we do more for less. The business case is therefore derived from efficiencies we can see through having a detailed 'virtual' understanding of how the facility functions along with a clear picture on the actual construction of components (all fully traceable) we own.
This assumption is clearly more visionary than real at present given the relative lack of data to support the hypothesis. The evidence will soon be available, as in the United States various (mainly government) clients are running pilot projects to establish how FM delivery can be incorporated through the design and construction process. One issue to be resolved is what information should be lodged going forward. Data capture is relatively easy – picking the right data is another thing!
Efficiencies through the design process are becoming clearer. The biggest single gain would seem to be simple coordination of components using clash detection software combined with a virtual build, which means mistakes are identified before work commences on site. BIM will also demand increased attention to the selection of components at the earliest stage. The BIM library will ultimately include all the components required to build a facility. This presents the perfect opportunity for components to be assessed on all the usual criteria, but particularly on their durability in use. It should enable clients to be clearer on what will actually be built into their facility at the earliest stage. This does however present a real challenge to the supply chain, which I will address later.
BIM in practice
So what are we doing currently? We have three projects in the design phase which are using BIM to one extent or another. Manchester City Council Town Hall Extension and Central Library, both designed by E Vincent Harris and listed grade II*, are being extensively remodelled and refurbished in a £100m project.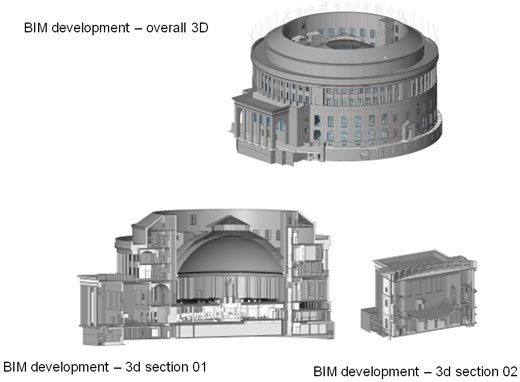 Manchester Central Library - BIM development
The scheme is being designed by two architectural practices, Central Library by Ryder Architecture and the Extension by Ian Simpson Architects, with Laing O'Rourke as main contractor. The core team (circa 100), including client and key suppliers, work in an open plan project office, opposite the site. Ryder were keen to use BIM and we have supported their ambition. The process has been fraught at times with conflicting demand from the various members of the design team. We have engaged Salford University to research and report on the benefits or otherwise of using BIM on the project and early findings will be published in the autumn.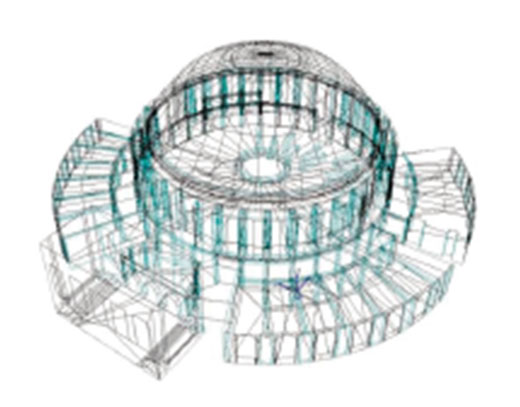 Manchester Central Library - acoustic analysis of the dome and reading room
Other projects are a new primary school which is in its early design stages and a new build housing project which is now in construction. The housing project has already yielded significant benefits in collaboration between the various consultation and design professionals leading to a more efficient special design. The outcome has delivered £150k+ savings to the project.
A key component in our work to date is that the projects are managed in a truly collaborative environment with a fully integrated project office. This environment, coupled with experience over the past seven years using framework arrangements, is allowing us to cut across many of the BIM issues such as ownership of the model and contractual liability and management of risk.
Conclusion
It is clear that the interest and take up in BIM is growing at a phenomenal rate. The BIS report will provide encouragement and guidance to further roll out the use of BIM in the public sector. Put together with the efficiencies being reported elsewhere which will surely be demanded by private sector clients it is a difficult to see now how BIM will not be embraced by the industry.
It does however present a real challenge to the supply chain. Contractors are continually reducing the number of suppliers they work with and BIM may well drive fewer companies to work together as a means to delivering a better value product.
Hopefully the cost of using BIM will continue to come down, such that the smallest of companies can be engaged in projects. It is interesting to note that the level of interest and investment is not a function of size – more one of the seeing the light.