In January 2016 a research conference was held at the Indian Institute of Technology in Delhi on the theme of smart cities.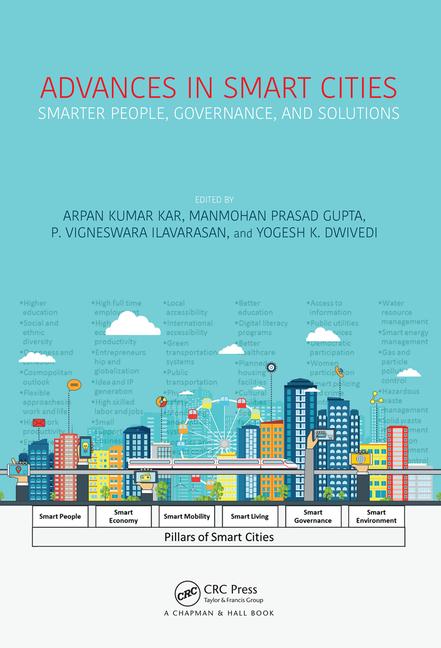 The event, a joint venture between IIT Delhi, Swansea University, and Waterford Institute of Technology, delivered a packed programme of 34 presentations (whittled down from 50 submissions).
Here the organisers offer up, in hardback, 15 of the best presentations, further reviewed and screened, to deliver content across four core themes:
The concept and perspectives through which research and development on smart cities can be viewed.
An exploration of the key needs of residents and how these can be serviced with an emphasis on needs analysis and better governance.
A focus on smart city planning and development with an emphasis on public policies and governance issues with examples of best practice and relevant frameworks.
A closer look at the kind of solutions afforded by technologies, their benefits and associated governance.
Among the essays expect to find musings on resource-based planning, the impact of mandatory electronic public services and a proposed eco-system framework for a smart village in India.
There's also explorations of cashless payments, energy conservation using natural light and low-carbon logistics networks.

Those keen to explore will find a thought-provoking mix, for sure, but how well it meets your own needs is probably best judged by a quick skim of the table of contents, such is the variety of what's on offer.
The last word
Much mainstream coverage of the smart city phenomenon opts for a surface skim of the Internet of Things. It's refreshing therefore to approach the societal impacts across planning, design and construction with academic rigour.
That said, the conference roots of the submissions are clearly apparent - and the preface only goes so far in weaving a narrative and providing a holistic view of the concepts and potential at play.
While the mix is of widespread appeal, some may prefer clearer focus on design, build or technology and less on the wider issues that society will be required to content with. Those involved in town planning, however, will find much to ponder.
About the authors
Three of the co-editors are faculty members / professors in the Indian Institute of Technology Delhi. The remaining co-editors are professors in Swansea University. Collectively the group has authored over 500 articles in research papers and have over 4500 citations as per Google Scholar. They are on the editorial board and review board of journals in Elsevier, Taylor and Francis, Springer and Emerald.
What to read next...
Understanding BIM in a project management environment
What does a BIM workflow mean in terms of project management? How should teams come together to collaborate? How should information be managed and projects run? Our guide explores some of the key considerations including a look at some of the key elements of Integrated Project Delivery.

BIM for project managers
Key takeaways from a RICS insight paper looking at how project managers can spur the adoption of BIM and drive improvements across project teams.