In the concluding part of a two part series Emma Humphrey shares her experience as a budding building detective...
Morning
Meet at the Market Cross, 10 am Saturday 3 September 2011. Dress code: Smart casual - casual enough for grovelling about in dirty attics but smart enough to be seen in the Tallantyre (interior design) shop window.
The drizzle hadn't deterred around 20 budding sleuths. The group consisted of North East Vernacular Architecture Group (NEVAG) volunteers, denizens of the Bedlington Historical Society, English Heritage staff on their time off, council folk, volunteer guides from the National Trust's Seaton Delaval Hall, and local residents like me. One lady, born in the town but having lived most of her life in Sheffield, had made a trip just to attend. Most of us had no previous survey experience - woohoo!
We were split into teams of three: two to hold the tape and one to record. I was teamed with Sue and George - two NEVAG folk. At least two teams were allocated to each building. Beams and trusses were to be measured at centre line, and we were warned that the room diagonal measurements might seem a little strange, but this was common in old buildings. Interesting features were to be surveyed in detail - this was of greatest concern to us novices as, even following Martin Robert's lecture, we weren't sure if we would be able to spot something significant.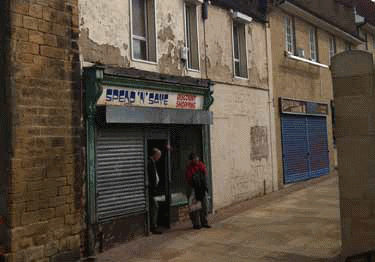 George & Sue, Spend 'N' Save
Access to the buildings had been secured for one day only, so we had to make our time count. Martin supplied us with preparatory sketches from a scouting trip he'd made. We were also advised to take lots of photos as this would not only help when drawing up, but would hopefully capture anything the survey might miss.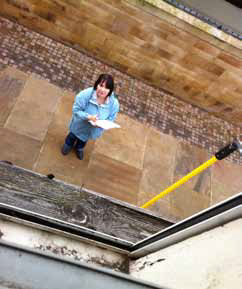 Facade Survey, Spend 'N' Save
Some folk had their own kit: I had my own 30 m tape and trusty NBS 'Small Business package' retractable tape. Retired builder, George, had a laser level with a measuring function (great for taking ceiling heights). NEVAG brought kit along too, including retractable poles for measuring elevations - gone the stripy ranging rods of old; these devices gave a reading at the handle.
George had specifically requested the grubbiest gig going and that's what he got - our team had been allocated the top floor of Spend 'N' Save. We divided our tasks by our relative experience: this was Sue's first survey and she didn't want too much responsibility so was keen to hold the blunt end of the tape; so George took responsibility for reading out the measurements, leaving me the magic clipboard for writing it all down.
There were three rooms at the front; the middle room almost as narrow as the window in it. The first room gave us our only glimpse into the attic and it was packed with barbed wire! We were later told the local legend that the shop had problems with burglaries or, to be more precise, a burglar: the same guy would break in, get nicked, do his time, break in, get nicked... etc. This one man crime wave may also be the reason for the total lack of windows in the four rooms at the rear. If we propped all the doors open we could get a glimmer into the stairwell at the rear, but the rooms themselves remained pitch black. Sue and George strapped on the head torches, I had my mini-MAG light, and we placed George's gazillion candle torch in the middle of the room to provide a little mood lighting.
These dark back rooms gave us some valuable information, though. A huge crack, 10 mm wide in places, in one of the walls showed that poor little Spend 'N' Save was in a worse state than you could tell from the outside. As predicted by Martin, our diagonals were proving very unruly, but the last room (stretching the full width of the building), took the biscuit: 1820 mm wide at one end, 3420 mm at the other! Drawing up was going to be fun...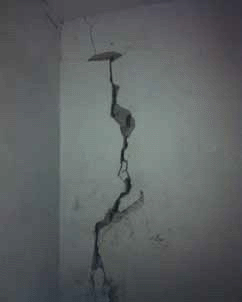 Big crack, Spend 'N' Save
Afternoon
After lunch some of the teams were given more time to finish off their surveys. As we'd finished our floor, Sue and George helped out another group. Meanwhile, I stayed in the café going through old maps and photos with another Sue, one of the Seaton Delaval Hall guides, and her husband Stuart. Could we correctly identify Spend 'N' Save in its earlier incarnations and has the Market Cross moved at some point? When the last tape was sheathed, we regrouped for a tour of all four buildings.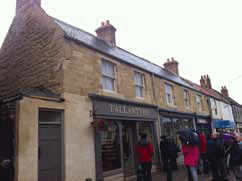 Post-refurb: Tallantyre
Drawing up
It's been a long time since I've drawn a building, let alone from survey notes. Using just my sketch pad on the dining room table, I very quickly missed my old drawing board from college - not that the discipline of right angles seemed to apply to Spend 'N' Save. Time to crack out the 2D AutoCAD then - that's been a very long time too. Trying 3D seemed a step too far; besides, we were drawing up to English Heritage conventions which are 2D.
Even with CAD I came unstuck very quickly thanks to all those wobbly walls. The front wall was a reasonable datum, but that was it - I couldn't assume that any of the internal walls left the front at a right angle. I tried triangulating from all the measurements we'd taken, and we'd taken loads because it looked so wobbly when we were in there, but they refused to intersect neatly. Pants.
Time for an emergency pep talk from Martin. A flurry of emails later and we agreed to discuss it over lunch on the Bedlington Historic Walk day on Saturday 1 October. Martin and NEVAG Chairman Colin Rees were sympathetic and gave me some pointers, plus a get-out-of-jail option to scan the survey notes and let Martin draw them up instead. I was determined to get it done, but progress remains painfully slow. The piles of paper on the corner of the dining table make me feel guilty every mealtime, so I may need to concede defeat shortly and leave it to the professionals.
What happens now?
At the lecture, Martin quoted 'Pass it on, boys!' from Alan Bennett's 'The History Boys' to illustrate there is little point doing the research if we don't get it out into the world. So we need to generate a report containing:
Our survey drawings.
Excerpts from the relevant OS maps.
Physical descriptions of the buildings.
Documented history from the Northumberland Archives at Woodhorn.
Planning and Building Regulations submissions.
Photos - old and new.
And finally, a 'Discussion': namely any speculation the team wish to make or conclusions they want to draw.
Martin emphasised that an incomplete publication was better than no publication and cited a gifted Durham historian whose unpublished life's work is slowly consuming her kitchen. Once the building owners have given approval for their plans to go public, our report will be published, by ourselves or through NEVAG.
It's been a fantastic opportunity for enthusiastic amateurs like myself to contribute to a community history project - enjoyable and enlightening, not only for us but also, we hope, the townsfolk of Bedlington.
Parts in this series
This article is Part Two of a series - 'An historic day out'. Links to other parts in the series are provided below: