Introducing BS 8536-2: 2016. The BIM Level 2 suite of documents now includes a code of practice for asset management.
The design of an asset has an impact on its design, construction and operation. The existing process for this was deemed to lack adequate feedback from operations and while the concept of buildability/constructability has long been accepted, the new code of practice in BS 8536-2: 2016 seeks to ensure operability is considered as a matter of routine practice.
What format does the standard take?
The new standard adopts the structure and format of its companion document, BS 8536-1:2015 (Code of practice for facilities management (Buildings infrastructure) and, as such, incorporates the principles of briefing associated with BIM Level 2 and Government Soft Landings.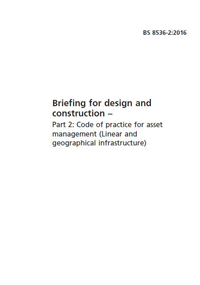 In providing structured and systematic approach to briefing to ensure operating and maintenance costs are minimised, BS 8536-2: 2016 addresses linear infrastructure assets such as transport/energy distribution and geographical infrastructure assets such as flood alleviation.
What are the key benefits of BS 8536-2?
BS 8536-2 is the only standard to provide briefing recommendations for the design and operational performance of infrastructure assets. The key benefits of using this standard will be:

• Improved supplier support at the handover stage of an asset to the operator
• Improved operational performance and reduced costs of an asset
• Increased value of an asset
Where can I download the standard?
BS 8536-2 is available as a free download from the BIM Level 2 website thanks to sponsorship from the Department of Business, Energy and Industrial Strategy and the Building Information Modelling (BIM) Task Group.

Download BS 8536-2:2016


To keep up-to-date with advica and insight on Building Information Modelling (BIM) and the latest regulations and standards, why not sign up to the NBS eWeekly newsletter? Get the latest content from theNBS.com carefully crafted into a handy weekly email.