A number of years ago, while working with a specialist roofing contractor, I was required to accompany an architect and building surveyor onto a large industrial roof to undertake a detailed condition survey. Both individuals were seasoned professionals, used to coming onto site and undertaking surveys of all sorts of buildings. However, it didn't take long to realize they were woefully ill-prepared for the task in hand. In stark contrast, the two roofing operatives accompanying us to assist in loosening sheeting and flashings were properly 'suited and booted'. Both wearing proper head, foot and eye protection; high visibility jackets and full body harnesses. The tweed jacket and leather brogues, or denims and trainers, may be fine in the office but unfortunately offer no real protection on a profiled metal roof four storeys up above a busy Glasgow thoroughfare.
A quick rummage through the operatives' vans soon procured spare sets of the requisite foot and head gear, harnesses and gloves. Once on the roof, however, it was clear that the lack of safety awareness didn't stop at personal attire; the final straw coming when the architect used the toe of his steel-capped boot to test the fragility of a rooflight. It struck me that there was a bizarre irony in our safety behaviour: as professionals we demand high levels of operational safety from our contractors, i.e. in the provision of risk assessments, method statements, adherence to safe practices and standards, toolbox talks, etc., but we may not reflect this in our own behaviour. How many safety briefings or CPD hours have you undertaken this month and do you keep records? I'll wager your contractors on site will be able to demonstrate their attendance.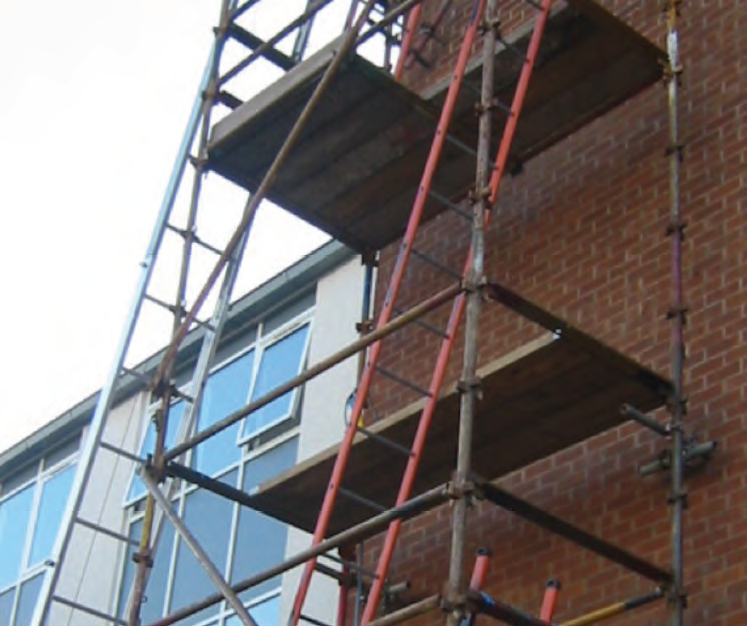 1. Be aware of the condition of any scaffolding used for access
Dress code
Undertaking most surveys, particularly where they involve internal domestic inspections, may not require the full protective ensemble required by an operative working externally. However, before we undertake any survey work, detailed consideration needs to be given to the possible risks and, in particular, the need for any personal protection to head, feet, hands, etc.
Where it may be difficult to assess all the risks beforehand, it would seem sensible to have a kit of protective and safety gear always on standby. As an absolute minimum, you'll need a plastic storage box kitted out with: safety boots, high visibility jacket and vest (for the summer!), hard hat, goggles, ear defenders and a range of gloves (disposable and safety). I've always found that the high visibility jacket or vest seems to provide some degree of implied authority when surveying, and certainly prevents confusion with Department for Work and Pensions officers when you're walking around certain housing estates with cameras and binoculars. It would also make sense to keep a set of waterproofs and perhaps a spare shirt and pair of trousers; not everyone in the office will appreciate you drying off your gear over the radiator.
In addition, where you are likely to be routinely using a full body harness, e.g. when using a mobile elevated working platform (MEWP) or 'cherry picker', I would recommend procuring your own. There is nothing more unseemly than watching the project manager rolling around the site hut trying to climb into or adjust a standard sized, supplied harness. And remember, you will require your own harness, and any associated lanyard, inspected at regular intervals in accordance with manufacturer's recommendations.
Access risks
We're now fully kitted up and ready to go. But hold on, we've assessed the personal protection issues but have we fully assessed all the risks? What about access?
Where access to an external façade or a roof area is by a ladder or other access equipment, e.g. scaffold tower, MEWP, then follow manufacturers' and HSE guidance on positioning, operating and, in the case of ladders and scaffolding, securing and footing. In addition, whilst surveying from within a MEWP fitted with effective anchor points, a body harness should be worn. MEWPs are normally intended as work platforms and not as a means of access to elevated levels. However, the HSE recommends that where a MEWP is to be used as a means of access to an elevated level, it should be designed to allow safe access and egress, i.e. it should incorporate a gate or barrier. Also, the risk assessment method statement should identify a safe dismounting procedure and location; it is not acceptable, or safe, to simply clamber over the edge rails to gain access to the higher level.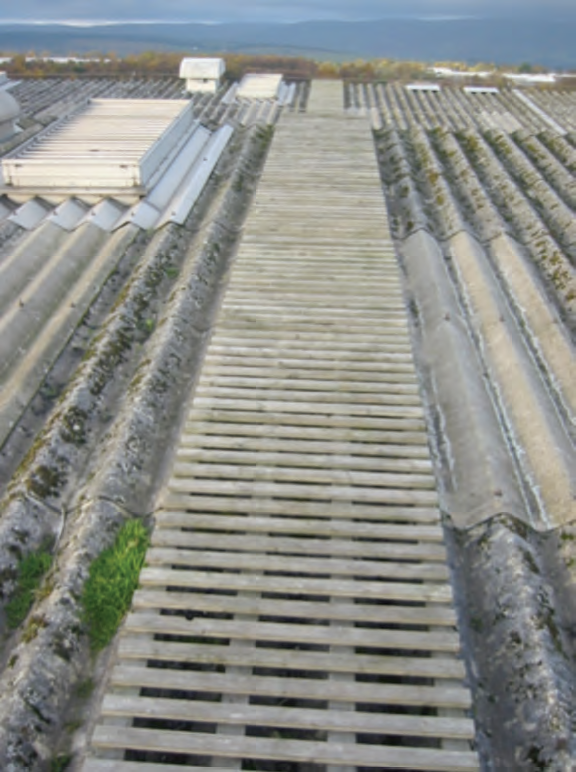 2. Always use dedicated walkways across fragile roof surfaces
Where existing scaffolding is to be used to gain access to higher levels, it is the responsibility of the surveyor to ensure that it is safe for this purpose. Check the existence and security of guard rails, toe boards and access routes. Where available, inspect any 'Scafftags' or site records to ensure that the scaffold has been checked before use. Avoid accessing the type of scaffolding highlighted in Photograph 1. The lower deck on this ladder access tower is incomplete, probably only boarded to allow the scaffolders a working platform and should have been removed on completion or made safe. However, a colleague on hearing his mobile phone ringing stepped from the ladder onto this platform to take the call. With incomplete boarding, no handrail or toe boards - it's not a safe place to be.
Having safely got to the higher elevations there are some basic do's and don'ts, particularly on roofs. At all levels, particular care must be taken around edges and penetrations; don't be tempted to walk backwards to capture that important photograph unless you have ensured a clear route and that any penetrations or holes in the floor have edge protection. Fragile roofing, e.g. asbestos and rooflights, should not be walked on. Under certain light conditions it may be difficult to differentiate between the sound roof surface and the fragile rooflight. Where provided, always use dedicated walkways around roofs, Photograph 2. Don't be tempted to walk along valley gutters, they may offer a convenient route across the roof but they represent a slip hazard and the exposed edges of sheet metal or asbestos are a considerable cutting risk. Another reason for those stout safety boots!
When surveying, we need to caution against complacency. There may be edge protection and a safe access route to the point of survey, but we need to be constantly aware of potential risks. Photograph 3 highlights a number of potential risks on an area of roof bounded by a high parapet. The area incorporates unprotected low-level glazing; trip hazards in the form of rainwater outlet cages and discarded timber, and a restricted passageway due to air conditioning plant.
Special risks
On many high risk sites, e.g. railway property, electricity sub stations, specific training or guidance, typically provided by the client, will be needed before access. Many organizations, e.g. retail outlets, specialist manufacturing plants, schools, may require visitors to register or 'sign in' and be escorted during their stay. Respect these requests. In addition, schools and hospitals represent particular risks for surveyors, not from hostile inmates, but due to the sensitivity of taking photographs in and around these buildings. The author knows only too well the folly of surveying and photographing roof defects above a school swimming pool; rooflights which were completely opaque at roof level were unfortunately clear when viewed from the pool and changing rooms below! Always request permission to take photographs or video footage and when on roof areas have an awareness of the use of rooms below.
Natural risks
Typically not covered in standard, surveying text books or HSE guides, the local wildlife can represent quite a risk to the unwary surveyor. I'm sure many of us will have experienced the amorous advances of Jack Russell terriers or the almost lifethreatening scratches from domestic cats, usually to the owner's plaintive cry 'Oh dear, he's never done that before.' However, we also need to be alert to the risks associated with undomesticated animals. Bees and wasps are common assailants and we should always be mindful of squirrels and rats, particularly where we inadvertently corner them in roof spaces or below floors. However, not all the risks arise inside. During the early summer period, when birds are nesting, roof surveys can be particularly hazardous. The common gull, Photograph 4, in particular seems to have a penchant for administering serious damage to anyone coming close to the nesting area. An old roofer's solution is to have your assistant hold aloft a broom, which becomes the point of impact for the gull's diving attacks and not the back of your skull.
Recommendations
In such a short article it is not possible to cover fully all safety aspects relating to undertaking surveys. For specific safety guidance see the Health and Safety Executive website.
At the very least remember the following:
Suited and booted - ensure you are properly dressed and protected and where there are particular site conditions requiring specific protection, e.g. face mask, harness, eye protection, wear it.
Access - where additional equipment is required to gain access to specific elements or higher levels, ensure it is appropriate and safe for this use. Where access appears to be straightforward, ensure that all exposed edges, penetrations through floors and dangerous areas have adequate edge protection or are eliminated from the survey.
Third parties - ensure that you have permissions for access and any recording that you wish to undertake during the survey; consider and respect users of the building and take precautions against the many natural antagonists that may be encountered.
And finally, a powerful safety reminder: alongside the exit door of the offices of the aforementioned roofing contractor there was a poster with the wording 'THE PERSON RESPONSIBLE FOR YOUR SAFETY', below which was mounted a mirror.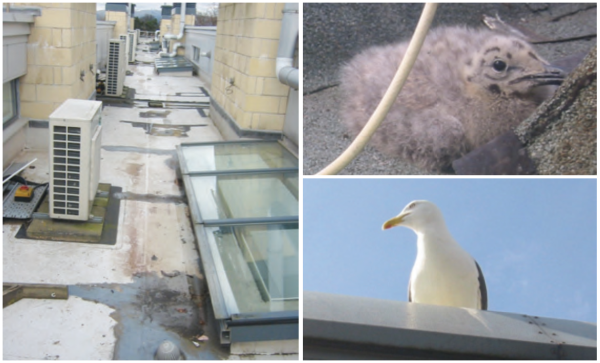 3. A well-protected roof access route but with trip hazards and falling risks
4/5. The young are very cute, but beware, mother is not far away and she packs a punch