A new report has found business leaders are optimistic when it comes to the development of UK infrastructure – at least in the short term.
The study, commissioned by Tarmac and carried out by researchers from Ipsos Mori, found two thirds of respondents were confident about the UK's infrastructure outlook in the next 12 months but 66% had concerns that not enough was being done in the longer term.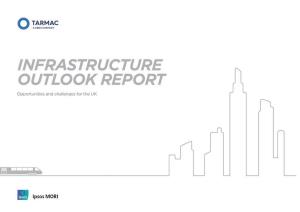 Respondents cited a range of measures that they thought necessary to alleviate concerns about delivery in the years ahead. These included cutting red tape (83%), increasing government investment (73%), giving greater certainty on government spend (71%), and unlocking private investment (70%).
As work gets underway on some of the biggest infrastructure projects seen in a generation - including the High Speed 2 rail link and a £15billion road building programme - the UK is clearly at an infrastructure crossroads and making the right decisions now is key to maintaining our competitiveness in the global marketplace and the investment needed to deliver key projects.
Over three quarters (77%) of those respondents who thought the government should spend more on new economic infrastructure projects in the next five years believed that the private sector should lead funding for new economic infrastructure projects. This was more than double the number who thought other sources should be involved, such as Government borrowing (37%), sovereign wealth funds (32%) or increased taxation (31%).
These findings highlight the private sector's critical role in plugging the infrastructure funding gap and in helping to tackle the UK's historic under investment. The study confirms that more agree (48%) than disagree (26%) that most other European countries, especially Germany and France, are ahead of the UK in terms of investment and development of both economic and social infrastructure. Even more agree (64%) than disagree (14%) that China and other leading global markets, the USA in particular, are ahead of the UK in infrastructure investment and development.
Nearly four-fifths (78%) of survey participants also agree that the time taken for infrastructure projects could be reduced if there was greater collaboration across supply chains. Such collaboration - public and private - could be facilitated via a Department for Infrastructure, with a clear majority (72%) supporting the creation of such a body
In other findings, there is a greater overall level of support for the maintenance of local roads and upgrading the strategic road network (motorways and A-roads) outside London as transport infrastructure projects, than for HS2, HS3, Crossrail 2 or adding runways at either Heathrow or Gatwick.
Regionally, there is a clear disparity between London and the South East versus the rest: 72% of survey participants first mention London (51%) or the South East (21%) as the regions that will see the most being spent on infrastructure projects in 2016.
About the research
The research was conducted by Ipsos Mori via telephone interviews with 300 senior decision makers in construction companies and their clients between 8 July and 12 August 2015, prior to the creation of a National Infrastructure Commission. The sample was drawn from the Dun & Bradstreet business database. Quotas were set to obtain 100 interviews with decision makers in civil engineering companies/ organisations/ clients and 200 in construction companies (for commercial and domestic buildings). The companies/organisations included in the survey all have between 10 and 1,000+ UK employees but the data is un-weighted, (e.g. by company size or building/construction sector).
You can view the full report, and a video showcasing the main findings, at www.tarmac.com/infrastructure-report