Never ones to shy away from a tenuous connection we recently got to thinking about the vast number of songs with a direct (or ridiculously laboured) connection to building and the broader construction industry.
Thus, in an NBS nod to the summer silly season

, the idea of a Top 40 playlist for construction was born...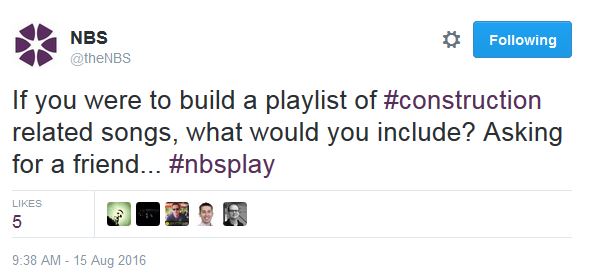 Your suggestions for the NBS construction playlist
@oliwalkerjones - We Built this City
@bondbryanBIM - Let's Build a Home, Another Brick In the Wall, Bob The Builder or anything by The Doors or The Foundations
@snowyweston - London's Burning, Ghost Town, Brown Paper Bag
@andyboutle - Made of Stone
@liccle_em - Something from The Scaffold - a band in the sixties, Skayscraper, Lego House or anything by Steps
@DRossiter87 - Bloodhound Gang - Fire Water Burn, Peter Gabriel - Sledgehammer, Miley Cyrus - Wrecking Ball
@StephenHamilNBS - Architecture of Aggression, Megadeth
@ekin_ugr - Led Zeppelin - Stairway to Heaven
@andyboutle - Adam F - Metropolis
@AnthonyBIMmeup - Bridges by #RISEBMOC Against, Four Walls by While She Sleeps, Rooftops by State Champs, Walls by Backyard Babies and Paradise City by Guns n Roses
@hodmoz_76 - Housemartins - Build, Starship - We Built This City
@BIMRegScot - Something from a band called Architects
@liccle_em - Bricks and Mortar by Editors
@Anthony_brophy - Insomnia - Faithless
@Calo_Marino - Stairway to Heaven - Led Zeppelin, Build Me Up Buttercup - The Foundations, Brick by Brick - Iggy Pop, We Built This City - Starship, Grandpa Was A Carpenter - John Prine, Hammer and Nail - Indigo Girls, Our House - Madness, Highway Under Construction - Gorillaz, Early In The Morning - Gap Band, Build - Housemartins, Screaming at a Wall - Minor Threat, Don't Forget Your Shovel - Christy Moore
@Studio_BIM - Spiral Architect - Black Sabbath
@KcChano - Rome Wasn't Built In A Day - Morcheeba

Share your song selections
We'd love to know what you think of the songs suggested on social media. Have we missed your favourite? Follow us on Twitter

or Facebook

and join the conversation there – using the hashtag #nbsplay.
To keep up to date with the latest additions to the NBS Construction Top 40, why not sign up to the NBS eWeekly newsletter? Get the latest content from theNBS.com carefully crafted into a handy weekly email.
Sign up to the NBS eWeekly newsletter