Designing the rural: A global countryside in flux

Guest Edited by Joshua Bolchover, John Lin and Christiane Lange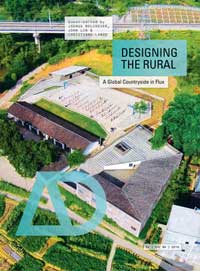 The rise of the megalopolis has prompted us to yearn for the countryside and architects and urban thinkers are increasingly turning their attention to the rural for inspiration.
No longer simply a site for agricultural production for the city, the relationship between the rural and urban has become much more complex upending a whole range of conventions and assumptions as a result.
In developing countries the countryside is a volatile and contradictory landscape: legally designated rural areas look like dense slums; factories intersect fields and farmers no longer farm. In contrast, in developed regions, the rural has become a highly controlled landscape of production and consumption: industrialised agriculture coexists with leisure landscapes for tourism, retirement and recreation.

The rural has become a highly controlled landscape of production and consumption.
In this issue of Architecutral Design (AD) a team of guest-editors explore how the very identity of what is rural is being challenged and what this means for those architects who've chosen to work in these locations.
Articles explore where the real and imagined rural can be found around the world and how the architecture of the countryside has traditionally been shaped. Of particular interest are case studies that explore the Rural Urban Framework in Ulaanbaatar, Mongolia; retrofitting sustainability to Brazil's burgeoning rural industries and the design influences on the world's largest retirement community in Florida.
Elsewhere, Partik Schumacher (partner at Zaha Hadid Architects) is sure to stir debate with a Counterpoint piece suggesting that as the countryside becomes ever more sparsely populated the architects traditionally engaged there could put their time and skills to better use in cities.
Yet again the AD team have produced a fascinating, thought-provoking, deep delve into the trends that are changing our environment and our ways of working.
About this book
Designing the rural: A global countryside in flux

is part of the Architectural Design series (Edition 242) and was published by Wiley in July 2016 and is available to buy from the publisher. The title is published in softback (ISBN 978-1-118-95105-7).
About the authors
Joshnua Bolchover, John Lin and Christiane Lange are colleagues at the University of Hong Kong combining research, projects and teaching with an interest in the fate of rural territories across the globe and how the urban future might be intertwined with the rural.