Our urge to reach for the skies and create ever-taller buildings shows no signs of abating but our lofty ambitions have always been limited by the need to get people up and down the structures.

The fact that tall buildings need lifts and those lifts in turn need vertically aligned shafts running the length of the building, frankly limits our architectural ambitions. However, all that could be about to change thanks to engineers at thyssenkrupp.
They've been hard at work on MULTI, a lift that in true Wonka-style can not only go up and down but also from side to side and then up and down again. This new range of motion opens up the possibility of more flexible building designs – designs no longer restricted by elevator shaft height and vertical alignment - buildings that no longer require a single 'railway line' to connect 'two cities' with a single 'train'.



Drawing on linear motor technology developed for the Transrapid magnetic levitation train, the firm have developed a system that can 'exchange' elevator cabins in shafts in the same way that trains move in rail systems.
A number of cabins can populate each shaft and vertical and horizontal movements are both possible. Multi-propulsion and braking systems and the safety control system developed by the company for its TWIN line will ensure the cabins are kept a respectable distance apart.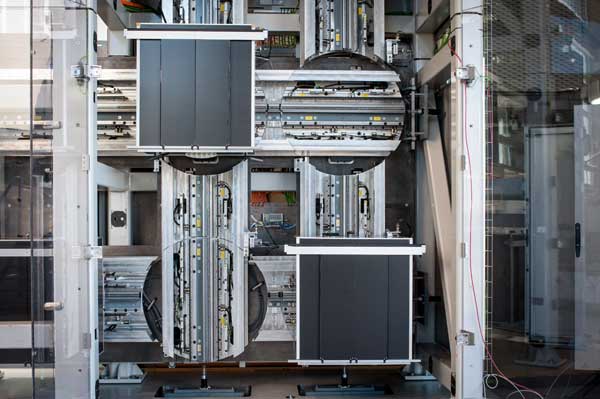 New direction: A novel model demonstrates the principles behind MULTI

The ability to run multiple carriages in fewer shafts is said to increase passenger throughput by as much as 50% and should mean that passengers never need to wait more than 15 to 30 seconds for a lift. Moreover, with new lightweight carbon composites being used for cabins and doors these components come in at just 50kg (with typical systems tipping the scales at 300kg) and with ropes and counterweights no longer required the overall mass of the system is significantly reduced.

As head of research, Markus Jetter, explains: "Buildings are becoming like vertical cities, and they need a flexible transport system similar to a metro. Speed alone does not solve the challenges posed by tall buildings."
Taking into account current construction trends of high-rise buildings, the list of the world's tallest buildings will grow rapidly in the coming years. Currently, over 180 buildings under construction will rise above 250 meters, of which about 50 buildings will be completed every year. In the mid-rise market, there are currently about 800 buildings under construction which will rise to over 150 meters.
With growing urban populations and space at a premium the only way really is up. thyssenkrupp estimate that by 2020, the global demand for elevator equipment and services is projected to rise over 4% annually to 61 billion euros from the 49 billion euros verified last fiscal year and the firm is hoping that its MULTI technology will increasingly find its way into new buildings.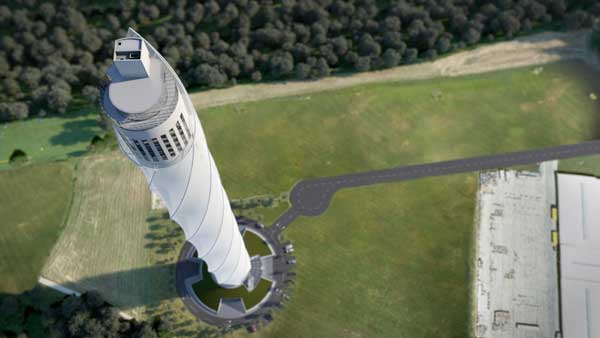 Standing tall: The firm's impressive test facility in south west Germany

For a firm staking claims on a high-rise future it comes as no surprise to find that the firm is developing a unique test centre. Located in Rottweil, Germany, the tyssenkrupp Test Tower will help dramatically reduce the time required to develop skyscrapers worldwide. Over 246 meters tall, the tower boasts 12 test shafts and travel speeds of up to 18 meters per second and three shafts will be dedicated to testing and certifying the new cable-less MULTI elevator system.