We've touched on the benefits of 'living walls' or 'green walls' before on theNBS.com but with summer hopefully just around the corner it felt like a good time to venture outdoors to explore two rather impressive examples in the heart of Newcastle-Upon-Tyne.
Living walls, or vertical gardens, form an integral part of a building or structure, utilizing the vertical surfaces that would normally be ecologically barren. They consist of a variety of plants and some sort of growing medium, supported by a structure. In some cases, where water is plentiful, soil may not be required, reducing the weight that needs to be supported, but typically a living wall can be applied to most external surfaces.
As well as adding a splash of evolving colour to the built environment, these projects also serve as a habitat for a wide variety insects and birds, helping to deliver urban sustainability way beyond the initial construction phase.
The Core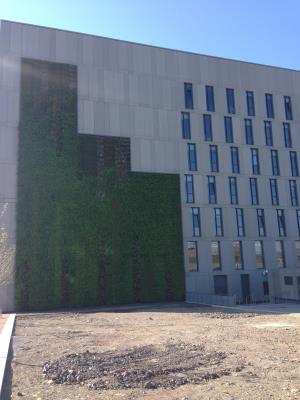 It's now almost a year since the installation of what was heralded as the "tallest living wall in England" at The Core – part of the 24-acre Science Central site that was once home to Scottish and Newcastle Breweries and now houses hi-tech businesses.
Newcastle-based architect Faulkner Brown worked with landscape architects from Land Use Consultants; living wall experts ANS Group Europe; engineers Mott MacDonald; and building contractor Sir Robert MacAlpine to create the structure which spans seven storeys.
It took a team of four almost two weeks to install the supporting railings and plant boxes and link them up to an irrigation system calling on the support of a 29-tonne scissor lift to reach the very top of the 27 metre tall structure. Totalling 366 square meters the vertical garden contains more than 35,000 plans including ivies, sea grass, thyme, primulas and even wild strawberries.
The plants are only part of the eco-friendly story though with bee 'hotels' and nesting boxes helping to encourage the development of a wide range of flora and fauna across the site that will eventually connect Newcastle's west end directly to the city centre via open public spaces featuring wildflower and grass meadows.
Marks and Spencer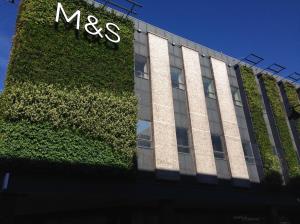 It's not only office space that can benefit from vertical landscaping; Newcastle's main shopping thoroughfare is also looking decidedly greener thanks to the installation of a 167 square metre 'green wall' on the side of Marks and Spencer's city centre store.
The installation was officially revealed back in March and is made up of 16,000 individual plants including species such as sea pink, thyme, cranesbill, wood rush, hebe and ferns all naturally irrigated by rainwater.
To celebrate the completion of the wall the retailer donated plants to a number of local primary schools to spread the environmental benefits across the city.
Mike Barry, Director of Plan A, M&S's eco and ethical programme to become the world's most sustainable retailer, said: "M&S Newcastle is one of our most important stores so the finished green wall and store's eco energy refit is hugely exciting for everyone at M&S.
"We hope the completion of this project will boost Northumberland Street, and provide our customers with an improved shopping experience. The green wall is a real standout, and with summer just around the corner we hope it will continue to flourish"
The store's 'eco energy refit' includes intelligent door sensors that can sense the difference between a passer-by and a potential shopper, LED fridge lighting and a new heat reclaim system. Managers hope that the store's energy efficiency will increase by 20% as a result of the improvements.
Elsewhere, the company has recently completed the installation of what it reckons is the UK's largest single-roof mounted solar panel array at its distribution centre in Castle Donnington. 24,000 panels covering 900,000 square ft (and covering 25 miles if laid end to end) have been installed and should generate over 5,000 MWh of electricity per year – about 25% of the total needed to run the centre.