Architects generally overlook the impact their decisions have upon biodiversity. Yet at a local and global level design decisions, especially in the area of material choice and specification, have big ramifications for ecological health. The potential of vertical gardens is a new and expanding area of work for architects. Rather than focus upon green roofs, the building as a whole can contribute to enhancing the biodiversity of cities with associated benefits in air quality and noise levels.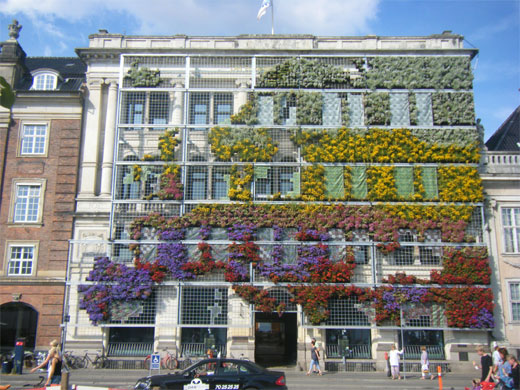 Living façade in Copenhagen at European Environment Agency Headquarters
The installation at the European Environment Agency (EEA) offices in Kongens Nytorv in central Copenhagen is designed by the architect Johanna Rossbach. It marks the UN International Year of Biodiversity and is designed as a living façade representing a map of Europe with plants reflecting the relative ecological diversity of different regions. Hence in northern Europe where plant species are less abundant there are plants with hairy and greyish leaves whilst southern Europe has colourful luxurious plants which indicate the relative biological richness of the Mediterranean region. Botanically the façade flowers at different times reflecting the seasonal plant cycle. It is shown here in mid summer.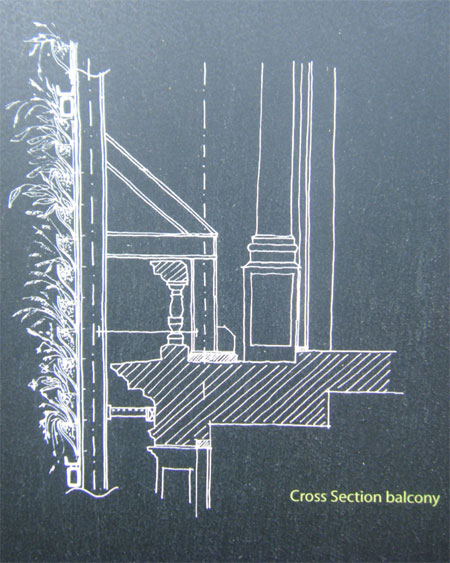 Living façade construction detail
The plants grow in a felt pocket mounted on narrow plywood platforms supported by a steel structure hung from the existing stone façade. The Danish climate with its warm dry summers means that a great deal of irrigation is needed to sustain the 5,000 plants. Rather than use imported exotics (which is common elsewhere) this installations uses only indigenous species. A combination of refined steel detailing and living material makes the temporary façade noteworthy irrespective of the underlying political message.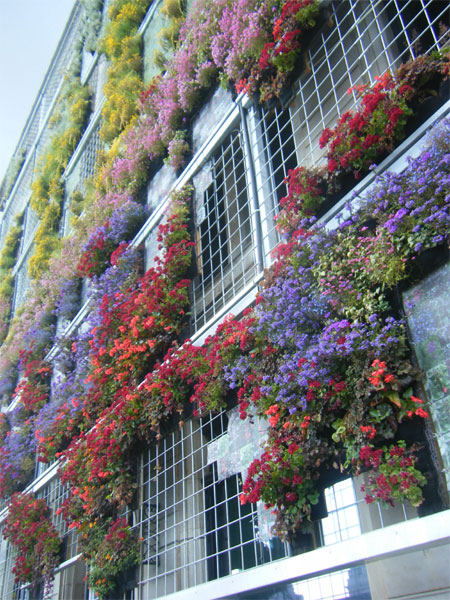 Planting on the living façade
Interior daylight is protected by using silk screen printed translucent textiles where existing windows occur. These allow filtered daylight to enter the building whilst maintaining the façade message.
There is growing interest amongst architects and landscape architects in living façades. All surfaces of buildings can contribute towards the greening of cities and hence wider ecological diversity.
The installation will stay in place until November 2010 when it will be re-erected at the University of Copenhagen.
Architect: Johanna Rossbach with Mangor & Nagel Arkitektirma
Engineer: Peter Christensen at Rambøll AS Denmark
Related links
View a photo gallery showing the living facade on Flickr


Find out more about the project on the EEA website