Update: Since this article was first written, all the content from the NBS National BIM Library has moved across to NBS Source.
-------------------------------------------------------------------------------------------
We love to hear about how our customers use our products across their projects. Here, as part of our series of case studies, we look at how Sheffield City Council used our specification product NBS Building on the multi-million pound redevelopment of the city's Botanical Gardens and its plans to implement NBS Create.
Sheffield Botanical Gardens is the only botanical gardens in the country to have undertaken a complete restoration. The work was finished in November 2005, at a cost of approximately £6.69 million.
The project was designed to achieve the repair, restoration and regeneration of both the gardens and associated buildings and features. A strategy was adopted to restore the gardens to their late 19th century condition, reconstructing the spirit of the layout of that period with its design intention, while at the same time adapting to modern requirements.
Central to its success was the restoration of the Grade II listed glass pavilions, which were an original feature of the gardens when they opened in 1836. Boarded up in the mid-1990s, the pavilions have now been lovingly restored to their original beauty, with the linking ridge-and-furrow walkways re-built using stainless steel framing.
Sheffield City Council currently uses NBS Building on approximately 20 projects, ranging from works to listed buildings, to school buildings and social housing projects. The flexibility, accuracy and guidance provided by NBS Building are key to their working requirements. Here, Paul Bangert from the Architects Team at Sheffield City Council explains how NBS Building was used to help deliver this very special and painstaking restoration project:
"We used NBS Building on the Sheffield Botanical Gardens project because we wanted to incorporate a respected, industry standard specification product that had currency in relation to British Standards and was therefore legally sound. We also wanted a product that offered access to up-to-date conservation content and would be adaptable enough for such a specialised project. We are very pleased with the outcome as, nearly a decade on from its completion, the end result still looks in very good condition and the key aim of the project was that the quality of the build must stand the test of time."

Work in progress: NBS Building enables you to write concise, technically accurate and up to date specifications for building projects
Given the unique nature of some of the technical issues, such as the 'hand-blown' glass used for the curved domes of the pavilions, NBS gave a good framework from which to develop some very specialist solutions, adding real value to the project, given the high quality of the end product.
Keith Wilson, Technical Information Director at NBS, says of the unique Sheffield project; "Our customers value the benefits NBS brings to specification in terms of setting standards, mitigating risk and saving time. But I love hearing about projects like this where we have added real value to the design and conservation aspects of the building. With NBS as support, the team at Sheffield City Council have really been able to focus on innovative design and conservation, with outstanding results".
Ian Turner, the Curator at Sheffield Botanical Gardens agrees; "The pavilions have become the primary image for the gardens and all of its publicity and act as a centrepiece for the entire restoration.
They attract many thousands of individual visitors from all over the world each year to look at the range of tender plants from the temperate regions. They also host small art exhibitions, musical recitals and up to 50 ceremonies each year.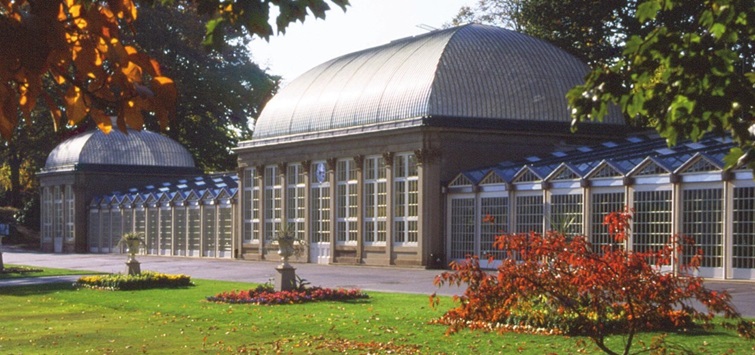 Back to their best: Sheffield's Botanical Gardens post-restoration
As a feature, they form the backdrop for some of the major events such as 'Music in the Gardens' and 'Art in the Gardens' which attract tens of thousands of people into the gardens each year."
Going forward, Sheffield City Council is now making the transition to NBS's ground-breaking specification tool,
NBS Create
, which alongside the
NBS National BIM Library

can be used to start the specification earlier, enabling information flow throughout the entire
Building Information Modelling
[BIM] process, maximising the efficient use of data and benefits of BIM.
Paul Bangert says; "NBS Create allows for wider methods of procurement and in particular is aligned to BIM, these are key features for our business going forward."
Neil Smith, Head of Customer Experience at NBS, said of Sheffield's transition to NBS Create; "After working with the team at Sheffield over the course of their projects in NBS Building we are looking forward to working with the team during their implementation of NBS Create.
NBS Create is a different way of working but we know that with our support they will find it not only an exciting and rewarding experience but also a wise investment. It's really satisfying to see a client realising the benefits working with NBS Create brings them."
Useful links
Find out how NBS Create can help save you time on your projects.
Find out how NBS Building can help with your specifications.
Find out more about Sheffield Botanical Gardens.