Outside of the construction industry, too few people are aware that the North East of England is a global fount of advanced building expertise. But that could change as a famous old building undergoes a transformation. Brian Nicholls, in a report that originally featured in Business Quarter Magazine, explains.

Even within Newcastle itself the fact that the city is the "engine under the bonnet" of advances for construction technology under way in many parts of the world comes as a surprise.
The head of a major recruitment group in the North East, for example, apparently never knew before chatting at an Entrepreneurs' Forum gathering that a solutions provider called NBS not only exists, but operates from Newcastle - and that the knowledge it compounds, distils and distributes employs almost 180 people there.
Its existence surprised even the folk from Newcastle City Council at one point. Yet NBS for more than 40 years has produced the specification system for the recognised national standards of construction in the UK. Indeed, it's the prime source. Beyond that, it provides innovative products and services for architecture, construction, design and engineering.
New build, refurbishment, retrofit, landscaping and domestic products for construction professionals are all covered. So too is contract administration and management of project information. Crucially, its NBS Create product saves time and money by ensuring that all documentation works together intelligently for a project, from concept to completion and beyond. As a technical publisher, NBS also turns out the UK's building regulations for the Government.
There must be few newer buildings of importance it has not had an effect on now, because 98% of architectural practices in the country use it and the other 2% will be using a consultant who does, Richard Waterhouse reckons. Manufacturing industries are guided by it too. "Like the engine under the bonnet, we keep things going in the right direction," he says.
Richard is chief executive of both NBS and RIBA Enterprises, a knowledge management business of the Royal Institute of British Architects for which NBS is a brand. Richard, who lives near Hexham, works two days a week in London but is increasingly abroad now promoting NBS services in English-speaking countries such as New Zealand, Dubai, Australia and Singapore. NBS is contributing also to the advance of expertise on mainland Europe.
"British architects are recognised leaders of their profession. We want to ensure that whatever tools they use here may be used wherever their products are made in the future," Richard explains.
We've seen changes in methods of delivery in publishing, music and film. Organisations in the construction industry will change as well, Presently, its computers are still effectively just a digital drawing board yet to change.
A key NBS asset is its leadership in Building Information Modelling (BIM), digital representation of buildings in 3D enabling architects, surveyors, engineers and contractors to collaborate more efficiently and avoid costly mistakes. It has developed this since 2007, and in 2010 the Government said from 2016 it will be compulsory in all public sector construction projects.
"We were naturally very happy about that," Richard declares. "The technology is now being looked at worldwide. Since 2011 it has been saving huge amounts of money in the UK on the original capital phase of a building at design stage."
Example: in the last financial year the Government spent £3.6bn on projects using BIM and saved £155m. "Suddenly governments around the world have got very interested," Richard reports. "Efforts are also being made to push forward a European standards agenda for BIM too."
Kim van Rooyen, director of global construction consultancy Turner & Townsend, has predicted that within a decade it will be as integral to the construction industry as computer aided design is now.
NBS's advantages also include the fastest growing library in the UK, a Cloud based repository of its BIM knowledge. This award winning National BIM Library is a prime source of free-to-use BIM content in the UK.
Many bodies set standards in pursuit of best product, Richard explains – in fire safety for example. "We try to make sense of all the standards existing, then make it easy for customers to specify building products and materials. They save time and, as experts, hopefully we get it right. It makes them more profitable."
"Having dealt with structure product information for many years, we describe that information rigorously ," Richard says. "When you start pulling it into 3D models to be interrogated by different systems you can find the right information quickly. BIM has required us to add geometry to all our other data and regulatory standards.
"Our information web is simple to use, and we aim to get that library into many more places. The Government is keen also to push building expertise here into other countries. It helps designers' work abroad, also contractors and manufacturers of building products looking for new markets."
All this is hugely exciting, Richard avers, since one rarely gets to be part of a fundamental change in an industry, and construction is one of the last major sectors to be turning into a truly digital industry. "We've seen changes in methods of delivery in publishing, music and film," he points out. "Organisations in the construction industry will change as well. Presently, however, even though we work in computers it's still effectively just a digital drawing board yet to change. BIM is changing it."
It will, he warns, bring rationalisation as in other industries, especially as construction is a fragmented sector that involves thousands of organisations. But Newcastle, he affirms, will be NBS's headquarters and innovation centre throughout, heart of its intellectual property, its drive to make better things, and its transmission thereof to many parts of the world.
How has that come about? After all, RIBA Enterprises also works from London and Newark. In the 1960s construction institutions realised the quality of buildings was poor and needed a national specification system. Only RIBA volunteered for the task. It was started in 1970, took three years to assemble and was published in 1973. "It was a disaster," Richard recalls. "While everyone thought 'we need this', few were prepared to pay at first to change an industry.
"Yet there were some very strong proponents in the North East – FaulknerBrowns being one. After a couple of years RIBA cut its losses and sold NBS to directors of the business then, both from Newcastle. They had to reduce cost, so they brought NBS from Marylebone High Street in London to Newcastle."
Now NBS, already a sometime occupier of Newcastle's old central Post Office, has bought the Grade II listed building and is converting it at a cost of £5.8m into a creative citadel to fortify further Newcastle's standing as an architectural centre of significance.
Some people still remember warmly the building in its first existence. Passing through the entrance's doric columns to the massive ground floor hall was like entering an adjunct of St Nicholas Cathedral across the road.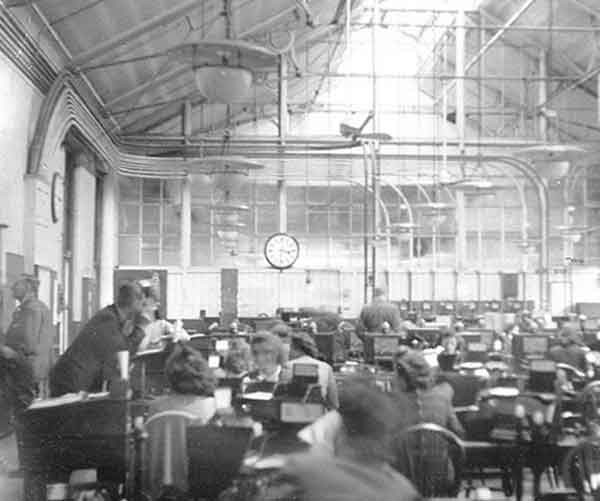 Smartly uniformed telegram boys outside, leaping astride their cycles to deliver news, good or bad, bred excitement. On an upper floor, hidden from public eye, a battery of earphoned lady telephonists, connected the city to the outside world, for this was both general telephone exchange and central posting point.
This spirit of times past excites Richard. He points out: "The technology then was to get people working together and that's what we're doing now in the 21st Century. Taking the best of technology and getting people to work together on it."
NBS, which occupies almost three quarters of RIBA Enterprises complement now, was situated above Julie's nightclub on the Quayside when it first relocated. The five floor post office, come its last post (so to speak), fell into disrepair in the 1990s. Fortunately, it was taken into the Grainger Town conservation area.
The North East architect Alan Smith, through Red Box Developments, reconfigured the building into four viable parts in 1999 – apartments, offices for the North East Chamber of Commerce, architects' studios for his own business, and the front area, taken up by NBS in 2000.
Last year RIBA Enterprises had chance to acquire the whole building from the Duke of Northumberland. "We laser scanned the building, creating a virtual model of it for designer and contractor alike. The building will be an exemplar for our products, a centre for architecture."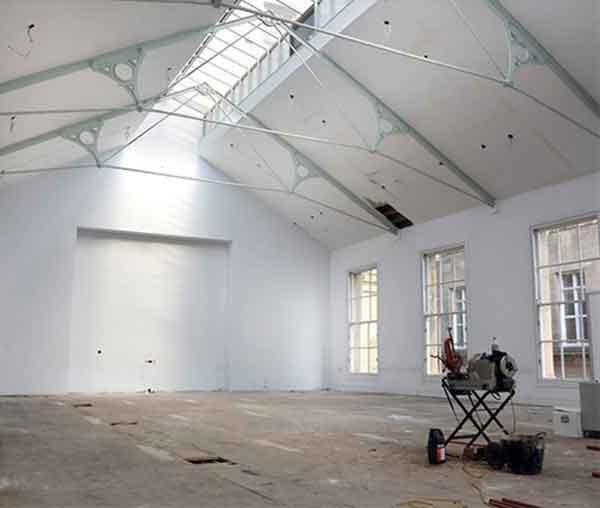 NBS will now have the basement, ground, first and second floors. The third floor will provide incubator space for architectural start-ups. There will be big open work spaces, meeting rooms, classrooms, and exhibition area. Extension of the roof gardens and terraces will allow for entertaining, and with a gym and catering installed the building should be alive beyond nine to five.
Visitors from the business and academic communities, and the public generally, will be invited to enjoy the gallery and exhibition space, a lecture theatre and facilities for other events. Whether the original "beautiful and iconic" building (architect unknown) is 1870s or early 20th Century is being researched. But Richard says everyone concerned is passionate about its renaissance. "We hope the work under way will please current and future generations – as a working environment inspiring and motivating both staff and visitors, and involving people across the region."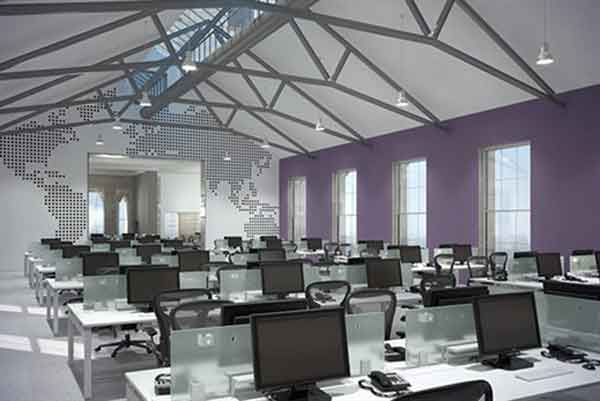 Surgo, the Newcastle builder back to pre-recessionary revenues with a 55% rise in annual turnover to £35m, is refurbishing the interior. Newcastle architects JDDK are overseeing the project. Adam Vaughan the project architect says: "Our design is, in essence, to return the building to its unified state, and to create work space for some 210 staff as teams, who are currently located across different parts of the building."
Although NBS serves the entire country the majority of designers and constructors tend to be in the South East and London. But Richard says: "We realise that to attract brilliant people for our business we need to raise our profile in the North East. We're looking to do that so that people will know what we're about when we advertise for more staff. We're growing like mad."
They build on greatness
Newcastle's status as a centre of architectural interest starts on neoclassical Grey Street, popularly acclaimed as Britain's finest street, and it continues along a line of outstanding work by architects associated with the city. These include:
John Dobson, of course, designer of Grey Street and many magnificent country homes around the North East; Peter and Alison Smithson, noted for their post-war functional approach of 'new brutalism';
Gordon Ryder and Peter Yates who set new-town standards at Killingworth; and Sir Terry Farrell, post modernist creator in London of the MI6 headquarters and Charing Cross Station, and in Newcastle of the new Quayside area and the International Centre for Life - and who in Shenzhen, China, designed KK100, the tallest building ever by a British architect.
Richard Waterhouse, 49 and from Bingley, has now lived 31 years in the North East. His enthusiasm for the region and its architectural heritage flared as he studied architecture at Newcastle University.
"The North East is alive in architecture and model building," he says. He notes how Sir Terry would like to see permanent exhibitions bringing the architectural heritage of outstanding areas closer to the public, and he hopes the new exhibition space in the Old Post Office will enable the region's architects to draw the public closer to architecture in the 21st Century, and indeed heritage of the past.
An early practitioner of CAD and construction information, he worked in numerous architectural practices after graduating as a chartered architect.
Later, following sales and training roles within NBS, he led development of its product range. He has been chief executive of RIBA Enterprises since 2004. He says "Maybe we'll get the public back in later to see what we've done now. We've a fantastic architectural heritage of all the different eras. Who knows what we might be able to do in the future? All things are possible."
This article was originally produced for Business Quarter magazine and is reproduced here with kind permission of the publisher.
You can find out more about NBS's Newcastle-based headquarters with a series of news and Knowledge articles looking at the project on theNBS.com.