London has been ranked as the fifth most sustainable city in the world in the 2016 Arcadis Sustainable Cities Index.
The study serves as a snapshot of urban sustainability around the world and ranks 100 global cities on three dimensions of sustainability - People, Planet and Profit.
This year's report puts London ahead of Paris, New York, Los Angeles and Tokyo with well-established European cities dominating the top of the overall ranking (making up 16 of the top 20 positions). Five other British cities feature in the index - these include Edinburgh (13), Manchester (25), Birmingham (31), Glasgow (36) and Leeds (38).
London fared particularly well when it came to economic performance, with only Singapore and Hong Kong bettering the capital's score. However, the research shows that the UK's other cities have work to do when it comes to securing investment for transport, infrastructure and regeneration projects. On this score, Manchester, Birmingham and Leeds are currently trailing the performance of their European rivals.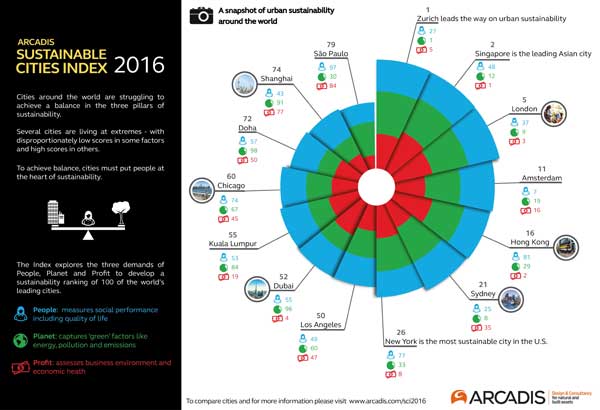 Infographic showing how key cities fare on sustainability with a focus on people, planet and profit.
( Select to view a larger version )
The Top 10 Sustainable Cities 2016
1. Zurich
2. Singapore
3. Stockholm
4. Vienna
5. London
6. Frankfurt
7. Seoul
8. Hamburg
9. Prague
10. Munich
View and compare all 100 cities
You can find out more about the Sustainable Cities Index 2016 and download a full, free copy of the report at www.arcadis.com/sci2016