Periodic Table of BIM series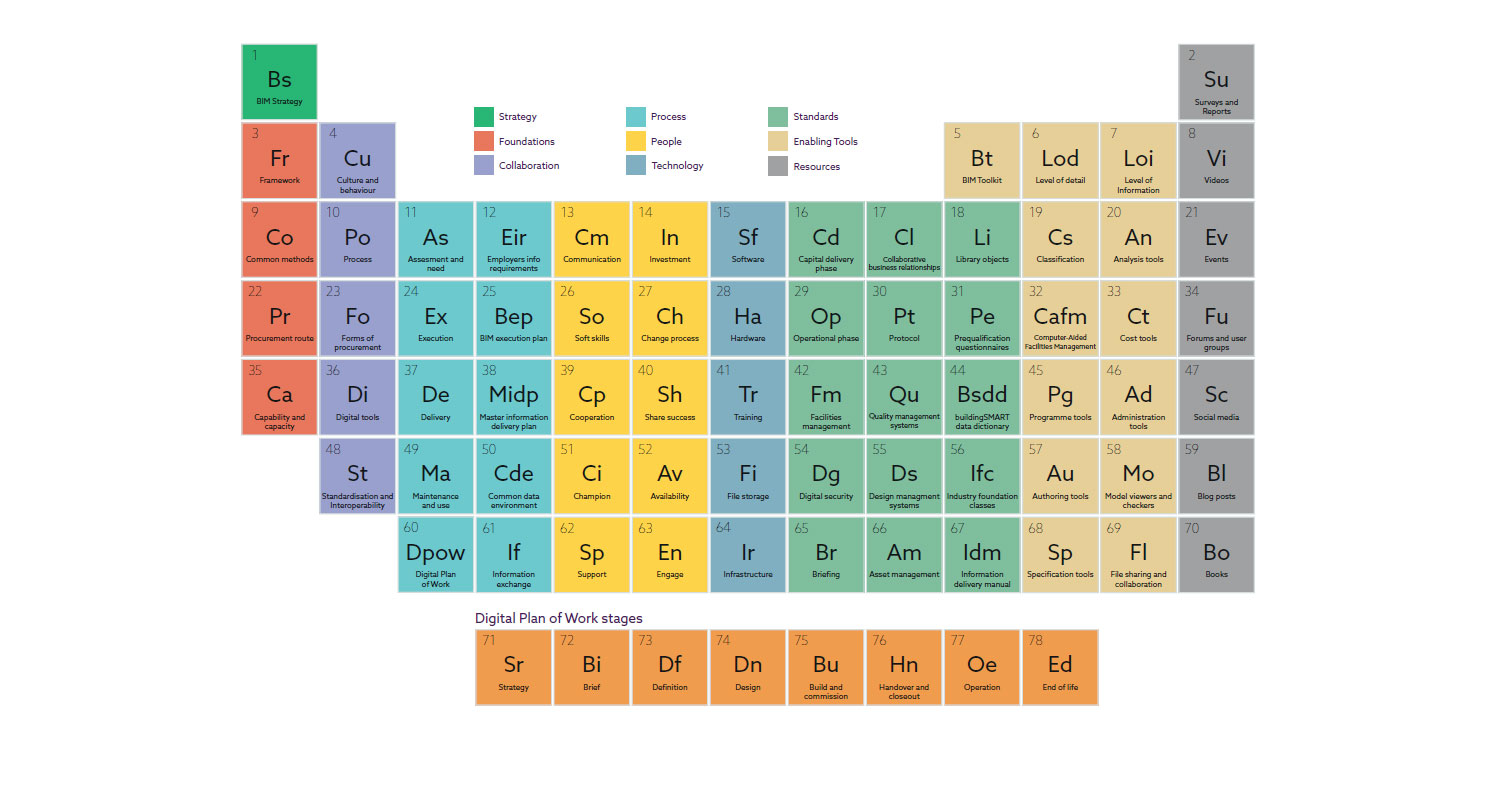 Our Periodic Table of BIM is your at-a-glance guide to the steps you need to take to ensure a successful BIM implementation.
Taking its inspiration from the periodic table of elements, our table presents all the main elements of BIM in an easy-to-follow, visual reference – ideal for printing or sharing. Here we round up articles focussing on the table and its groupings.
Introducing an even-easier way to navigate through our Periodic Table of BIM...
Stefan Mordue introduces a playful take on Dmitri Mendeleev's classic table of elements in this introduction to the Periodic Table of BIM, published in the National BIM Report 2016.
An essential part of your BIM education - the key terms, components and concepts presented in one easy-to-follow periodic table. Start swotting up and see how many you know already.

Periodic Table of BIM terms and conditions
All and any intellectual property rights, whether registered or unregistered, which subsist or will subsist now or in the future in the Periodic Table of BIM are the property of NBS Enterprises Limited, trading as NBS.  You are permitted to make use of the Periodic Table of BIM only in accordance with the Licence the terms of which are set out at http://creativecommons.org/licenses/by-nc/4.0/ and in points 1 to 3 set out below. 

1. By downloading a .pdf version of the Periodic Table of BIM, or by using a copy of the Periodic Table of BIM obtained by any other method, you are accepting that you agree to and are bound by the terms of the Licence. 

2. When identifying NBS in accordance with Section 3, clause a(A)(i) of the Licence it is a condition of use that you include the NBS name, logo and reference to 'www.theNBS.com/BIM' as shown on the .pdf version of the Periodic Table of BIM available to download on this page.

3. For the avoidance of doubt the Licence and your use of the Periodic Table of BIM is governed by and is to be construed in accordance with the law of England and Wales. The courts of England and Wales shall have exclusive jurisdiction to settle any claim or dispute that arises out of or in connection with this Licence or its subject matter.






Periodic Table of BIM

by NBS Enterprises Ltd is licensed under a Creative Commons Attribution-NonCommercial 4.0 International License.