A new free conference and exhibition is set to showcase the success of the Scottish construction industry and the wide range of opportunities on offer north of the border.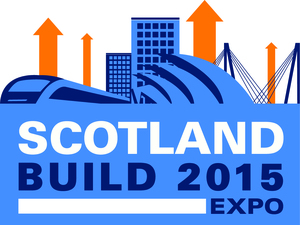 The inaugural Scotland Build takes place over two days, on 25 and 26 November, at the SECC in Glasgow and will host more than 125 exhibitors, demonstrating the latest products, services and projects from across the whole of Scotland.
Organisers Oliver Kinross believe the time is right for a new construction expo dedicated to Scotland, with £40billion of construction contracts set to be awarded across the country over the next few years, and the sector experiencing the strongest growth rate since 2010.
From council houses to private developments, transport projects to healthcare construction, new colleges to prisons the number of infrastructure and construction projects across Scotland is vast and continually increasing, and Scotland Build provides an ideal opportunity to find out more from those making it happen.
Highlights across the two days include:
The exhibition – featuring a wide range of suppliers and contractors showcasing the latest innovations. Firms already confirmed include Celotex Saint Gobain, Interserve, Balfour Beatty, Kingspan and Construction Industry Training Board (CITB) and more.


The conference – There will be over 50 speakers in attendance at Scotland Build. Headline talks come from William McBride from the Construction Scotland Innovation Centre on the innovation and future of the Scottish construction industry and Rufus Logan, from BRE, continuing the theme of innovation with his case study presentation.

Gordon Reid and Philip McDowell from Kier will discuss the Ayr Academy and Marr College projects, David Loudon from the NHS will examine the Glasgow University Hospital extension, and Michelle Rennie from Transport Scotland will be giving an update on Scotland's four major transport projects.

The conference will also examine topics such as narrowing the skills shortage, how to enter the construction industry, building to enable Scotland's renewable energy ambitions, as well as highlighting some of the leading public and private sector construction projects across Scotland.

The show will also feature a VIP area with six exclusive 'Meet the Buyer' sessions, and dedicated networking opportunities with government and local authority figures. Key decision makers from Scotland's main contractors, architects, engineers and developers will also be in attendance.


Training workshops – Scotland Build provides 22 hours of free CPD accredited training workshops from organisations including NBS, the Federation of Master Builders (FMB), CITB and more.

On day one, NBS will be demonstrating how you can manage information flow through the project timeline using the NBS BIM Toolkit and how you can create BIM objects that help develop your business.
Sarah Grey, BIM Toolkit Product Manager from NBS will show how the NBS BIM Toolkit allows:
Information requirements to be developed at a strategy and brief stage working alongside the client
The development of an information delivery plan that can grow through the design stages to determine who is doing what and when on a construction project
Level of definition bandings that can be referenced to define what information is required
Digital information to be provided in the right place at the right time, making it easy to specify manufacturer products
Specifications that can be automatically generated from the responsibilities laid out in a delivery plan.
Chris Vickers and Jane Hibbert from NBS will be looking at how you can create BIM objects that help develop your business, focussing on:
The purpose and role of BIM standards
What quality means when it comes to BIM objects
The NBS BIM Object Standard
A live software demonstration of the benefits of adopting the NBS BIM Object Standard
Advice on getting the most out of your BIM objects.
The conference sessions, training workshops and exhibition are all completely free to attend. You can register for free tickets or find out more about the event at www.scotlandbuildexpo.com. Information on how to register as an exhibitor can also be found on the Scotland Build website.