Regenerative Development and Design
Pamela Mang, Ben Haggard, Regenesis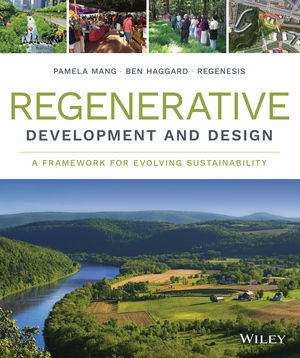 Sustainability is evolving - no longer a consideration on a building by building or project by project basis, but part of a much wider ecosystem of human relationships with nature.

Regenerative Development and Design attempts to get under the skin of this refreshed relationship and show how every project, every design and every designer can make a real difference. The result? A clarion call to become an agent of regenerative change.
While it would have been easy to espouse the principles of 'Living Systems Thinking' and leave things there, this is a book that richly illustrates its points and takes time to show practical application.
Case studies show how real-world projects are bringing regenerative development to life and a practical integration framework empowers the reader to start bringing about change on current and future projects.
A clarion call to become an agent of regenerative change.
The authors have taken great care to show how this 'new' thinking can fit into existing design practices and to show how small, opportune interventions can result in widespread systemic benefits.
All in all Regenerative Development and Design serves as an enlightening read for those looking to bring about a step change when it comes to true sustainability and a primer on the latest thinking that is likely to resonate for years to come.
About this book
Regenerative Development and Design by Pamela Mang, Ben Haggard, Regenesis was published by Wiley in October 2016 and is available in hardback (ISBN 9781118972861) priced £60 (RRP)

About the authors
Pamela Mang
and
Ben Haggard
are founding members of the
Regenesis Group
, a coalition of experienced design, land-use, planning and business development professionals who focus on regenerative design and development. Founded on a belief that environmental problems are more cultural and psychological than technological the group espouses Living Systems Thinking as a framework for breaking the stagnation and developing a symbiotic relationship between people and the places they design and inhabit.