What is a fire door?
How many of us fully appreciate the importance of fire doors as life-saving components in the buildings that we occupy and use every day, either at our place of business or home?
The purpose of such doors is, of course, two-fold:
To protect escape routes from the effects of fire and smoke, enabling building occupants to reach final exits or a place of safety within the building during a fire, and
To protect the building fabric and contents by limiting the spread of fire and smoke, while still allowing the movement of people or goods from one compartment to another.
Considering how fire doors perform during a fire is critically important as it is only when a fire breaks out that their effectiveness in passive fire protection is fully tested. To this end, specifiers must ensure that all selected fire door assemblies are both comprehensively tested and certified for their particular applications (together with all components, such as hardware, fixings, seals and architraves or trim).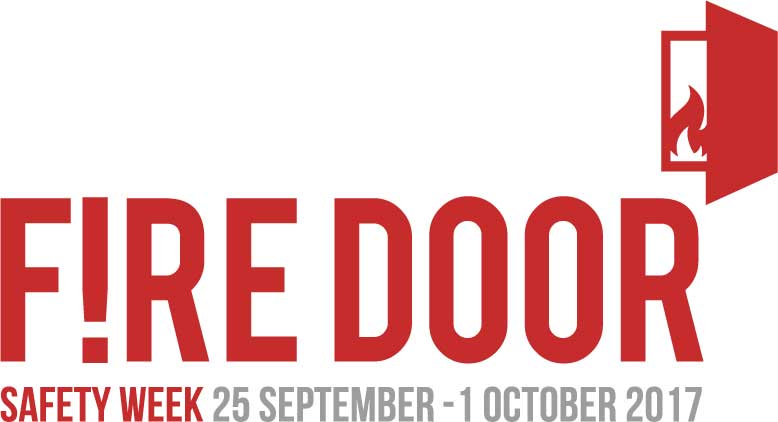 Tenants and landlords also have responsibilities and obligations to ensure the effectiveness of fire doors. Fire Door Safety Week (each September) is an awareness campaign established by the British Woodworking Federation, the BWF Certifire Scheme and Fire Door Inspection Scheme (FDIS). The aim being to encourage building owners, managers and users to regularly check the condition of fire doors in the building around them, and to provide information on the correct ways to specify, supply, install, operate, inspect and maintain them.
Developing a fire strategy
All fire strategies should be developed in accordance with the requirements of the appropriate UK fire safety laws, namely:
The Regulatory Reform (Fire Safety) Order (RRO) in England and Wales,
The Fire Safety (Scotland) Amendment Regulations 2010, and
The Fire Safety Regulations (Northern Ireland) 2010.
Risk assessments should be undertaken which involve all relevant parties, including insurers (building and, arguably, professional indemnity) and outcomes must be fully auditable.
Particular attention is required for refurbishment projects where the fire performance of the building fabric has to be upgraded, especially if replacement fire doors or doorsets cannot be used, for example, on some conservation or heritage projects.
Specifiers must ensure that all selected fire door assemblies are both comprehensively tested and certified for their particular applications
Key considerations for specifying fire doors
There are a number of considerations to ensure that the correct components are provided when specifying fire doors. These include:

1. CE marking for fire doorsets

The Construction Products Regulation 2013 (CPR) made it a mandatory requirement for UK manufacturers to apply CE marking to all products covered by a harmonized European standard (hEN) from 1 July 2013.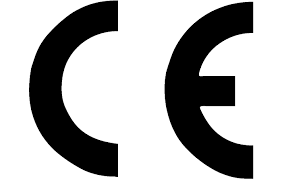 The European Committee for Standardization (CEN) is responsible for the development of European standards and other technical documents in relation to construction products, which support seven basic requirements listed in the Construction Products Regulation:
Mechanical resistance and stability
Safety in case of fire
Hygiene, health and the environment
Safety in use
Protection against noise
Energy economy and heat retention
Sustainable use of natural resources.
It harmonizes methods of assessment and testing, the means of declaration of product performance and the system of conformity assessment of construction products through four main elements:

A system of harmonized technical specifications
An agreed system of conformity assessment for each product family
A framework of notified bodies
CE marking of products.
CE marking is required to show that a product has been, or can be, legally placed on the market under the CPR and is a declaration by the manufacturer that a product meets all of the appropriate provisions of the relevant legislation implementing specific European Directives and Regulations.
CE marking is a regulatory mark rather than a quality mark and is covered by criminal law. Voluntary marks are permitted to provide supplementary/ complimentary information, but cannot be used as an alternative means of demonstrating compliance with hENs or ETAs or the legal requirements covered by CE marking.
Products manufactured to harmonized standards and with CE marking, can be placed on the market of any country of the European Union without adaptation or rechecking. However, requirements often relate directly to national regulations and vary between EU member states. Consequently, although products may carry CE marking, they may be unsuitable for particular applications or for use within certain member states, even though the marking allows the products to be sold in that country.
Since 1 November 2016, BS EN 16034 has served as the harmonized product standard with regard to fire and/ or smoke control characteristics for pedestrian doorsets, industrial, commercial, garage doors and openable windows. As BS EN 16034 only deals with fire and smoke characteristics, it must be used in conjunction with specific associated standards for other characteristics. Therefore, windows and external pedestrian doorsets with resistance to fire and/ or smoke leakage characteristics should be CE marked to both BS EN 14351-1 and BS EN 16034. BS EN 14351-1 is the harmonized product standard for windows and external pedestrian doorsets without resistance to fire and/ or smoke leakage characteristics.
CE marking for industrial, commercial and garage doors and gates with resistance to fire and/ or smoke control should be to both BS EN 13241 and BS EN 16034. BS EN 13241 is the harmonized product standard for industrial, commercial and garage doors and gates without fire resistance or smoke control characteristics.
Due to the three year period of coexistence for BS EN 16034, CE marking of external fire doorsets and fire rated industrial, commercial and garage doors and gates will only become a mandatory requirement from 1 November 2019.
Until the draft standard for non-fire and smoke rated internal doorsets, prEN 14351-2, has been published as a harmonized standard, internal pedestrian doorsets with or without resistance to fire and/ or smoke leakage characteristics cannot be CE marked. Confirmation of the required performance of an internal fire door or doorset may therefore only be obtained via third party certification.
Note that maximum performance assurance is best achieved through the use of CE marked or third-party certified doorsets, coupled with the use of approved installers.
Fire performance requirements should be specified wholly in accordance with either the European standard BS EN 13501 or alternatively the national standard BS 476. Specified values should not be a combination of both European and national standards. The various parts of the European standard BS EN 13501 should always be used for products covered by harmonized European standards.
It is worth noting that products specified to the European standards are likely to be of a higher standard than those tested to the British Standard because of the difference in test procedures.
2. Certification of doorsets
Certification should ensure that doors or doorsets are manufactured to the same standard as the tested prototype. Products outside the scope of certification may be assessed by a competent authority using fire engineering principles. Organizations operating fire performance assessment and certification schemes include:
BM TRADA Certification, in conjunction with door manufacturers, operates the Q-Mark Timber Fire Door Manufacture Scheme for fire resisting doors and doorsets. Certified products are identifiable by plastics plugs fitted in the door leaf and frame. Each plug, the core of which is in the shape of a tree, is coloured in accordance with a simple coding system describing the level of certification. An identification number facilitates traceability. Details of the scheme requirements, the plug colour coding and lists of certified manufacturers and installers can be found on the BM TRADA Certification website.
Warrington Certification operates CERTIFIRE product conformity certification schemes for wood doors (in conjunction with the British Woodworking Federation (BWF)) and steel doors. A data sheet supplied with each door specifies the scope of application and gives installation instructions for the door and its associated components (glazing, hardware, etc.).
Wood doorsets certified under the scheme carry the BWF-CERTIFIRE label, which uniquely identifies the door and gives its fire performance rating; metal doorsets certified by Warrington Certification are similarly labelled. The label provides traceability through the entire supply chain, ensuring that the manufacturer can always be identified, and should never be removed.
Other Warrington Certification schemes cover framing, glazing, intumescent and smoke seals, and builders' hardware, as well as installation; see the Warrington Certification technical directory of certified fire products and services. IFC Certification Ltd offers both wood and metal fire door certification against the test requirements of BS 476-22 and BS EN 1634-1. Certified products are identified by a metal label (for metal doors) or a plastics label (wood doors), which is colour coded to BS 8214, uniquely numbered and identifies the door manufacturer, thus facilitating traceability.
International Fire Consultants (IFC) offers a fire engineering assessment service for purpose-made assemblies and modified off-the-shelf components, and advice on relevant regulations. Computer-aided appraisal is available.
Loss Prevention Certification Board (LPCB) – a certification brand of BRE Global Limited – approves fire and security products. Red book volume 2: List of approved products and services lists approved fire break doors and shutters and gives installation requirements. The 'Red Book' can be reviewed from the Red Book Live website.
In addition to any marking or labelling system used, as a final safeguard, the manufacturer should be asked to provide a product conformity certificate, test report, assessment or primary test evidence for each type of door assembly or doorset delivered to site, to ensure that it complies fully with the requirements of the specification.
The FIRAS Register of accredited installers (FIRAS - Accreditation of Fire Protection Installers) lists companies with trained operatives, whose work is independently accredited by Warrington Certification.
3. Product conformity
The following offer UKAS accredited third party fire door product conformity:
By using CE marked products or products with third party certification it is anticipated that the specified product will be fit-for-purpose. Single sourced CE marked doorsets should be accompanied with a Declaration of Performance. In addition, the specifier will have certification that proves the fire performance has been verified and allows for traceability, which is important for installers, inspectors and clients in ensuring the relevant standards and requirements of the building regulations have been met.
Example of a CE marked external pedestrian doorset label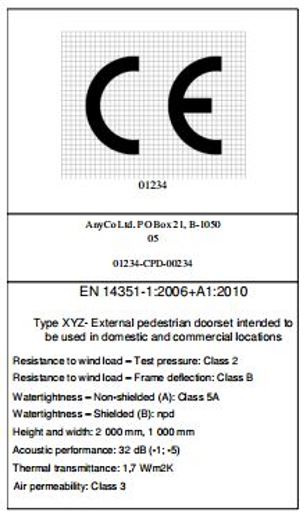 The CE marking label includes the CE marking symbol given in Directive 93/68/EEC and the following information:
identification number of the certification body (only for products under AoC system 1);
name and registered address or identifying mark of the manufacturer;
the last two digits of the year in which the marking symbol was affixed;
number of the EC Certificate of conformity (if relevant);
reference to this European Standard (EN 14351-1:2006+A2:2016);
description of the product: generic name, material, dimensions etc. and intended use.
The label displays the members name and telephone number and the applicable certification number where applicable, serial number and the doors fire door rating.

The BWF-Certifire label provides traceability ensuring the door is being used correctly and as intended. Roles and responsibilities
In England in accordance with the Regulatory Reform (Fire Safety) Order 2005 you are the responsible person if you are:
The employer
The person in control of the building or premises in connection with the carrying out a trade, business or other undertaking
The owner, where the person in control of the premises does not have control in connection with the carrying on by that person of a trade, business or other undertaking
Any person other who to any extent exercises control over the place.
In Scotland and Northern Ireland the responsibility falls to the person who has control of the relevant premises. This is defined in the Fire (Scotland) Act 2005 and The Fire Safety Regulations (Northern Ireland) 2010 and you are responsible if you are:
The employer.
The person in control of the premises on connection with carrying out a business in leased premises.
Other people, such as landlords or contractors who are responsible for installation and maintenance of fire precautions or fire safety may also have some responsibility.
The duties of the responsible person(s) are detailed in The Regulatory Reform (Fire Safety) Order 2005 Part 2: Fire Safety Duties for England, Fire Safety (Scotland) Amendment Regulations 2010 Part 3: Fire Safety for Scotland and the Fire Safety Regulations (Northern Ireland) 2010 Part 3: Fire Safety for Northern Ireland, which include the requirements to:
Ensure that general fire precautions are in place for the safety of their employees or any relevant persons who are not employees.
Carry out a fire and safety risk assessment
Implement the preventive and protective measures that have been identified in the risk assessment
Implement and maintain a fire management plan
Maintain fire safety arrangements which include a requirement for an emergency plan
Maintenance of the fire precautions.
It is a legal requirement of the Fire Safety Order (Article 17) that regular inspections take place. It is important that fire resisting doors function correctly and are not forgotten about after they have been installed ensuring they remain for purpose, this responsibility falls to the building owner. They are responsible to appoint competent persons to ensure they comply with the fire door regulations.
In England and Wales these are in accordance with the relevant sections of the Building Regulations – Approved Document B (fire safety), Approved Document M (ease of access), Approved Document K(4) (glazing safety – England), Approved Document E (acoustics) and Approved Document N Glazing Safety (Wales).
In Scotland the compliance is to the Fire (Scotland) Act and Northern Ireland – Fire & Rescue Service (NI) Order 2006 and subsequent Fire Safety (NI) Regulations 2010. There are a number of things that can be done to make sure the fire doors located around you are safe. Carry out regular inspection for damage to check the fire door is working correctly, which include:
Maintain and update a fire door register
Check the door frame and door leaf
Glazed apertures
Intumescent fire seals and smoke seals
Opening and closing devices
Ironmongery
Hinges
Locks and lever handles
Mandatory safety signs
Cleaning regime
Check the label
Check the gaps
Make sure the door is not wedged or propped open.