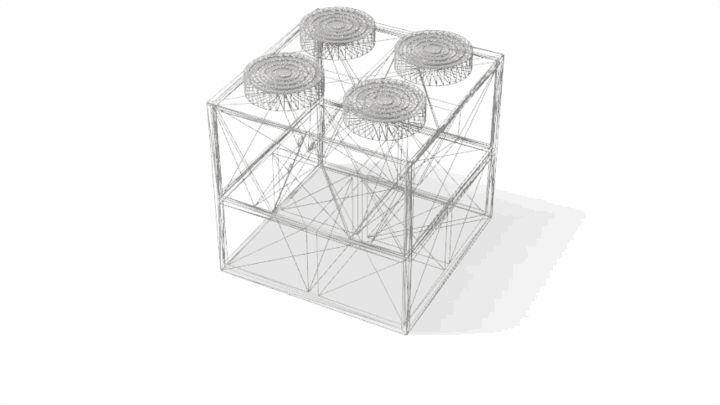 Update: Since this article was first written, all the content from the NBS National BIM Library has moved across to NBS Source.
A BIM object is a combination of many things.
It is detailed information that defines a product and geometry that represents that product's physical characteristics.
Visualisation data gives the object a recognisable appearance. Behavioural data, such as detection zones, allows the object to be positioned or to behave in exactly the same way as the product itself.
There are two primary types of object: 'component' and 'layered'.
The component objects are building products that have fixed geometrical shapes such as windows, doors, boilers etc.
Layered objects are building products that do not have a fixed shape or size such as carpets, roofing, walls and ceilings.
Objects may also be said to be 'generic' or 'specific':
Generic objects, often called library objects, are used during the initial design phase as placeholders as a visual expression of the need for a specific object to be selected at a later stage.
Specific objects, often called manufacturer objects, are those objects that represent a manufacturer's specific products.
BIM objects can be made available in a range of file formats, suitable for use in software like Revit Architecture, Bentley AECOsim, Nemetscheck Vectorworks and Graphisoft ArchiCAD.
BIM objects can also be provided in open exchange, platform-neutral formats, like IFC. This is important as projects will be worked on by designers using multiple platforms, and will be analysed by contractors, quantity surveyors and facilities managers also using different platforms, making interoperability very important.
What kind of information is contained in a BIM object?
When producing a BIM object it's vital to understand how a product works in the real world to ensure that this is accurately represented in the virtual environment.
To do this, the kind of information found in product data sheets and relevant technical details are combined with information on dimensions and functionality to represent the product in the most geometrically-effective way for designers to use within a BIM project. Adding in relevant specification and IFC properties associated with a project improves the object still further.
As products of the same type will have the same data sets consistency is delivered allowing designers to compare BIM objects accurately and efficiently.
Initial costs of a building amount to 10 to 20% of a building's total cost, with the remaining 80 to 90% is attributed to facilities management. It is therefore essential for both manufacturer and design information to be available to facilities managers, as they will use it throughout the life of the building, supporting the overarching benefit of BIM - maintenance across the life of the building from inception to recycling (cradle to cradle).
Is there a standard for BIM objects?
In 2014, NBS published the NBS BIM Object Standard which has helped set a common approach to quality standards across the industry - encouraging consistency and collaboration.
The NBS BIM Object Standard defines what constitutes a high quality BIM object for use with Level 2 BIM, with the right levels of information, appropriate parametric geometric behaviour, standard facility management properties (COBie), and a consistent, structured, easy to use format.
Where can I find BIM objects?
There are many places you can expect to find BIM objects. One of the most useful is on a library site such as the NBS National BIM Library. These serve as an online environment created for the storage of manufacturers' BIM object model files. Design practices may also maintain their own libraries of BIM objects to augment those downloaded from library sites.
In the case of the NBS National BIM Library, all BIM objects are authored to NBS standards. This ensures the user is able to select and use BIM objects which contain all the information needed and are compatible across all working platforms.
What are the benefits of high quality BIM objects?
BIM supports a project throughout the whole of its lifecycle, by ensuring data-rich information is within easy reach of project participants and clients alike. Manufacturers who provide data-rich BIM objects should find it easy to get specified and by providing a richness of information the prospect of substitution becomes less likely... Why not stick with the product you have if an alternative is going to send you on a research expedition to find crucial data such as model number, dimensions, colour or warranty details?
How can I use BIM objects?
The following video shows how BIM objects obtained from the NBS National BIM Library might be used in the course of a project workflow.
How can I create BIM objects?
Our feature - a manufacturer's guide to BIM object creation - looks at the data contained within BIM objects in more detail, relevant standards and the kind of data that might usefully be provided. It also explores options for producing BIM objects. Our feature on digitising manufacturers' product data is also worth a read.
We've also recently explored the Library Part Maker tool from Graphisoft and looked at how to create object geometry and add in data without knowledge of Geometric Description Language (GDL) or programming.
What to read next...
BIM dimensions explained
Linking extra 'dimensions' of data to your information models has the potential to give you a richer understanding of your construction project - how it will be delivered, what it will cost and how it should be maintained. Here we explore 3D, 4D, 5D and 6D BIM and show how adding extra information can make for more timely decisions and, ultimately, better buildings.
BIM levels explained
Definitions for levels of BIM maturity from Level 0, through Level 1, Level 2 and Level 3 and beyond.