Design Engineering Refocused
Hanif Kara, Daniel Bosia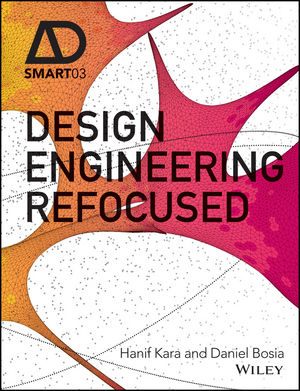 The digital construction revolution is tearing up the rulebook when it comes to how we think of traditional trades, what they do, and how they interact with one another.

This is particularly apparent in the fields of design and structural engineering where the impact of computers, high performance materials and digital design techniques, have both reinforced and transformed traditional thinking both in the workplace and academia.
Enter a new publication from Wiley - Design Engineering Refocused - that attempts to shed new light on these changed ways of working in real and practical detail drawing on the work of Kara and Bosia's design and structural engineering firm AKT II.
The new sketch tools of the architect and the design engineer are merging intuition and forensic analysis.
The tome starts by exploring the terrain; the mix of high-tech, low-tech, old and new, digital and analogue that shapes the sometimes contradictory outcomes of the modern design engineer. The latter half of the book then takes a more detailed look at the disciplinary 'overlaps' with particular emphasis on new opportunities when it comes to the design of the building envelope and wider public realm through exploration of a range of emerging typologies including steel hybrid shells and tensile structures. The book concludes with a look at the real-time interactions between computer models and analysis - the new sketch tools of the architect and design engineer that are merging intuition and forensic analysis.

The work of architectural practices including: Adjaye Associates, Foster + Partners, Heatherwick Studio, HOK, Serie Architects, Wilkinson Eyre Architects and Zaha Hadid Architects and engineers and engineering consultants such as: Arup, Cecil Balmond, Buckminster Fuller, Buro Happold, Pier Luigi Nervi and Peter Rice serves to richly illustrate both the potential and practicalities of our digitally-fuelled futures.
About this book
Design and Engineering Refocussed was published by Wiley in October 2016. It is available to buy from the publisher in hardback for £39.95. (ISBN 978-1-119-16487-6).
About the authors
Hanif Kara is a structural engineer and is design director and co-founder of London-based structural engineering practice AKT II (previously Adams Kara Taylor). He has taught design internationally, is a member of the Board of Trustees for the Architecture Foundation and was a commissioner for CABE from 2008-2011 (Commission for Architecture and the Built Environment). He is currently Professor in Practice of Architectural Technology at Harvard Graduate School of Design. He also taught as professor of Architectural Technology at KTH Royal Institute of Technology in Stockholm from 2009 until 2012. He lives in London with his wife Sham and two daughters, Imaan and Raabia.

Daniel Bosia is a Director at AKT and head of the P.ART team, is a Fellow of the Institution of Structural Engineers with an MSc in Structural and Bridge Engineering and a Master Degree in Architecture.

He has worked at Arup for more than twelve years, collaborating with architects including Daniel Libeskind, Toyo Ito and Enric Miralles and with artists like Anish Kapoor, Antony Gormley and Matthew Ritchie.

Daniel is a cofounder of the Advanced Geometry Unit at Arup (AGU), Daniel has designed and delivered several complex and iconic art and building projects.