Time's running out to grab an exclusive limited edition Periodic Table of BIM mug!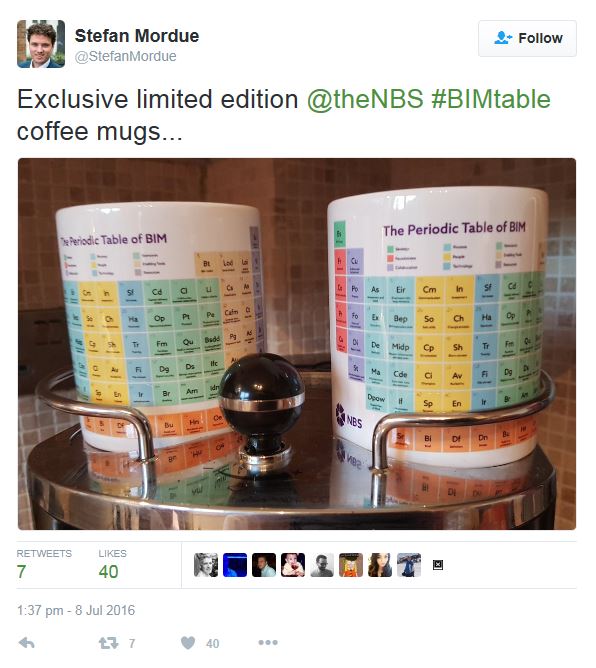 Stefan Mordue is a man who lives in a world of BIM-fuelled colour. As architect of the Periodic Table of BIM, the muted tones of everyday existence simply don't cut it anymore. A beige coffee mug proved to be the final straw and the Periodic Table of BIM (mug edition) was born.
It's fair to say that Stefan's need for a colourful cuppa has earned him some envious glances on Twitter with some even willing to sacrifice their dignity to get hold of one. Indeed, such has been the reaction that we started to wonder if mugs could be the next big thing (Pokemon Go excepted, obviously). So, with no expense spared we've talked to the official NBS mug suppliers and the potter's wheel has sprung into action.
And that got us thinking. Why should Stefan be the only person in the world with a Periodic Table of BIM mug? Let's create some and run a competition to win them!
What do I have to do?
We're expecting a one-off, limited edition batch of Periodic Table of BIM mugs heading to NBS towers any day now and we'd like to offer one to you.
We'd like to see you putting BIM into (best) practice and we always like to see happy smiling faces!
Step One - The pic
Just send us a snap showing us your BIMspiration and (ideally!) your happy smiling face as part of the pic.
Perhaps you're using content from the NBS National BIM Library in your project?
Maybe the Periodic Table of BIM is hanging in pride of place on your office wall?
Maybe you'd like to show us your specifications and models side by side?
Step Two - The post
Post to Twitter or the NBS Facebook page using the hashtag #cuppaBIM and make sure you follow @theNBS on Twitter or like our page on Facebook.
Step Three - The win
We'll be monitoring submissions in the coming weeks and getting our illustrious panel to select only the best examples who'll each receive one of our mugs. We won't accept any entries after 31 August 2016 so you need to move fast. In fact, some early entries have already received their prize...
The panel's decision is, as you'd expect, final and no correspondence will be entered into. We may get in touch to find out more about your BIMspiration and to tell the world more about how the construction industry is making BIM an everyday reality right here on theNBS.com.
Stefan's already looking into the prospect of PToB duvet covers and curtains… Sweet dreams indeed.
What is the Periodic Table of BIM anyway?
The often jargon-filled world of Building Information Modelling was ripe for a playful take on the classic periodic table of elements we all remember from our school days. By grouping together key concepts we hoped that the table would spur debate and help drive the construction industry's digital revolution. We also suggested that a printed version would make a rather smart (and practical) addition to your office wall. Thus, the Periodic Table of BIM was born.
The table went live back in February and, week by week, we've explored the groupings in more detail through a series of feature articles and we've recently launched an interactive version making it easier than ever to dip in and out of the element descriptions. We've even pulled together a BIM quiz to help you hone your skills and justify your bragging rights. And now you could land a PTOB mug. Happy days.