It's estimated that over 50 million litres (or 71,500 tonnes) of decorative paint goes to waste in the UK every year with each household holding on to an average of six cans of paint.
Though landfilling liquid paint has been banned for several years, a significant proportion of paint still ends up at the tip or disposed of as hazardous waste and only a small fraction (2%) is reused or remanufactured.
A new approach for left-over paint
Enter a new industry-led PaintCare initiative that aims to establish what it calls a 'circular model for leftover paint'. The theory is that instead of languishing at the bottom of a tip, leftover paint should be able to be easily redirected to remanufacturing and reuse programmes.
With only one in three local authority household waste recycling centres currently accepting liquid paint, remanufacturing is seen as an essential way of eliminating waste a good progress has already been made on putting the case for change.
Last year the All Party Parliamentary Sustainable Resource and Manufacturing Group recommended a resource efficiency action plan (REAP) for leftover decorative paint (.pdf, 1.3Mb) be drawn up. This was published in March, with a set of formal recommendations and an interim report (.pdf, 4.8Mb) being returned to Parliament back in November.
The report lays out a series of action points for paint manufacturers, central Government and local authorities with some ambitious targets to reuse, recycle and remanufacture leftover paint: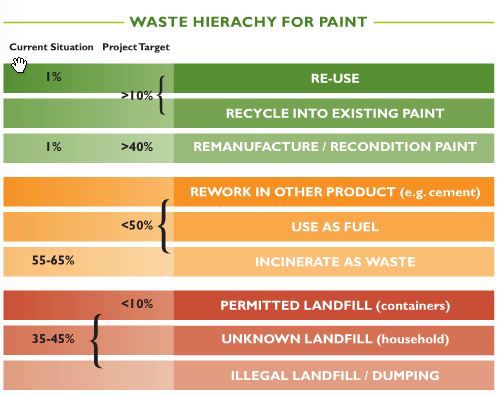 How can I find out more?
You can find out more about the PaintCare initiative, spearheaded by the British Coatings Federation, on the PaintCare website at www.paintcare.org.uk.
Householders looking to recycle their leftover paint can find their nearest recycling centre on the recyclenow website.

Recycled paint, rescued from household waste recycling centres, and filtered for sale for use on community projects can be obtained from one of the 80 UK Community Repaint collection points.