Birmingham's new-look New Street railway station gets its grand opening this Sunday (20 September 2015) after a five-year £600 million redevelopment programme.
Gone is the dark, dingy and overcrowded terminus, largely untouched since the 1960s, and in its place comes a modern transport hub with a grand concourse enclosed by a giant light-filled atrium and a new station façade.
Client: Network Rail
Project: Birmingham New Street Station and Grand Central Birmingham
Principal Contractor and Delivery Partner: Mace
Works: Started 2010 with phase one opening in April 2013. Due for completion September 2015.
The project
The original New Street Station opened on 1 June 1854, with the most recent incarnation officially opened in 1967 to coincide with the electrification of the West Coast Mainline.
The station serves over 170,000 passengers a day (more than double the number it was designed to accommodate) and is the busiest station outside London with a train timetabled to depart every 37 seconds.

The previous station was dark, unwelcoming and overcrowded and offered poor access for passengers. With the number of travellers predicted to increase there was a clear need to make the station fit for the 21st Century commuter and act as a catalyst for economic regeneration in the city.
Construction notes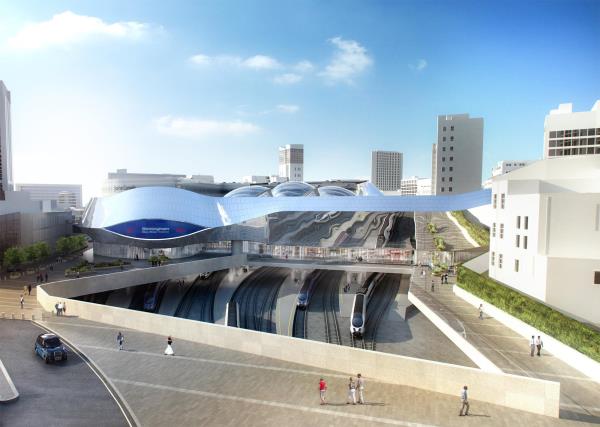 The design for the new station was conceived through an international competition and features a giant light-filled atrium (which is itself three and a half times bigger than the old station) that leads towards more accessible, brighter and clearer platforms, reached by new escalators and public lifts. Elsewhere there's a new public square, station entrance, accommodation for train crew, and a link to Moor Street station and Smallbrook Queensway. The new design also brings in a stunning new station façade in place of the previous grey concrete.
Refurbishing a 1960s structure to meet modern day design and sustainability requirements has inevitably brought some significant challenges for Network Rail's delivery partner Mace.
Over 7,500 tonnes of concrete had to be removed from a disused car park and there was the minor matter of the Stephenson Tower to dispose of. Incredibly, over 98% of materials from the tower ended up being sent for re-use and, when it came to getting waste materials offsite, the construction team made good use of the railway. Two rail journeys a week are estimated to have saved 10,000 lorry journeys over the course of the five-year project.
Sustainability as the project moves out of the construction phase has also been well considered. The 15 new lifts and 36 new escalators are energy efficient and so too is the lighting - even the station's toilets are putting rainwater harvested from the façade to good use.
As Lee Taylor, director of Rail at contractor NG Bailey, affirms: "This project has presented unprecedented challenges, with an outdated building infrastructure needing innovative solutions never before seen in a UK railway station."
NG Bailey's work saw them scoop the Major Project Award at this year's Railway Industry Innovation Awards. The firm's work included the installation of impulse fans for the first time at a UK railway station to aid ventilation.
Working around the daily flow of commuters and trains also proved logistically complex with a platform at a time cordoned off and services re-platformed and a two-phase approach adopted to allow work to progress 24-hours a day unimpeded by passenger flow.
A rollercoaster ride through the new Birmingham New Street Station
The new shopping centre
The project has also seen the nearby Pallasades shopping centre given a complete facelift and reimagined as Grand Central Birmingham

. The centre offers over 200,000 square feet of retail space, including the biggest branch of John Lewis outside of London, and will house a range of high profile retailers

–including Moleskin, Joe's Coffee House and burger chain Five Guys.
Hamish Kiernan, retail director at Network Rail said: "We want to create truly exceptional places for passengers and visitors, and are pleased to introduce these exciting new brands to Birmingham New Street station. They will not only cater for over 72 million travellers who use the station every year, but will also provide more choice for the thousands of office workers and local people who use the station but are not travelling."
Those retailers can also take advantage of three huge 'eyeball-shaped' advertising screens strategically positioned at the station entrances. These scan passers-by and assess the crowd's demographics allowing adverts to be tailored to potential audiences. The interactive displays have been designed by Concept Signs and D3 Europe and leased by Signature Outdoor.
The centre officially opens on Thursday 24 September.
Related information
New Street: New Start

Project website for the Redevelopment of Birmingham New Street Station.
YouTube : Rollercoaster ride through New Street

A rollercoaster-ride allowing passengers to get a feel for new routes around the station from Network Rail.
Grand Central Birmingham

Find out more about Birmingham's newest retail destination – reimagined on the site of the former Pallisades shopping centre.