The second day of Ecobuild 2016 proved just as popular and just as packed as the first as exhibitors and speakers across the construction industry converged on London's vast ExCeL arena.
Once again our roving reporters provided a flavour of proceedings live on social media but here we round-up some of the highlights of the second day. (Don't miss our highlights from day one and day three as well!)

NBS Digital Building Theatre demonstrates practicalities of BIM implementation
The Digital Building Theatre, curated by NBS and sponsored by Wavin

was packed again for the second day of Ecobuild with many sessions standing room only as people crowded in to share the latest thinking on BIM implementation and share the wisdom of those who've already embarked on BIM journeys of their own.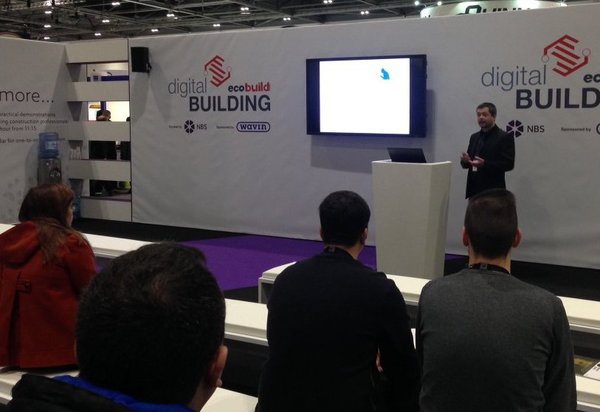 Lee Jones from Ideal Standard talked about the firm's BIM implementation journey
Proceedings got underway with Lee Jones from Ideal Standard

talking about what motivated the company to adopt BIM and why they took the approach they did. There were lots of practical examples and lessons learned to be shared.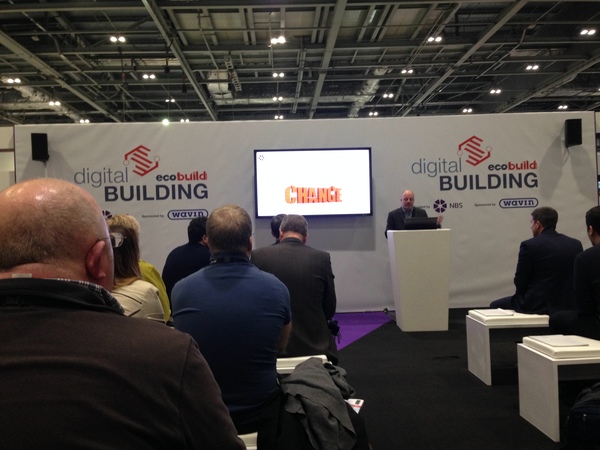 Change is inevitable but brings many opportunities for manufacturers
Ian Chapman, Director of the NBS National BIM Library, again provided an introduction to BIM for Manufacturers - hinting at easy and practical steps that can be taken to improve visibility and provide the right assets, in the right format, to aid specification. Proof positive that getting involved with BIM doesn't have to be a terrifying prospect.
View slides from An introduction to BIM for manufacturers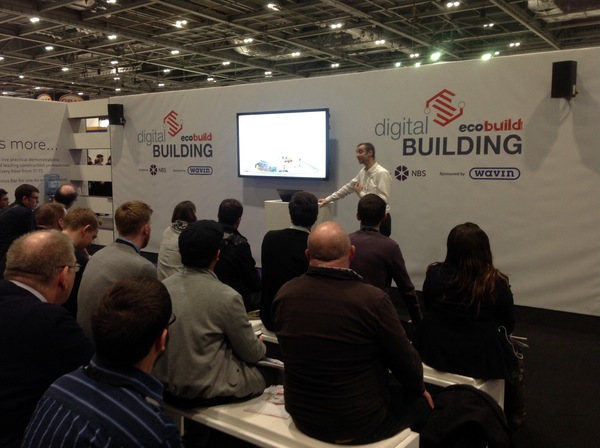 BDP's BIM journey laid bare - lots to think about from Alistair Kell at Ecobuild
Alistair Kell shared the experience of
BDP

in their BIM Implementation journey. As Information and Technology Director at the firm Alistair was at the sharp end of reviewing and changing systems and process and applying new technology to the benefit of all. With freebie cardboard VR headsets for an appreciative crowd, Alistair explained how data-rich designs can be used to immerse clients more fully in the spaces being designed.
Dr Stephen Hamil repeated his look at co-ordinating BIM through the project timeline - showing how digital distruption has made change inevitable, bringing about improved accuracy and efficiencies.
View the slides for BIM through the project timeline
David Philp provided a progress update against the UK Government Construction Strategy
David Philp from the UK Government BIM Task Group

gave attendees an update on progress against the UK Government Construction Strategy and looked towards Level 3 BIM and beyond in a presentation packed with useful insight. He explained that the journey so far had pulled at the threads of the UK construction industry and the results have been astonishing with lots of lessons learnt along the way.
View slides for From Analogue to Digital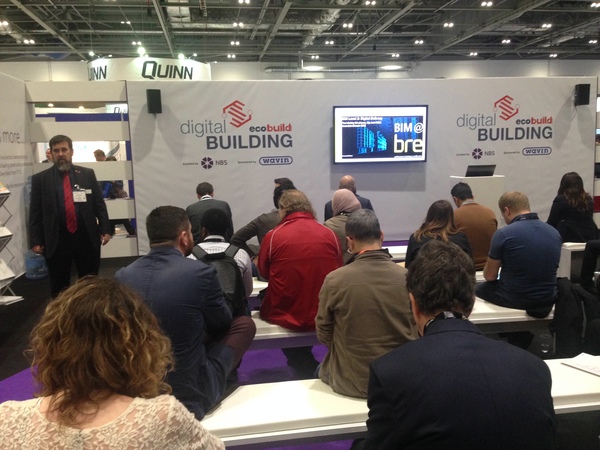 Paul Oakley explores BIM from an architect's perspective
as part of the Digital Building programme at Ecobuild
Late afternoon saw an architect's perspective on BIM courtesy of BRE's

Paul Oakley. He set out to prove that BIM Level 2 is about much more than a mandatory Government measure.
The day's programme concluded with a look at how the next generation of web technologies can be applied to deliver a structured view of existing 2D data, without the need for costly remodelling exercises. Stephen Crompton from Group BC

suggested the semantic web may hold the answer to making sense of and managing existing asset infomation as part of an informative session for those considering how much trust they should place in their legacy asset data.
Architecture takes centre stage on day two at Ecobuild 2016
Will Gompertz chaired a mix of presentations on the theme of architecture on the main conference stage on day two of Ecobuild.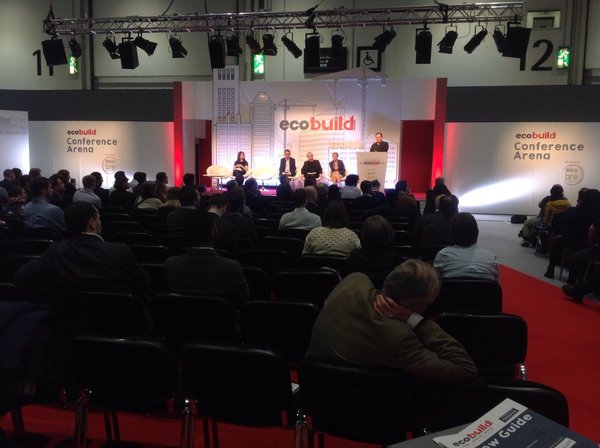 What does innovative design look like? The panel wax lyrical on the main stage at Ecobuild
The programme got underway with Julie Hirigoyen, Chief Executive at UK-GBC chairing a discussion on how we can best leverage smart, resilient and healthy design at city scale and how far design and technology can help deliver sustainable places.
Visionary architecture was also very much the theme as Sadie Morgan, founder of dRMM and the design panel chair for HS2, confessed that she wished she had been able to set the panel up earlier.

The HS2 group was finally established back in November 2015 after a 300-strong list of applicants was whittled down to just 45. Morgan, however, was clear that despite her regrets, the fact the panel was set up much earlier than ever before for a similar scheme, was worthy of celebration. The panel is now well-placed to think about how to influence the second phase of the project, she claimed.

Afternoon sessions gave plenty to think about too with a look at timeless design and whether it can ever truly be designed and a fascinating case study on collaboration between architect, lighting designer and lighting manufacturer in Athens.

Discussions on regeneration and even living on the moon followed, proving the Ecobuild programme to be anything but dull. A point proved as the programme drew to a close for the day with Will Gompertz quizzing Stephen Fry on his relationship with architecture. Fry later did the presenting honours at the bd Architect of the Year awards

which saw Cottrell and Vermeulen walking off with the coveted title and the Scheueco Gold Award. The practice also landed the Education Architect of the Year award for work including Brentwood School in Essex and the Notre Dame High School in Southwark.
Genius answers to BIM questions from NBS specialists at Ecobuild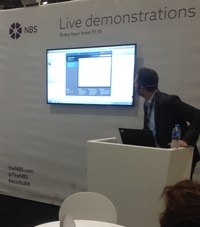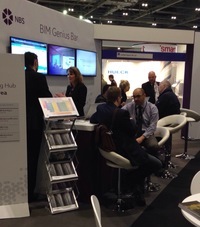 NBS staff were kept busy at Ecobuild for a second day running as attendees flocked to get answers to their BIM questions from the BIM Genius Bar.
There were practical demonstrations of a range of NBS services including the NBS National BIM Library, NBS Create and our Plug-in for Autodesk Revit. Nigel Rayner from Scott Brownrigg

was also on hand to demonstrate how the firm use NBS tools.
Related reading