While many fixate on the technology, here at NBS we've always made it very clear that it's people, process and technology that are driving the digital construction revolution.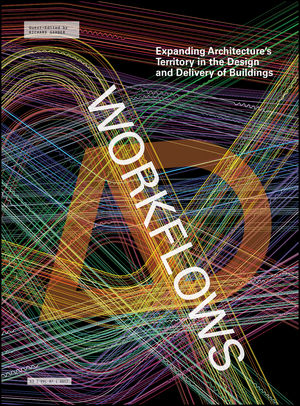 The synthesis of building information modelling (BIM) platforms with digital simulation techniques and increasing access to data, charting building performance, is allowing architects to engage in the generation of new workflows across multidisciplinary teams. By merging digital design operations with construction activities, project delivery and post-occupation scenarios, architects are becoming instrumental in the shaping of buildings as well as the design process.
If construction is a team 'sport', with various disciplines coming together to deliver buildings on the ground and look after them once built, then it's really not surprising that workflows are being upended across the architecture, engineering and construction (AEC) spectrum. And it's this new reality that is placed front and centre in the latest collection of essays from the Architectural Design team in Workflows.
In this issue you can expect to find insight from practices large and 'small'. The large via multinational innovator Arup and Zaha Hadid Architects, the 'small' courtesy of David Miller Architects, who we've spoken to before here on theNBS.com.
This is a collection packed with practical insight gained from real-world projects as PLANT share their experiences of 3D scanning at Budapest Zoo and Botanical Garden and GRO Architects share their work at Zhangdu Lake Farm in China.
The editing team isn't afraid to challenge conventions either - is there a role for sketching in our digital future? The team at Diller Scofido + Renfro believe so. And the always thought-provoking Counterpoint piece comes from AECOM's Dale Sinclair who argues that most architects remain rooted in concept design and should open themselves up to new building methods.
The last word
While there's a clear skew in favour of architectural impact at work, this is undoubtedly a timely read for construction professionals regardless of discipline.
The latest issue of Architectural Design serves as a toolkit for construction professionals who see the edges of disciplinary silos crumbling, if not yet crashing down, and are keen to be part of the revolution that will deliver better buildings.
In a design-build process where the feedback loop becomes increasingly important the architect of the future needs to take their place at the digital 'mixing desk' to influence 21st Century design practices.
About the authors
Richard Garber, a partner at the award-winning New York-based firm GRO Architects, edits this edition of Architectural Design. In his work he utilises technology as it relates to formal specification, similation, manufacturing and building delivery to generate innovative design, assembly and construction solutions.
Contributors include: Shajay Bhooshan, John Cays, Randy Deutsch, Sean Gallagher, Ian Keough, Peter Kis, Jonathan Mallie, Adam Modesitt, Rhett Russo, Dale Sinclair, and Stacie Wong.Featured architects: Arup, Diller Scofidio + Renfro, GLUCK+, GRO Architects, PLANT, Populous, Young & Ayata, and Zaha Hadid Architects.