Update: Since this article was first written, all the content from the NBS National BIM Library has moved across to NBS Source.
-------------------------------------------------------------------------------------------
The global design and engineering community have flocked to Tobacco Dock in the East End of London this week for Autodesk University - the conference for those who design, create, and make the world around us.
The two-day event, which comes to a close today, serves as an ideal opportunity to share technical knowledge and gain a deeper understanding of industry opportunities, the latest trends and get hands-on with advanced technologies.
If you missed it, we've summed up the discussions that formed part of our opening night debates. We've also shared some of the highlights in words and pictures.
The key talking points at Autodesk University London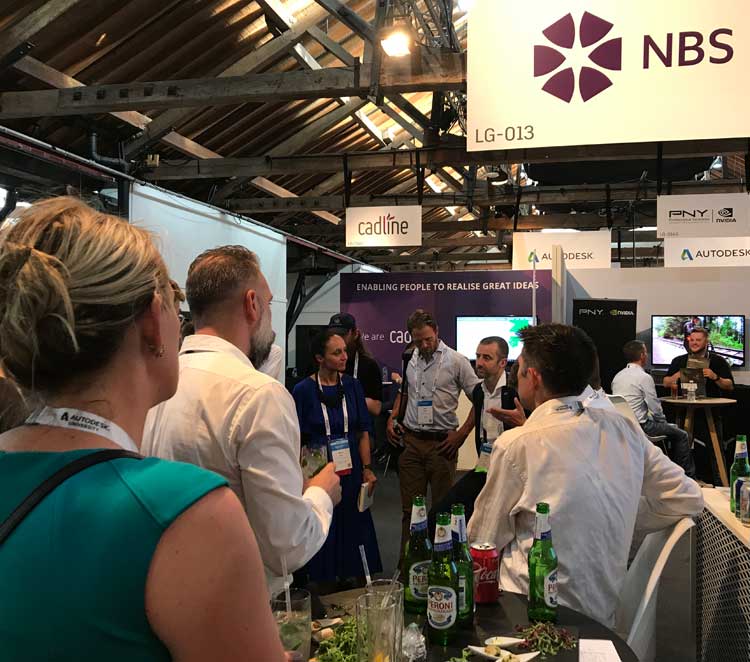 On Wednesday night NBS invited delegates to muse on some of the industry's big questions.
Here Alistair Kell from BDP, Marek Suchocki from Autodesk, Andrew Pryke from BAM Construct UK, Andy Moulds from Mott MacDonald and Dr Stephen Hamil and Sarah Grey from NBS stirred some heated debate on the future of digital construction.
By the end of the night attendees had spoken about how best to blitz BIM barriers, the benefits of open BIM and appraised new and emerging technologies and their ability to revolutionise construction.

Here's some of the highlights that got everyone talking...
What are the remaining barriers to moving the industry to BIM Level 2? The NBS National BIM Report 2017 paints an encouraging picture of increased BIM awareness and adoption (62% of practices who responded said they used BIM on some projects, up 8% year on year). There is, however, still much work to do - a third of respondents admitted they were not clear on what they had to do to comply with the Government's BIM mandate and while 65% said BIM can bring real benefit beyond the design stages, 72% believed clients don't understand these benefits.
So what are the blockers standing in the way of BIM becoming 'business as usual' across the industry?
Many respondents to our BIM survey cited a lack of client education limiting the effect of the BIM mandate to fully reap the fullest rewards and delegates we spoke to recognised this concern.
The jargon doesn't help. Panellists confessed that it was often easy to assume knowledge rather than explain. Keeping things simple, restating what may seem "obvious" and focusing on what things mean in practice is important.
The necessary skills and knowledge when setting out on the road to BIM implementation can be daunting - on the basis of time, cost and knowing just who to listen to. That said, with the basics in terms of software, standards, protocols are now often freely available online many delegates thought the opportunities were there to be grasped.
A need for end-to-end exemplar projects that others can learn from and then use to communicate the benefits more widely was cited by many who attended.
The misconception that BIM is just for the big projects that run into millions of pounds was also recognised by many. While projects like the refurbishment of the Old Post Office, home to NBS in Newcastle-Upon-Tyne, often get most attention, smaller projects can also reap rewards and the efficiencies are scalable.
What to read next...
How important is open BIM to the industry? In a world that's increasingly powered by data, standardisation becomes increasingly important. Indeed, successful innovation relies on improvements from a good common standards base.
To this end, government and industry have worked hard to develop a suite of freely-available standards (both British Standards and Publicly Available Specifications (PAS)) around BIM Level 2.
IFC is one of five types of open standard in the buildingSMART portfolio that each perform different functions when it comes to the delivery and support of assets in the built environment. Such neutral, non-proprietary data formats,allow a range of tools to pass data between a wide range of software and project participants.
So, what did our delegates think of open BIM?
Panellists agreed that, at times, the world of open BIM can often seem like something of a 'dark art' but that standards for BIM objects, such as the NBS BIM Object Standard, manufacturer product data (in the form of product information templates), COBie exports and a common classification system in the form of Uniclass 2015 are all helping to connect the building blocks of digital construction.
The conversation moved on to focus on contractual and legal limitations and how far existing legal frameworks cope with ever increasing collaboration and potential loss of IP.
In summary many thought open BIM to be laudable, good for you, but potentially difficult to stick to. The alternative? Reinventing the wheel and discussing process on a case-by-case-basis - wasteful and inefficient.
What to read next...
What emerging technologies are we seeing and where are they in their maturity cycle? Other industries have had to grapple with what the digital revolution means before construction but in recent years we have finally started to embrace and define what Building Information Modelling means in practice. And with good reason - just as smashing looms didn't do much for the original Luddites, kicking against the technological tide will prove fruitless here. In a world that collects and is powered by data, we need to be able to accept, understand, interpret it to our own advantage. We can no longer just think about individual buildings or assets. No longer can we be constrained by just thinking about design and construction. We must, instead, focus on the wider built environment and how we share and use information on just about everything. And it's the move to BIM that serves as the link to the data and plugs us into the digital world.
New technologies are speeding things up, improving data collation - drones, laser scanning and point clouds bring new accuracy and efficiency. The cloud brings us the potential of software through the web browser, greater collaboration and unlimited processing power and storage - and the NBS Online Viewer shows the kind of thing that is possible.
The machines are starting to learn - honing their algorithms, recognising images by site without metadata, speeding up processes. 3D printing means we're approaching the point where components can just be printed onsite rather than shipped. The Internet of Things allows us to connect physical devices and react to environmental stimuli. Smart motorways will offer us extra lanes, variable speed limits in response to real-time conditions. VR and augmented realities make visualising concepts and designs easier than ever and open up possibilities to view, say, performance information overlaid onto a real-world viewport.
And the robots? The ability to carry out repetitive tasks safely and efficiently is clearly beneficial. They're laying bricks already...
What to read next...
Autodesk University London
in words and pictures
Related reading
NBS Services
Find out more about our tools and construction knowledge.
NBS - BIM Projects
Our integrated suite of BIM tools and content support you through the BIM workflow, enabling you to make the right decisions and deliver outstanding projects in an informed, collaborative and efficient way.
NBS Knowledge
Our team of NBS subject specialists author a wide range of interesting articles that help you make informed decisions and deliver the best projects for your clients.