Brazil: Restructuring the Urban

Guest Edited by Hattie Hartman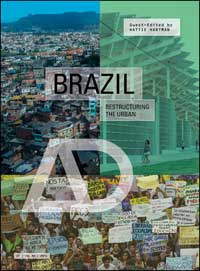 All eyes will be on Rio de Janeiro this month as the Olympic Games get underway in Brazil. And it's not just the action on the tracks, fields and pools (across 32 venues) that will draw the world's attention. The summer games have long offered hosts the potential to regenerate and rejuvenate their wider environs... so what transformative effect Rio 2016?
In a country where 85% of the population live in cities (and 40% in metropolises of more than a million), it's fair to conclude that urban planning had been neccessarily sporadic. However, in recent years, spurred by the 2014 FIFA World Cup and, more recently, the Olympic and Paralympic Games, there's clear evidence of proactive investment in both infrastructure and the public realm and a more considered approach.
Of course, it's not all been plain sailing - street protests in 2013 sought to shine light on what people saw as the failure of public authorities to meet their ambitious aspirations for the sporting mega-events. For Brazil, this was an entirely new phenomenon, one which has unveiled the potential for bottom-up influences to effect quite startling urban change. Change that's been propelled by the occassional injection of 'starchitect' magic.
This was an entirely new phenomenon, one which has unveiled the potential for bottom-up influences to effect urban change.

For this edition of Architectural Design (AD), the revered topical journal that is proud to adopt the publishing qualities of a book, guest editor Hattie Hartman focusses on design projects that contribute a strong sense of place to their respective cities, highlighting the integration of landscape design in urban planning and community interventions that seek to address the enormous disparity between the lives of the country's rich and poor.
It's a topical read with the Games about to start but also offers an insightful view of the impact of design. Articles explore how the seeds of change were sown, the direction of travel for the country's cities, and an appraisal of the construction projects delivered for the Olympics. There's broader insight too - What impact will the removal of favelas have? How does cartography reflect the changes? How should we rethink our public spaces? Across almost 150 pages a new future for Brazil is told in vivid and considered detail and sumptuous colour. Well worth a read.
About this book
Brazil: Restructuring the Urban

is part of the Architectural Design series (Edition 241) and was published by Wiley in April 2016 and is available to buy from RIBA Bookshops. The title is published in softback (ISBN 978-1-118-97246-5).
About the author
Hattie Hartman is an architect, urban planner and journalist with a long standing professional interest in Brazil. She is currently sustainability editor at the Architect's Journal.
Trained at the Massachusetts Institute of Technology (MIT), Hattie has been based in London for the past 25 years. Her first job was in Brasilia where she spent two years as an urban designer in the Federal District Department of Public Works where here work focussed on Brasilia's satellite city of Gama, where she developed a detailed plan to address security issues in the services alleyways behind the residential lots. She has made numerous trips to Brazil over the years, interviewing Oscar Niemeyer in 1998 when he received the RIBA Gold Medal and Paulo Mendes da Rocha in 2006 when she was awarded the Pritzker Prize.