Implementing Virtual Design and Construction Using BIM: Current and Future Practices

Lennart Andersson, Kyla Farrell, Oleg Moshkovich, Cheryle Cranbourne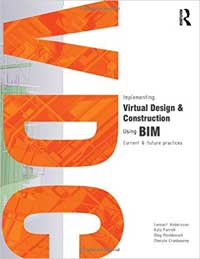 Implementing Virtual Design and Construction Using BIM outlines the team structure, software and production ecosystem needed for an effective Virtual Design and Construction (VDC) process through current real world case studies of projects both in development and under construction.

At a time when disruptive new technologies are transforming all facets of the built environment understanding this emerging field is vital for professionals working in architecture, engineering and construction and this book takes a highly practical approach.
This is essential reading for anybody with a role in BIM or virtual construction.
The authors admit to finding the term "BIM" a little inadequate when it comes to the new workflows driving virtual design and construction – a world where the information model is a hub spurring a range of new technologies and practices. The result is a tome focussed on practicalities – of the possibilities but also the realities of implementing VDC workflows drawing on projects delivered at the LiRo Group.
Richly illustrated in colour with actual VDC documentation, visualizations, and statistics, the reader is shown the real processes undertaken and outputs generated when working on high profile building information models. Online animations, interviews with practitioners, and downloadable templates, forms and files make this an interactive and highly engaging way to learn a crucial set of skills and benefit from the lessons others have learnt along the way.
While keeping up with current industry practice is a minimum requirement, this book goes further by helping you prepare for the next level of virtual design and construction. This is essential reading for project managers, construction managers, architects, design managers, and anybody with a role in BIM or virtual construction.
About this book
Implementing Virtual Design and Construction Using BIM: Current and Future Practices

by Lennart Andersson et. al was published by Routledge in June 2016 and is available to buy from RIBA Bookshops. The title is published in hardback (ISBN 978-1138019942).
About the authors
Lennart Andersson is the director of Virtual Design & Construction (VDC) at LiRo. He studied engineering in Sweden and received a master's degree in architecture in the US. He is a licensed architect with 16 years of experience applying virtual design and construction methodologies on a wide variety of projects. Lennart is spearheading the firm-wide adoption of VDC at LiRo. He is a visiting professor at Pratt Institute in New York, where he teaches an advanced, collaborative VDC studio between architects and construction managers in partnership with the New York City Department of Design and Construction.
Kyla Farrell worked as a VDC project manager at the LiRo Group from 2012 to 2014. Prior to LiRo, she was employed by Gehry Technologies, Zaha Hadid Architects and SHoP Construction, where she developed and managed parametric 3D models for the design, fabrication, and coordination of complex projects.She currently works as a software engineer in the San Francisco Bay Area.
Oleg Moshkovich is a VDC product architect at the LiRo Group. He is responsible for the design and implementation of virtual construction processes on projects of increased complexity.
Cheryle Cranbourne is a VDC specialist at the LiRo Group, involved in modeling complex and large-scale projects.