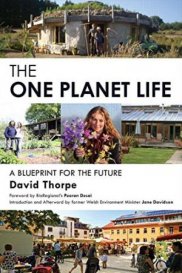 The One Planet Life: A Blueprint for Low Impact Development

by David Thorpe serves as a call for change and guide to sustainable living, and it provides useful information for those working within the built environment. It also examines the Welsh One Planet Development policy, and includes an introduction and afterword written by Jane Davidson, the Welsh environment minister.
According to the book, we should all be working towards living and creating a life that doesn't treat our world as if there is more than one planet Earth. As it is, the average person living in a developed or quickly developing country has an ecological footprint so large that we require at least one and a half planet Earths to sustain it. And, that number is rising as other countries continue to develop. If everyone on the planet lived as we do, we would need three planet Earths to sustain us.1 So, change is needed, and it is needed now.
After all, sustainability means running the global environment - Earth Inc. - like a corporation: with depreciation, amortization and maintenance accounts. In other words, keeping the asset whole, rather than undermining your natural capital.
Maurice Strong
Defining sustainability; lack of definition
Part of the problem that we face when trying to determine what is actually sustainable is that there isn't much validated research to give us guidance. In fact, we don't even have a solid, agreed-upon, widely-accepted definition – other than the one from the UN, and it is rather vague:
Meeting the needs of the present without compromising the ability of future generations to meet their own needs
Report of the World Commission on Environment and Development, United Nations Brundtland Commission, 1987.

So, while the topic is the centre of much discussion and action, the truth is that a lot of money is being invested without the benefit of being able to accurately assess the ecological impact. 2 This, in itself, is the very antithesis of sustainable living. That being said, there are common sense actions that we can take in the built environment that will move us closer to the One Planet mind-set that treats Earth like the only planet that we have.
What makes city/town sustainable?
Based upon the UN definition, a sustainable city or town is one that offers its current residents a respectable quality of life whilst not having a negative impact on future residents. This includes things like:
A carbon neutral goal and a focus on renewable energy
Sufficient access to energy efficient, affordable housing
A safe, reliable public transport system that provides an attractive alternative to driving
A solid city/transportation plan that actively encourages walking and cycling
Easy-to-access green areas and open spaces – something that is also proven to have a positive psychological impact upon residents
Local resourcing and recycling food and building materials
A robust waste and recycling programme that treats waste like a resource to be tapped into and reused to the city's advantage
An emphasis on providing employment locally
A strong sense of community with well-defined and recognised community goals 4
The urbanisation of our planet
The current world population is 7.4 billion 5 and counting. More than half (3.7 billion) of those people now live in urban areas, and it is expected that this number will grow to as many as 5 billion by 2030. 5 This means that sustainable urbanisation is a massive challenge, with access to affordable, clean energy being one of the major issues.
Sustainable energy in the urban environment
Urbanisation and energy demands
According to the US Department of Energy's Office of Science, in 2007 fossil fuels and cement accounted for over 76% of CO2 emissions, while natural gas combustion accounted for 18.5%.6 In an ARUP article on low carbon energy written in 2015, it states that, currently, fossil fuels by themselves account for 70% of global greenhouse emissions. To tackle climate change, those numbers must be reduced drastically. Unfortunately, as the human population grows and develops, the need for densely populated urban areas – the worst offenders when it comes to energy demands – increases.7
For sustainability purposes, the only way to truly tackle energy concerns is to address and balance the three challenges surrounding energy use:
1. Current and future energy supply (energy security)
2. Accessibility and affordability across the population (energy equity), and
3. Progress made towards providing low carbon/renewable energy (environmental (climate) sustainability).
The World Energy Council calls this the "Energy Trilemma" and, for true sustainability, all three areas must be addressed equally and a balance between them must be maintained. In fact, case studies have shown that, when one area of the trilemma receives primary focus whilst the other two are minimised or ignored altogether, complications arise and new problems are created.8 To achieve the balance required for success, The Energy Institute recommends that a holistic, systems based approach is used to reconcile security, access, affordability and climate compatibility.9
Solutions in action: addressing security, equity, and environmental sustainability
Example 1: energy security (and the importance of future proofing)
In South Africa, the primary energy source has long been coal, a primary major source of CO2, and many of the country's existing coal-fired power stations are old and unreliable. This has resulted in serious power shortages which, in turn, have had a negative impact on the country's economic growth.

While renewable energy has long been a viable solution, until a few years ago, many of South Africa's key decision makers saw a move to renewable energy as a threat rather than an opportunity.10 In 2009, however, attitudes began to change, and the government started exploring renewable energy options. As a result, the Renewable Energy Independent Power Producer Procurement Programme was created. Even though the programme is relatively new, South Africa is already beginning to realise the benefits of the changeover. In the first six months of 2015, the renewable energy procurement programme resulted in more than 8,000MW of renewable energy projects being awarded. This alone not only reduced the number and frequency of power outages, it saved the country more money than it cost. Plus, as the financing costs of renewable energy technologies go down over time, further savings will be realised.11
Example 2: energy equity
To tackle the access/affordability element of the trilemma, organisations and built environment practitioners must place focus on making the built environment more energy efficient. An example of an organisation that is doing just that is InterContinental Hotels Group. As of January 2015, the company has been rolling out Arup's Green Engage™ tool to 4,700 hotels located globally, with over 200 action items ("green solutions") to help reduce the hotels' environmental impact. Thus far, the organisation has tracked over US$73 million in savings as a result of their efforts.12
Example 3: environmental sustainability
A well-known example of environmental sustainability in action is eBay. With a worldwide presence, the online auction and retail site facilitates the global re-sale and reuse of goods that might otherwise end up discarded before their time and/or in a landfill. (eBay also has a classified section that allows people to sell and exchange larger items locally, without the need for packaging or large haul shipping.)
While this massive scale recycling is commendable by itself, eBay's commitment to one planet living goes even further. To reduce the environmental impact of the packaging and shipping element of the business, the company partners with the United States Postal Service to implement greener delivery practices. In fact, the partnership's environmentally friendly packaging has earned them a Cradle to Cradle™ certification.13 (Cradle to Cradle is regenerative design that takes a biometric approach to the creation of products and systems.14)
Ranking our efforts, the Energy Trilemma Index
The Energy Trilemma Index is the World Energy Council's ranking of each country according to its ability to achieve balance within the three trilemma areas (security, equity, environmental sustainability). The latest index was released in November of last year (2015). Countries scoring the highest in the index are typically the ones with an ongoing, wellestablished energy efficiency programme and access to low carbon energy sources. As would be expected, these top ranking countries are primarily European; however Colombia and Costa Rica both rank within the top 20 as a result of high environmental rankings.15
The UK
Previously ranked at AAA, the UK has fallen to AAB, although our overall ranking stands at a healthy fourth position. That being said, two of the three individual area rankings are not so robust.
The reason behind the fall to AAB is contributed to the UK's high energy prices, which has a negative impact on energy equity. In that category, the UK only reaches 30th position. We're also lower in the environmental sustainability area of trilemma, taking the 21st spot on the list.
Even more worrying is that we're on the World Energy Council's "negative watch list", which means that the organisation believes that we will be faced with significant problems securing our energy supply in the future. According to their report, this is a result of several factors, including: lower fossil fuel production, the shutdown of coal and nuclear plants, an ageing infrastructure, and the unexpected elimination of feed-in tariffs for solar and wind.16
Ireland
Ireland ranks 22 on the Energy Trilemma Index, with a balance score of ABC. Individual rankings include 72nd for energy security, 43rd for energy equity, and 14th for environmental sustainability.17

Over the years, Ireland's place on the index has remained stable. The country's heavy reliance on fossil fuels and dependence upon fuel imports has a negative impact upon their position re: energy security and environmental sustainability. However, the latter is somewhat offset by its exceptionally high water and air quality and low energy intensity.18
One planet living, the Bioregional initiative
The One Planet Living initiative is Bioregional's efforts to take the same concepts behind One Planet Life and turn them into reality. The initiative is rooted in 10 sustainability principles: health and happiness, equity and local economy, culture and community, land use and wildlife, sustainable water, materials and transport, local sustainable food, and zero waste and carbon. Two UK examples of One Planet Living in action are Brighton & Hove and London's BedZED.
Brighton & Hove has been designated the world's first One Planet City, with its sustainable action plan receiving accreditation from Bioregional in 2013.19 The city has built a "waste house" where items that are no longer needed can be taken to find new life. To reduce food waste over 950 households participate in a composting scheme, which serves to divert 84 tonnes of food away from landfill every 20
The first of its kind in the UK, BedZED is a large scale, mixed use eco village located in London. Water consumption in the village is about 50% less than the London average, and they produce an estimated 37% less CO2 from energy use than the average comparable development. Residents participate in an onsite car club, and more than 50% (by weight) of construction materials are sourced from within a 35 mile radius.21
Other sustainable living case studies
Curitiba, Parana, Brazil
The capital city of Parana, Curitiba has had an urban master plan in place since the late 1960s. Housing nearly two million residents, Curitiba provides us with a solid example of excellence in urban growth management. Programmes include:
Working with the natural environment: Curitiba creates and uses river side green spaces as a natural flood plain and then adapts the area according to conditions. For instance, when the Iguazu River seriously overflows its banks, the flooded areas are turned into boating lakes.
An excellent public transport system: Urban growth is limited to areas along key transportation routes, and tall (larger occupancy) buildings are only allowed along bus routes. The rapid transit system is bus-based, and there is a "one fare for all, no matter where you go" system in place. Because of urban growth restrictions, all of the city's residents live within 400 metres of a bus stop.
A "green exchange" programme: Poorer residents can bring their waste to a local centre, where it is exchanged for food and/ or bus tickets. One of the perks of this programme is that poorer urban areas are kept much cleaner at no extra cost to the city.
Affordable housing: Curitiba has a public housing programme in place that provides 500,000 homes for the city's less fortunate.22
New York City, USA
While some might consider New York City an unlikely poster child for sustainability, it actually provides a strong example when it comes to commitment to change. In the past 10 years, the city has grown as a symbol of sustainable planning. In 2007, the city launched a programme of change they call One New York: The Plan for a Strong and Just City. In the years that the initiative has been active, the city has managed to:
Reduce carbon emissions by 19% (with a goal of 80% by 2050)
Plant 950,000 trees and add 6 million square feet of reflective rooftop to the urban landscape
Upgrade building codes to better withstand extreme weather, and
Give New Yorkers much cleaner air to breathe.23
Chew Magna UK
Chew Magna is a small town located in southeast England that is known for its work towards being a "zero waste" community. To facilitate that goal, the townspeople hosts events and provide guides to residents that introduce them to local places where they can buy food.24
The elephant in the room - population growth
All of this focus on One Planet Life, one planet living, sustainable cities, clean energy, etc. is the result of our growing population. According to UN predictions, by 2075 there will be 2 billion more of us – all vying for the finite, non-renewable resources of our planet, depositing their waste, polluting the land, air and water, eroding the soil, taking up open spaces and negatively impacting the biodiversity of the planet with their basic need for food and shelter and energy.25
Therefore, addressing population growth is an important part of creating a sustainable future for mankind. However, it isn't enough by far. If were are to survive as a species, our developed and developing countries must first stabilise and then reduce consumption levels. We must find a better way to co-exist with our planet without draining and poisoning her. We must treat this resource we call Earth as the only resource that we have. How to best achieve that is, logically, through unified, universal response.
Defining a universal standard
While many individuals, companies, towns, cities and countries are moving individually towards self-defined sustainability goals, large-scale achievement can't and won't be reached until we can settle upon a universal standard. Unfortunately, as David Thorpe points out in his article, Could We Define a Universal Standard for Sustainable Towns and Cities?, we don't have a lot of validated research to guide us in creating that standard. So, more research is the first step. There are also several current options that need to be scoped, foremost amongst that are the development of unified ecological footprint analysis and a better focus on life cycle analysis. Fortunately, with the latter, there is already a standardised assessment in place via ISO documents. This includes:
ISO/TR 14047:2012 Environmental management – Life cycle assessment – Illustrative examples on how to apply ISO 14044 to impact assessment situations, and
ISO/TR 14049:2012 Environmental management – Life cycle assessment – Illustrative examples on how to apply ISO 14044 to goal and scope definition and inventory analysis
A call for change - collective awareness
COP 21
The 2015 Paris Climate Conference (COP21) was held in November – December last year. The aim of the event was to form a unified, universal response to the detrimental effect that humanity-generated greenhouse gasses are having on the planet. The 195 participating countries are to create an action plan, which will be reviewed every five years; 186 of those had already done so by 15 December 2015. While each country has or will establish their own goals and plans regarding just how to tackle greenhouse gas emissions, the universal goal is to keep the rise in temperature below 2°C.26
CAPS
In an effort to raise awareness, increase knowledge and work towards a universal standard, the European Commission has founded CAPS (Collective Awareness Platforms for Sustainability and Social Innovation).26 The initiative's goal is to provide online venues that create awareness and provide knowledge and collaborative solutions based upon worldwide networking efforts. This type of initiative has the potential to be a solid step towards evoking collective, universal behavioural changes that, in turn, aid in the foundation of a better, unified definition of sustainability and universal sustainability standards.
Furthering individual knowledge
While we continue to work towards understanding what is truly sustainable and balancing the needs of our growing population with the need to live as if we've only got one planet (because we do), there is a lot of opportunity for those of us working in the construction and facilities management fields to gather knowledge and make step changes in our practices and individual lives. To that end, we have provided a list of suggested reading and relevant standards as well as a comprehensive bibliography.
This piece has been edited and repurposed from 'Sustainable earth, sustainable us', an article written for the Construction Information Service.
References
References made in this article are listed below:
Recommended Reading
General reading
Thorpe, D. (2015) The One Planet Life, A blueprint for low impact development.
One Wales: One Planet, The sustainable development scheme of the Welsh Assembly Government.
Urban form and sustainability (2015), RTPI Research Briefing No. 9.
Kiratu, S. (2010) South Africa's energy security in the context of climate change mitigation series on trade and
energy security – policy report 4.
Eberhard, A., Kolker, J. and Leigland, J. (2014) South Africa's renewable energy IPP procurement program:
Success factors and lessons.
Churcher, D (2013) Life Cycle Assessment, an introduction, BSRIA Guide BG 52/2013.
Related standards
BS EN ISO 14040:2006, Environmental management, Life cycle assessment, Principals and framework
BS EN ISO 14044:2006, Environmental management, Life cycle assessment, Requirements and guidelines
BS EN ISO 50001:2011, Energy management systems, Requirements with guidance for use
BS 8904:2011, Guidance for community sustainable development
BS ISO 37120:2014, Sustainable development of communities. Indicators for city services and quality of life
PD ISO/TR 14047:2012 Environmental management. Life cycle assessment. Illustrative examples on how to apply ISO 14044 to impact assessment situations
PD ISO/TR 14049:2012 Environmental management. Life cycle assessment. Illustrative examples on how to apply ISO 14044 to goal and scope definition and inventory analysis