The BIM Manager's Handbook

Dominik Holzer
BIM managers are a fairly recent addition to the LinkedIn landscape – a much needed new breed of professionals in architectural, engineering, and construction practice. But what is a BIM manager? Do you need one? And, if you are one, what should you be doing?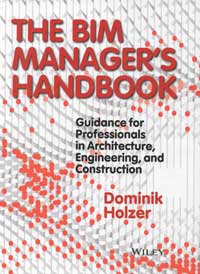 While BIM may have originally been the domain of technology specialists there's now a need to flesh out what construction's digital future actually means for the foot soldiers leading the way. To that end, this handbook provides an in-depth account of the breadth of activities that any BIM manager (or staff member actively engaged in the delivery of a project) might be required to undertake with appropriate theory and an emphasis on practical examples. This is about practical application rather than fixation on technologies.
The book breaks down into six key sections – originally released as individual ebooks – focussing on best practice BIM, change management, technology, building up a support infrastructure, day-to-day BIM management and excelling your BIM efforts (the things that get you a pay rise and help you deliver exceptionally). Here they're presented as a combined set with new content and indexing topping and tailing the offer.
This is an empowering manifesto for those tasked with becoming the lynchpin of BIM delivery
Just a few pages in, what soon becomes clear is that a BIM manager cannot be identified by a uniform set of tasks. The role is one in constant flux, with managers stemming from all kinds of backgrounds, many of whom have grown into their role in response to business needs. Paradoxically, it seems, BIM managers are rarely skilled in management but are nonetheless expected to keep projects moving and be adept at 'management acumen'.
The section focussing on lessons learnt from bad BIM – be it pseudo BIM, lack of co-ordination, planning, objectives, over modelling or reliance on one platform, will surely strike a chord with many – rushing towards the perceived benefits is easy, doing things well, however, more worthwhile.
Thankfully there's practical advice here in spades – whether you're looking for help getting 'buy-in', measuring performance, how best to facilitate change, overcoming resistance, auditing your tech and developing the right infrastructure, and implementation advice, you'll not be disappointed.
All things considered, this is an empowering manifesto for those tasked with becoming the lynchpin of BIM delivery and a timely example of growing confidence and maturity in the construction sector's digital destiny.
About this book
The BIM Manager's Handbook: Guidance for Professionals in Architecture, Engineering and Construction

by Dominik Holzer was published by Wiley in April 2016 and is available to buy from RIBA Bookshops. The title is published in hardback (ISBN 978-1-118-98242-6) and digital versions.
About the author
Dominik Holzer is a BIM expert and consults with design and construction firms in Australia. He is the previous chair of the BIM and IPD Steering Group of the Australian Institute of Architecture and Consult Australia. He is Senior Lecturer in Digital Architecture at the University of Melbourne. He publishes on design technology, particularly BIM, and is a regular speaker/ host at high level industry conferences.