The Top 10 construction gifts

10. Archi-doodle: An Architect's Activity Book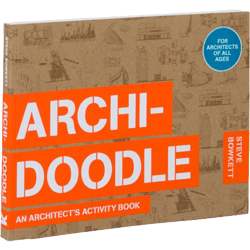 This innovative book from Steve Bowkett is a fun, interactive way to learn about architecture. Filled with an array of beautiful and elegant drawings, it poses all manner of architectural challenges for the user: from designing your own skyscraper, to drawing an island house or creating a Constructivist monument. Aimed at anyone who loves drawing buildings, it encourages users to imagine their own creative solutions by sketching, drawing and painting in the pages of the book.
£12.95
9. Architect Mug
As our Periodic Table of BIM mug competition last summer proved, there's significant opportunity to be had when it comes to construction-ifying your cuppa. Here's an evolutionary take on humankind's evolutionary trail leading to the drawing board... it's surely only a matter of time until a version showing the use of BIM objects and federated models.
£13.10
8. Home Puzzle
17 wooden pieces come together as a house but can just as easily be reimagined as pieces of furniture or a town. This 3D architectural puzzle stands 10.5x10.5x15cm tall (in house form) and is a worthy addition to a design shop desk either as a stressbuster or procrastination tool.
£40
7. 101 Things I Learned in Architecture or Engineering School
Whether an architect or an engineer these educational books make clear the things that can be murky and abstruse in the classroom. 101 Things I Learned in Architecture School provides valuable guideposts for navigating the design studio and other classes in the architecture curriculum, while 101 Things I Learned in Engineering School serves up introductory lessons on such topics as managing projects, the physics of building bridges, and the fundamentals of problem solving.
£13.95 and £12.99 respectively

Buy 101 Things I Learned in Architecture School from RIBA Bookshops
Buy 101 Things I Learned in Engineering School from RIBA Bookshops
6. How to Architect
In How to Architect, Doug Patt - an architect and the creator of a series of wildly popular online videos about architecture - presents the basics of architecture in A-Z form, starting with "A is for Asymmetry" (as seen in Chartres Cathedral and Frank Gehry), detouring through "N is for Narrative," and ending with "Z is for Zeal" (a quality that successful architects tend to have).
£12.95
5. Construction Utensils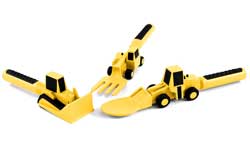 Lift, push and scoop your way through meal times with this fun set of construction utensils. The set includes the fork lift fork, front loader spoon and bulldozer pusher and is, as you'd expect, both dishwasher and microwave safe, with textured easy-to-grip handles ideal for little hands.The days of opening wide for the 'airplane' could soon be usurped by on-plate construction...
£22.46
Lift, push and scoop your way through meal times with this fun set of construction utensils.
4. Archkit GO Kit
Designed by architect, Damien Murtagh, Arckit GO Kit is a freeform model making system that encourages anyone from the budding builder to experienced designer to explore, imagine and build their architectural dreams through form, space, light, structure, section and material to make each structure unique. Architizer A+ Awards named Arckit the winner of the Architecture and Learning Category Award 2016.
£41.66
3. Identic Architecture Memory Game
An architecture matching game to stimulate mind and memory.
£15

Buy from designmuseumshop.com
2. Areaware Concrete Desk Set
Getting organised is often as simple as having the right tools. With the Areaware Concrete Desk Set everything has its place. Cast from solid concrete, the set includes a tape dispenser, pencil holder, and a small tray.
£38
1. LEGO Architecture Studio
Bring your architectural creations to life in LEGO® form with LEGO Architecture Studio. In this amazing set you get over 1200 LEGO bricks and an inspirational guidebook filled with 272 pages of tips, techniques, features, and intuitive hands-on exercises endorsed by leading design houses.
£159.99
It's a wrap...
With presents bought there's still plenty of opportunity to make construction connections with snazzy giftwrap.

We particularly liked this skyline wrapping paper from SUCK UK (available from Amazon) and some of the customisable wrap from Zazzle.
Prices correct at time of review.