The need to rebuild after the ravages of the Second World War saw the inexorable rise of a cheap, plentiful construction material. The material in question? Concrete.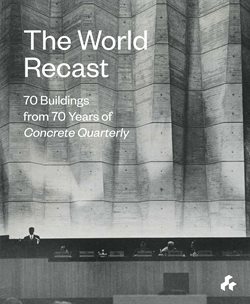 Its flexibility led to structures that were bold and undeniably modern.
It spurred a raft of imaginative applications across applications as diverse as power stations, motorways and factories, powering the post-war economic recovery.
It influenced a whole new generation of designers who were keen to express themselves through new, radical architectural structures.
It was, quite simply, the material for a new age. And that age has been captured forever in the pages of Concrete Quarterly.
This year marks the periodical's 70th birthday and, by way of celebration, The World Recast plunders the archives to cherrypick some outstanding examples that illustrate perfectly the heroic architecture and ingenious engineering delivered in glorious concrete.

While there's plenty of post-war projects to peruse the book also expands the conversation into the present day, offering crucial insight into concrete's comeback within today's architecture, as well as its recent popularity in contemporary culture at large.
It charts the genesis of some of the modern world's greatest monuments and its boldest ideas, from the ethereal beauty of Ove Arup's Brynmawr Rubber Factory to the sleek modernism of the Pirelli Tower, the fairytale churches of Gottfried Böhm and the digitally enhanced imagination of Zaha Hadid.
Other featured buildings include: Royal Festival Hall (1951); UNESCO headquarters (1959); Elephant House, London Zoo (1965); Liverpool Cathedral (1967); Sydney Opera House (1973); National Theatre (1977); Barbican Centre (1982); Grande Arche, Paris (1989); New Street Square (2006); Sainsbury Laboratory (2010); Aquatics Centre (2012) and Blavatnik School of Government (2016).
The last word
Never before has a building material been so indelibly a part of the 'spirit of the age' as concrete. As a clear sign of post-war confidence, concrete boldly headed skywards as a new breed of buildings rose from the rubble. For a time concrete fell from fashion as poor quality buildings fell into disrepair but the 1990s saw not just a revival but a full-blown renaissance and reappraisal.

This book serves to document this period of architectural history yet it's ambition is much bigger. It serves also a testament to architectural ingenuity and the flexibility of the material itself.

Fascinating and enlightening, this is well worth a place on the architectural bookshelf, and is sure to inspire a whole new generation of designers.
Pick of the projects
Singling out just a few projects of note from the 70 included is something of a Herculean task. All credit then to Rob Younger, currently on placement with NBS, who managed to single out four outstanding projects...
La Grande Arche de la Défense (Paris, France)
This building caught my attention due to the sheer size and quirkiness of the whole thing. Only once before have I seen a building where the floors at the top are suspended and supported at either end - and that building was created in steel, not concrete. The ability to produce a building that has a suspended top end of the building is unbelievable. The hours' worth of design that would have gone into making sure that it would not collapse in the middle must have been enormous. The architecture is simple, yet it gives an extreme look due to the sheer scale of the project.

Find out more on Wikipedia
Lotus Temple (New Dehli)
The building looks like a flower, just starting to unfold and takes design cues from Sydney Opera House. The building serves to show what Computer Aided Design could accomplish when used rather than a drawing board. Had CAD not been used, it would have took far longer to design.

Find out more on Wikipedia
Turning torso (Sweden)
The architect, Santiago Calatrava, has attempted to replicate a torso turning and twisting as far as it naturally can be pushed. The building stands as the tallest building within the area, in doing so, the building becomes an icon, and an element that adds to the skyline. The building is located in a prime location and as a residential tower, located within a harbour town, the views from the rooms must be astounding.

Find out more on Wikipedia
Stamp House (Australia)
The centre of the building located on a piece of land, the rest of the building being cantilevered out over the surrounding pond. The central hub of the whole building, the kitchen, living room etc, is all open with no interior walls, using all of the natural light that's available. The building has been designed, due to its location, to withstand Type 5 cyclones. The building has not only been designed to survive, but to stay fully functional for up to 8 weeks - to this end, a large underground storage tank holds up to 250,000 litres of rainwater, ensuring survival for up to two months!

Find out more on Charles Wright Architects
What to watch next...
Visual concrete
This video programme will be of benefit to architects, structural engineers, project managers and construction specialists who wish to understand how concrete can be used on walls, columns, slabs and ceilings as a specified architectural finish.
Sulfate and concrete
Whether the ground floor of a house is suspended or filled, it will include either a solid slab or an oversite layer of concrete laid on compacted hardcore directly on the ground. Both hardcore and soil are potential sources of sulfates and other chemicals harmful to concrete. This video programme investigates the hardcore components and soil conditions likely to contain sulfates, explains how concrete is affected by sulfate attack and looks at methods used to prevent such damage.