Delivering larger, more complex projects in ever-shorter time frames can prove challenging for an industry well chastised for its inefficiencies.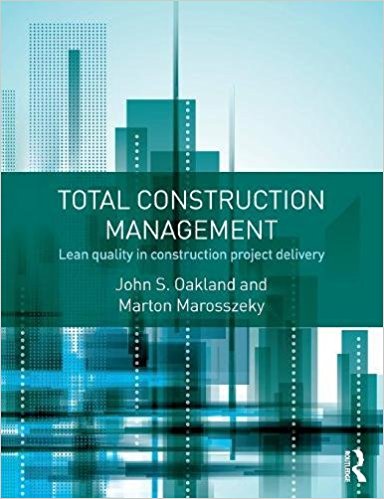 For some Building Information Modelling is the silver bullet with transformative powers, improving communication between the design team and stakeholders. BIM's also helping refine solutions during design and construction and this improved decision making reaps rewards as structures are commissioned and decommissioned.
It's only a few months since we explored the convergence of lean management and quality management thinking that has taken place in organisations across many industries, including construction. Enter Total Construction Management: Lean Quality in Construction Project Delivery and a wider approach that takes in the benefits of organisational excellence across entire supply chains.
Offering policy makers and powerful new perspective, this is a tome that empowers the changemakers to create the prerequisites needed to effectively deploy such technologies - including BIM - in their own organisastions.
Starting by introducing the language of total quality, lean and operational excellence, this book takes the reader right up to the latest industry practice in this sector, and demonstrates the best way to manage change.
Written by two of the world's leading experts, this book offers a clearly structured introduction to the most important management concepts and practices used in the global construction industry today and with 14 case studies the work isn't short on practical examples either.
The last word

A holistic guide to driving the organisational change the construction industry needs - focussed not just on BIM, but on lean and quality management.
This authoritative book covers issues such as procurement, BIM, all forms of waste, construction safety, and design and construction management, all explained with international case studies.
The result is a perfect guide for managers in all parts of the industry and a useful primer for those preparing to enter the industry for the first time.

About the authors
John S. Oakland is both Chairman and Head of Research and Education at Oakland Consulting LLP. He is also Emeritus Professor of Business Excellence and Quality Management at Leeds University Business School, UK. He is the author of numerous texts on Quality Management.
Marton Marosszeky retired from a full-time professorship at UNSW, Australia, in 2006 and has been working as a lean consultant since then. Between 2007 and 2012 he was the leader of the lean consulting service line within Evans and Peck. He has worked with major project teams and company executives supporting them in developing and implementing lean/quality-based management strategies in the infrastructure (road and rail), building construction, and oil and gas industries across four continents.
What to read next...
Understanding BIM in a project management environment
What does a BIM workflow mean in terms of project management? How should teams come together to collaborate? How should information be managed and projects run? Our guide explores some of the key considerations including a look at some of the key elements of Integrated Project Delivery.

BIM for project managers
Key takeaways from a RICS insight paper looking at how project managers can spur the adoption of BIM and drive improvements across project teams.