BIM for Construction Clients
Richard G Saxon CBE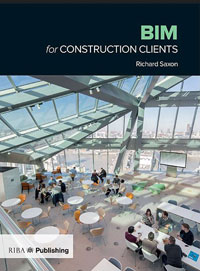 Many clients are not yet confident enough to play an active role in BIM projects with many not asking for it or continuing to be passive users for lesser advantage.
That's a state of affairs that Richard Saxon CBE is aiming to change in a timely tome from RIBA Publishing exploring the digital construction revolution from a client perspective.
This is a book that will help clients:
Understand the strategic value of BIM and how it changes their role;
See through case studies how others are experiencing using BIM;
Understand how a project is established on a BIM-using basis;
Understand and control the design and construction stages with the benefit of data;
See the benefits of receiving and operating with both real and virtual assets;
Learn where BIM is going next.
The result is a must-have for public and private sector clients of all descriptions as the author draws on great personal insight gleaned as an architect in commercial practice and an early adopter of BIM to highlight the potential and pitfalls in practical detail.
Crucially Richard has managed to create a title that's wide-ranging enough to be of benefit to facility and asset managers, architects, project managers, cost consultants and contractors; for their own work and also to assist their clients to make successful use of BIM. It's another BIM-bible that's well worth adding to the bookshelf.
About this book
BIM for Construction Clients was published by RIBA Publishing in February 2016 and is available to buy from ribabookshops.com. The title is published in paperback (ISBN 9781859466070) and is also available as an ebook and was a finalist in the BIM Initiative of the Year category at the 2016 Building Awards.
About the authors
Richard Saxon is an architect and urban designer with a long history of involvement in the modernization of the construction industry. Twenty-seven years as a partner and director of BDP – the international interdisciplinary practice – climaxed in six years as its chairman. He has been vice president of the RIBA and a director of the Construction Industry Council, championing innovation. Richard sat on the government BIM Steering Group in 2012–13 as BIM Ambassador for Growth. He is a member of buildingSMART, the society which defines and develops BIM. He was made a CBE in 2001 for services to architecture and construction. Richard writes and blogs at saxoncbe.com.