Tall Buildings - A Strategic Design Guide (2nd Edition)
Edited by Nigel Clark and Bill Price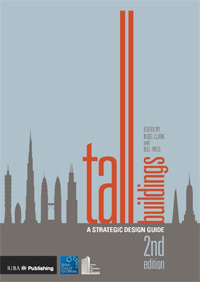 In the last ten years our design ambitions have continued to head inexorably skywards making this updated version of Tall Buildings - A Strategic Design Guide a timely tome.

A decade on from the release of the original, this richly-illustrated new edition has been significantly reworked to reflect industry developments and the experiences of authors Clark and Price and over 20 highly respected industry specialists. The result is an authoritative guide to planning, creating and living with tall buildings that draws heavily on practical example and illustration.
The authors consider the role of urban design and place-making, explore a range of considerations in the design, engineering and construction phases when aiming for the skies, explore the new realities of construction economics and the digital revolution made real through BIM. There's consideration too of legacy - change of use, adaptation and demolition.
[The authors] explore the new realities of construction economics and the digital revolution made real through BIM.
The debate surrounding management of our skylines continues to prove controversial. As the global population continues to increase, cities become denser, and we are likely to continue to see dramatic changes to the our skylines. With this in mind, understanding the technically distinct and potential beauty of taller structures has arguably never been more important and with this in mind
Tall Buildings - A Strategic Design Guide
is likely to be a must-read for those with tall ambitions.
Read an extract on the application and value of BIM in tall buildings

About this book
Tall Buildings - A Strategic Design Guide (2nd Edition) was published by RIBA Publishing in September 2016 and is available to buy from ribabookshops.com. The title is published in softback (ISBN 9781859466186).
About the authors
Nigel Clark (CEng BSc FCIBSE) is the Technical Director at Hilson Moran and has been involved in the design and construction of tall buildings for over 38 years, during which time he has been responsible for the design of a number of the buildings on the Canary Wharf estate. He has recently been involved with a number of large, commercial, mixed use and regeneration schemes totalling over 600,000 square metres – including 1 Bank Street at Canary Wharf, 20 Fenchurch Street and 100 Bishopsgate in the City of London. He regularly speaks at conferences on all aspects of tall building design, with emphasis on environmentally progressive building design.
Bill Price (BSc CEng MICE) is a Director at WSP | Parsons Brinckerhoff and a structural engineer by background. Most recently he was one of the leaders of the design team responsible for the multi award-winning Shard in London, taking it from the early schematic design stages in 2002 to completion in 2012. Bill has spoken at numerous international conferences and events on the subject of high-rise, with topics including the sustainability of high-rise, design innovation, urban regeneration, and transportation connectivity.